Retlaw 4-H club prepping for districts
Posted on February 27, 2020 by Vauxhall Advance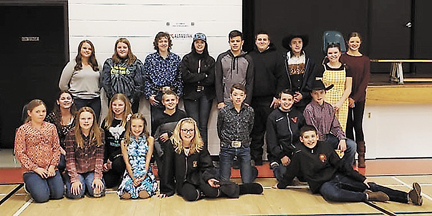 ADVANCE FILE PHOTO
By Katherine Delanoy
Retlaw Prairie 4-H Beef Club Reporter
Greetings. Here is some of the new things happening in the club:
We had our annual 4-H public speaking on Feb. 6. All of our members did very well, and we even had to have an 'Impromptu Tie-Breaker' to determine who would take home first place in our junior presentations.
Junior Presentations Results:
1st Place; Katherine Delanoy – 'Katherine's Picks'
2nd Place; Ella Odland – 'Winter Escape'
3rd Place; Sienna Howg – 'Western Vs English Saddles'
Intermediate Presentations Results:
1st Place; Vane Ferguson – 'It's All About The Shape'
2nd Place; Marie Wetherlet & Savanna Wiggill – ' Bones'
Senior Presentations Results:
1st Place; Kalley Howg – 'The Evolution Of A Saddle'
2nd Place; Jackson Wetherlet & Emery Wetherelt & Lucy Wiggill – 'Making Your Mark'
Junior Speeches Results:
1st Place; Blaise Odland – 'The Good Ole' Hockey Game'
2nd Place; Torynn Plumb – 'Our House Renovations'
3rd Place; Sutten Emelson – 'The Art Of Distraction'
Intermediate Speeches Results:
1st Place; Christopher Mills – 'Good Things Growing'
2nd Place; Berkley Emelson – 'My Grandpa is Cooler Than Yours'
3rd Place; Kylan Odland – 'Stanley's Bunker'
Senior Speeches Results:
1st Place; Samantha Delanoy – 'The Powerhouse'
2nd Place; Chelsey Mills – 'Is An EV For Me?'
3rd Place; Chase Plumb – 'Disneyland'
Congratulations to all of our members and a special thanks goes out to all of our judges, timekeepers, MC's, and all those who helped make this evening possible for us. We could not have done it without you.
Members who placed first will be moving on to compete at districts on Saturday at 10:00 a.m. at Vauxhall Elementary School. The 'Retlaw Prairie 4-H Beef Club' is actually hosting districts this year, so everyone is welcome to come on down to the school and watch the competition.
In the coming weeks, our club will be doing our part in giving back to our community by helping clean up after the Senior's Supper and the Vauxhall Academy of Baseball Banquet.
Stay tuned for further updates on what is going on in the "Busiest Little Ghost Town Around!"