Retlaw Prairie 4-H Beef Club carrying on amidst COVID-19
Posted on April 23, 2020 by Vauxhall Advance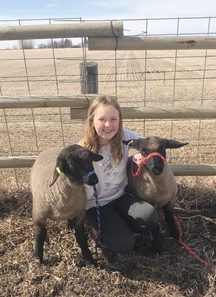 CONTINUING ON: Ella Odland poses with Cottonball and Covid. ADVANCE PHOTO SUBMITTED BY DORTHEA MILLS
Submitted by Dorthea Mills
4-H in Alberta has cancelled all in-person events until May 31, 2020, inclusive but 4-H members have still been very busy! 4-H has just looked a little different this year.
Here's what our Retlaw Prairie 4-H members have been up to:
Our regional public speaking was to take place on March 14, 2020 but it was cancelled just a few days prior to the event due to COVID-19. Our members that were moving onto regionals were quite disappointed because they had been practicing and were kind of looking forward to the competition. At that point, 4-H Alberta cancelled all in-person events until April 14, 2020.
This meant our members who were doing a sheep project were going to have to weigh-in their lambs either at the place of purchase or at home on the bathroom scale. We had 14 members weigh-in their projects on March 28, 2020. Everyone weighed-in a lamb between 50lbs and 70lbs. Each member took a picture of their lamb's CSIP tag in their ear and sent in a picture of themselves with their lambs. We had many very happy looking members because they were excited to have their lambs to look after since they were at home all the time. We also had a few members tag in ewe projects.
We have nine members with their 4-H steers and three members with heifer projects. They are busy halter breaking and getting the animals used to being groomed. The weather has not been very cooperative this year for our beef members. It just keeps snowing and makes the pens mucky, making halter breaking a bit of a challenge. However, the steers look great and our members are looking forward to marketing their steers! You are going to want one for your freezer!
Our horse members have been quite fortunate. Without having to attend school, many of our members have had all kinds of extra time to ride their horses. Members have been posting pictures on our Facebook page of themselves out riding.
Shortly after our members weighed in their lambs, 4-H Alberta cancelled all in-person activities until the end of May. This means that we are not able to have our usual Taber District 4-H Show and Sale but leaders throughout the District have been having Zoom meetings and our Show and Sale will still be happening; it will just look a little different this year!
This is how we are proceeding with our District Achievement Day. It is actually quite exciting and really stresses the 4-H motto of learn to do by doing. This year we are going to learn more about marketing our animals – specifically about online marketing and virtual sales. Many cattlemen market online now and you often see virtual bull sales. Here is the plan on how our members are to proceed.
•Members must halter break their project! Members must be able to lead their beef or sheep in order to consider their project complete.
•By May 1, 2020, Riley Leeson will send out a how to video on how to market your animal with photos and videos. She will explain to members how to get the best angle and how to show off your animals best features in pictures and a short video.
•PRIOR to May 15…members will submit photos and a 30 second video showing off their halter broken animal. Riley will post all projects to our Taber & District Facebook page. Potential buyers can search @TaberDistrict4H on Facebook and like our page to view the beef and sheep projects.
•Riley is lining up a panel of three judges for both sheep and beef. Female projects will also be shown and judged this way. The judges will select club champions and overall champions. Showmanship unfortunately won't be awarded because not all members have access to clippers or electric shears. There is no rate of gain for sheep this year because they were not all weighed in on the same scale. Winners will be announced by May 31, 20 which is when our show was supposed to be.
•Perlich Brothers have offered to help us out with our sale. It will be a video sale. Animals will have to be dropped off at Perlich's at a certain time on Thursday, June 4, 2020. Parents are responsible for getting their members' project to the sale. They be weighed and sold that afternoon at approximately 3 p.m. More information will be sent out regarding the same and how you bid online.
•Members choosing to market their own animals this year may do so. Record books will still need to be completed by July 15. Books must be completed fully.
•This isn't what we were expecting our year to look like but it is a learning experience and is an introduction to online marketing and video sales!
•Remember you are all part of history right now…make the most of it!
Please support the Taber and District 4-H Beef and Sheep Sale on Thursday, June 4, 2020 at approximately 3 p.m. More information on how to place a bid will be shared as it becomes available. Our horse project is still looking at having an Achievement Day later into the summer depending on how things progress during COVID-19.
Starting on April 16, 2020 for five evenings members can participate in the regional 4-H all-classes judging. This year's competition has been moved online and members will join a Zoom meeting and be able to view the class of animals or objects and then they have 24 hours to submit their reasons for their placings. There will be one class per evening. 4-H members have been excellent at just rolling with it this year and we all look forward to when we can meet together again as a club. This club year will definitely be one for the history books!