Caleb Van Der Weide – Social Credit – Little Bow
Posted on April 23, 2015 by Vauxhall Advance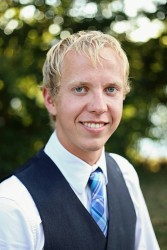 Birthdate: March 11, 1995
Family: Youngest of five children.
Occupation before politics: University student at U of L.
Other community/non-profit experience: Volunteering in Haiti, human rights activism, former president of Lethbridge Students for Life.
What is the most important issue facing the riding?: I consider the most important issue facing the riding/electoral district and the most important issue facing the province to be the same issue: the lack of principled representation of the social conservative values so many Albertans hold.
If you could change one thing from the budget released on March 28, what would it be?: If I could make one change to the budget I would stop the funding of abortions. Many Albertans see the killing of the preborn child to be an immoral act, it is one thing to legalize it, but another thing to require others morally opposed to the act to pay for it through their tax dollars.
Why should the voters choose you?: Voters should choose to vote for me if they are tired of social conservative issues being ignored in the provincial legislature, and want to do something to change that tendency.
Favourite quote: "On some positions, Cowardice asks the question, 'Is it safe?' Expediency asks the question, 'Is it politic?' And Vanity comes along and asks the question, 'Is it popular?' But Conscience asks the question 'Is it right?' And there comes a time when one must take a position that is neither safe, nor politic, nor popular, but he must do it because Conscience tells him it is right." MLKJ
The last book you read: Ethics, by Dietrich Bonhoeffer.