APEX awards bring back positivity
Posted on March 5, 2020 by Vauxhall Advance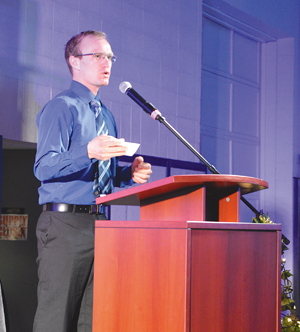 In 2002, the APEX Youth program started as a partnership with the Taber Rotary Club and The Taber Times, but when the original Rotary Club of Taber disbanded in 2008, concerned community leaders felt the APEX program was important enough to continue. Together, they formed the APEX Committee.
Important because in the current state of affairs in the province, country and world, we could all use a little more positivity which the APEX Awards brings in showcasing youth that are making a difference in their community for the better.
Railway blockades, coronavirus scares crippling markets, austerity provincial budgets affecting health care and education, continued political tensions south of the border…the list goes on and on for people being afraid to turn on their television set.
But it is moments like the APEX Awards last week and the Times' special APEX section highlighting the nominees that serve as the foundation of positivity, showcasing characteristics of the leaders of tomorrow.
There are all sorts of variables that lead to a youth earning a bursary, be it excelling in athletic or sports, or service to community in helping those in need.
As they say, get those positive traits started early and you are likely seeing decades of service to ones respective community, wherever they decide to set down roots in the end.
APEX is but one of many ways youth are recognized, be it student councils, food bank volunteerism, scholastic and athletic awards, 4-H highway clean ups and speak offs — the list goes on and on with how rural youth are making a difference in southern Alberta and their contributions can often get lost in the mix of negative headlines that can dominate mainstream media.
The Times endeavours to highlight these accomplishments in its pages as best it can with its limited resources in various avenues of student engagement.
News can't be all positive, but the Times hopes stories like the APEX award winners can inspire others to give back to their communities in both big ways and small.
Every little bit helps as we look out for each other where economies seem to be getting tighter and tighter.
But with stories like the APEX Awards, the future can look to get brighter and brighter. Congratulations to all the winners and nominees. Your contributions are appreciated.