M.D. CPOs hoping to keep zebra mussels out of local waters
Posted on June 20, 2019 by Vauxhall Advance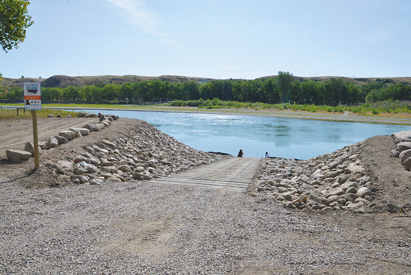 ADVANCE FILE PHOTO
By Cole Parkinson
Vauxhall Advance
cparkinson@tabertimes.com
Boats are starting to hit the water in the region and the Municipal District of Taber community peace officers are hoping to help keep zebra mussels out of the area.
The invasive species has been wreaking havoc across the country for years but have yet to have any real major impact as of yet here and the M.D. hopes that continues.
"We have a big meeting coming up with Fish and Wildlife regarding zebra mussels. It has been a recent push of ours for zebra mussels and the irrigation districts. We can't have zebra mussels in our irrigation canals. We don't currently have the power to inspect for that, however, we are going to make an application to allow our peace officers to check boats," explained Kirk Hughes, CPO sergeant at the M.D. of Taber regular council meeting on June 11. "It would be one of the first times in southern Alberta but certainly in northern Alberta it happens."
The zebra mussel is known to disrupt ecosystems by monotypic colonization and damage waterways, ships, boats, water treatment/power plants and irrigation systems.
A single female zebra mussel can produce up to a million eggs per year and the eggs are free-floating so they are picked up by water currents, winds and waves which causes them to spread.
Once hatched, they secrete sticky fibres and attach to any hard surface within the water.
Water treatment plants are most affected because the water intakes bring the microscopic free-swimming larvae directly into the facilities.
Zebra mussels also cling to pipes under the water and clog them which could potentially cause multi-million dollars worth of damage if found in nearby irrigation.
"There were 15 positive cases found last year at various stations, it is coming through. It is more of a when then if," added Coun. Brian Brewin.
The zebra mussel is originally a native of the Black Sea region of Eastern Europe and the first reported case of zebra mussels in Canada was in the late 1980s when they reached Ontario and the Great Lakes after travelling on boats from that area.
Since then, damage estimates in Ontario have reached the billion dollar mark.
"I lived in Ontario most of my life and those zebra mussels infected Lake Ontario and they are still there. The damage they did to infrastructure and irrigation was billions of dollars. If we can prolong that or slow it down, we are going to do what we can," said Hughes.
In terms of what the peace officers were hoping to accomplish if given the power, Hughes explained handing out tickets would not be the driving force of their training.
"I don't think our goal would be ticketing, it would simply be education. If a boat we believe isn't clean, dry and drained, we won't put it in the water," he said. "A ticket is one thing but keeping zebra mussels out of our reservoirs is what we want. It's educational enforcement."
Coun. Brewin also pointed out the zebra mussels wreck beach areas due to their sharp shells washing on shore.
Council questioned if there were ways to treat zebra mussel-infested waters once they were found.
"They are trying various levels of potassium to treat a lake if it is contaminated but it has been mixed results," answered Brewin.
In terms of keeping it out of the M.D., CPO's are hoping to gain the power to inspect boats and hopefully keep the mussels out of the region.
"It's a pretty massive invasion. Certainly, we are going to do everything we can," said Hughes.