Hail damage far reaching with local growers
Posted on August 15, 2019 by Vauxhall Advance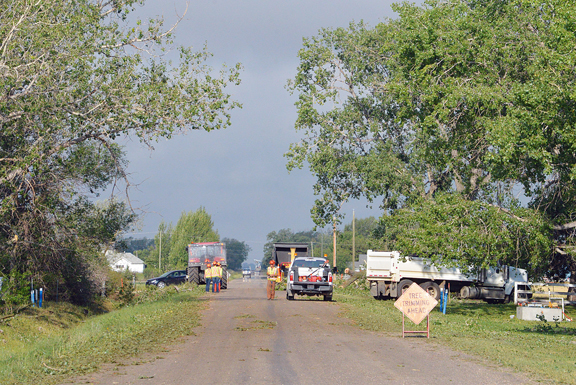 ADVANCE PHOTO BY TREVOR BUSCH
By Trevor Busch
Vauxhall Advance
tbusch@tabertimes.com
After a devastating hail and wind storm swept through the Taber-Barnwell area last week, producer groups are still assessing the damage to fields and crops.
Corn, potatoes, sugar beets and other crops were affected to varying degrees across a huge swath of southern Alberta as the 'Great White Combine' wreaked wrath on the agricultural industry.
"Nearly every acre of beet in the Taber west growing area and a significant acreage in Picture Butte was affected with up to 100 per cent defoliation in many cases," said Arnie Bergen-Henegouwen, president of the Alberta Sugar Beet Growers. "Roughly 10 per cent of the total acres in southern Alberta were affected. It hit at the time of year where it will have the greatest effect on yield and quality of the beet."
Bergen-Henegouwen expects some of the hardest hit fields to experience a loss in yield of around 50 per cent.
"The hardest hit fields are in the Barnwell area as well as a couple of fields north and east of Picture Butte. Beets are a resilient crop and will regrow the foliage over a couple of weeks but this process uses energy from the beet which takes away from sucrose production."
Hail damages were also experienced earlier in the growing season in other parts of southern Alberta.
"There was another hail storm that hit a significant number of acres in Picture Butte in early June as well as a few acres in Vauxhall," said Bergen-Henegouwen.
Another key crop in southern Alberta — potatoes — were also hard hit, but the extent of the damage is still being assessed.
"I don't know how this is going to react, I don't know what the heat is going to do, or if we get much rain," said Terence Hochstein, executive director of the Potato Growers of Alberta. "The stuff that was completely defoliated, any of the producers that have chippers, I think we can still salvage that because they were close to being ready. But the russet burbanks, I don't know. If this was July 15, or July 1, there'd be recovery. But I don't know — nobody seems to know what's going to happen. Everyone is taking that wait and see (approach) to see what happens."
One bright spot is the Taber and District Foodgrains Project came through the storm unscathed, largely due to the land being outside the main path of destruction.
"It's just east of Purple Springs, and that storm went around it completely," said Jeremy Wind with the Taber project. "We were fortunate enough to miss that."
Located on Highway 3, the group's harvest has been tentatively set for Tuesday, Aug. 20.
Reached on Thursday last week, Taber-Warner MLA Grant Hunter's office was still assessing the extent of the damage to the agricultural sector in the riding.
"That was a brutal hit to the corn for sure. I hope that it was properly insured, and they can get what they need, but we'll have to see," said Hunter, who also serves as associate minister of Red Tape Reduction. "I'm actually just waiting for a little bit of a brief on that, so I can't really speak too much to it right now."