Brum continues to be top seller
Posted on October 3, 2019 by Vauxhall Advance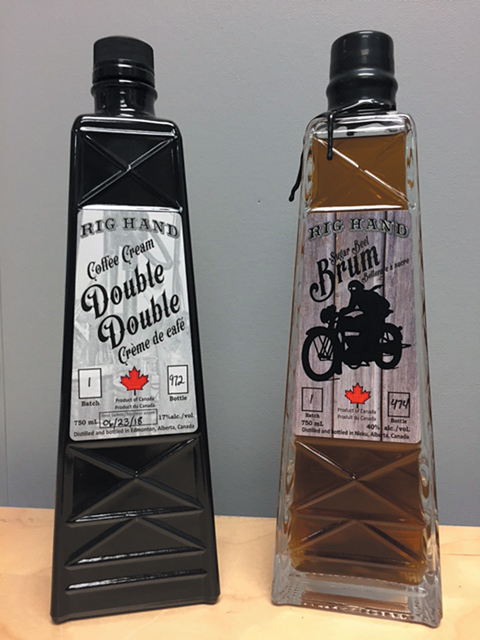 By Trevor Busch
Vauxhall Advance
tbusch@tabertimes.com
With Alberta's craft distillery industry continuing to make successful inroads, Geoff Stewart of Rig Hand Craft Distillery in Nisku reports his sugar beet-sourced 'Brum' is still one of the company's top sellers.
"We can't keep up, I just hired four more people. We have 24 staff now, and are making over 50 kinds of alcohol. Our third most popular product is the sugar beet Brum. We've also added a white Brum, and a spiced one."
Stewart needed to come up with a unique name for his product — basically a sugar beet rum — due to regulatory hoops regarding legal naming rights for a rum product in Canada.
Rig Hand sources its sugar beet molasses for 'Brum' from the Lantic Inc. plant in Taber.
Hoping to capitalize on another local pipeline of source material — namely Taber corn for an Alberta bourbon — never materialized for Stewart due to how the industry in the area traditionally harvests corn. But another source closer to home for the distillery has a bourbon product about to hit shelves.
"We never did find a supplier of combined Taber corn to make bourbon from unfortunately, but we did find somebody up here in the Spruce Grove area that was crazy enough to combine corn in November, so we're making some bourbon from that corn right now. It seems like nobody combines Taber corn, they all pick it for ears because that's where the money is," said Stewart. "We'll be releasing the bourbon in about four weeks, it will be the right age to do that. The other thing going on is we're going to be building a new facility this summer, which will be a farm-based distillery, about two miles away from our current location. It will be a working farm distillery where city people can come out and see some chickens and pigs, and see that we grow our crop right ourselves that were using some of it, and see how we turn it into a value-added product."
Stewart purchases about 20,000 pounds of molasses per load from the Taber plant, and after transporting it the molasses is put through a cooking and fermentation process prior to distilling. In another promotional effort for the craft distillery industry in Alberta, Stewart spearheaded a recent reality TV series that showcases the local nature of Rig Hand's success.
"The other cool thing that we have going on is we took a risk last year and hired a production company to do seven pilot episodes of a reality TV show — kind of like a Canadian version of that 'Moonshiners' show they have on Discovery network — we made ours significantly more sophisticated than the one on Discovery, and we shopped it around to Global and CTV and CBC, and they actually all wanted it because of our Canadian content rules especially. We aired last fall right up until Christmas with those seven episodes, and it was so popular that they're looking for another 39 episodes now."
Stewart hopes to focus on the local Taber connection for his 'Brum' sugar beet molasses in an upcoming episode of the show.
"The show is called 'Still Shots', and those original seven episodes, we threw them up on YouTube if anyone wants to watch them on there, and our new season will be starting in September. The air time is at noon on Saturdays — I call it the hangover time slot — it's a half hour program that really showcases all the people that have helped us be successful over the past four years. We showcase our farmers, the people that take our used grain, and the pubs and liquor stores and restaurants that serve our stuff. It's kind of a community show. We'd like to come down to Lethbridge and do a bit of filming down there actually. So we're going to talk to the people at the sugar beet plant and see if they'll let us come and do a little filming there, hit up some of the farmers."
More and more local pubs, restaurants and liquor stores in southern Alberta are carrying Rig Hand products reports Stewart.
"We're finding there's more and more liquor stores down in the area that are carrying our products, and a couple of the hotels and the pubs are carrying it, too. We appreciate that people keep asking for it, that's what gets us in more places is consumer demand."