Former Vauxhallite wins Citizen of the Year with chamber award
Posted on January 9, 2020 by Vauxhall Advance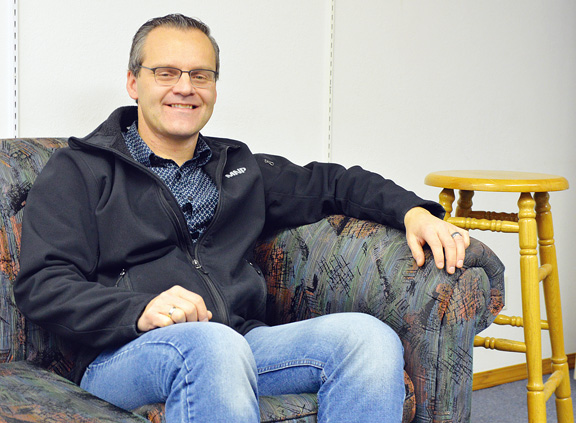 ALL IN A DAY'S WORK: Citizen of the Year recipient Bruce Warkentin believes all of us can make their town a better place if we work together and co-operate on critical initiatives. ADVANCE PHOTO BY TREVOR BUSCH
By Trevor Busch
Vauxhall Advance
tbusch@tabertimes.com
Active in a myriad of roles in the community for over a decade, the Taber and District Chamber of Commerce is honouring Bruce Warkentin as its Citizen of the Year.
"Definitely honoured and surprised, and I'm thankful for the people that nominated me, and it's definitely a tribute to the teams and organizations I'm involved with, because I couldn't do it without any of them," said Warkentin. "I've had a lot of inspirational people in my life over the last little while that have inspired me to do the things that I do."
Warkentin grew up in Vauxhall where he graduated high school before attending post-secondary in Calgary. The accountant with MNP moved back to Taber with his family a decade ago.
"I came back because Taber is a great place to raise a family, and work and live, and we generally like the environment better than a big city. A handshake is still a good indication of a deal, you don't have to get everything in writing, so to speak, and I appreciate that coming back to work here."
Warkentin will receive his award at the chamber's Annual Dinner and Awards Night on Jan. 17 at the Heritage Inn, along with Saunders Insurance as Small Business of the Year and the Taber Charity Auction with the Spirit of Taber.
"When I first moved back, I got involved with the chamber. I was the president from 2011 to 2013. Through that organization I've been involved with Cornfest, free family fun the largest festival in western Canada, a great event that helps showcase our town. We've also been involved with Midnight Madness, now rebranded as the Taber Winter Festival. I've met a lot of great people on the board of the chamber, it's a great organization to be involved with because they're all there to help the community and make it better."
Warkentin detailed some of the other organizations he has been involved in with various fundraising efforts, and others still on the drawing board.
"I've also been involved in spearheading the Joint Economic Development Committee. That's still ongoing, a collaboration between the various municipalities and chambers. The spray park, Marten DeVlieger spearheaded that, and we did fundraising along with Mark Garner and Jack Brewin, and that was one thing that was exciting to be a part of. It was interesting to see the town come together. There's a lot of philanthropy in town here that's exciting to be a part of. One of the reasons I was nominated is I've been on the Community Futures board. Providing loans for entrepreneurs, providing economic training. I've been on that board for nine years coming up this summer. Recently, in our community, we've been working on a playground in Westview Estates. That's a project that I've been working on."
Warkentin admits his involvement and support of TCAPS has helped open his eyes to areas of need in the community that have passed his notice.
"Sometimes we get so pigeonholed in our own careers, and our own areas, that we don't see the broader part of Taber. So one of the organizations that I'm involved in is TCAPS (Taber Community Action and Prevention Society). They deal with what they perceive to be the holes in the community — prevention of crime, providing options for youth, providing victim services."
"I've been on that board for about five years now, as treasurer. It helps me expose myself to more than just those I work with."
As a volunteer through Family and Community Support Services, Warkentin has found more ways to give back.
"Through FCSS, I do free tax returns for seniors and low income people. I really like doing that because some of these people don't have the means to go and pay somebody to do a tax return. Some of us have the skill sets, and mine happens to be preparing tax returns. Sometimes when we get into our own sphere of influence, we don't see the needs in the community. That organization helps those that need a hand up. I'm one of the volunteers there that helps to do that."
Thankful to his employer for allowing him the flexibility to be able to serve in various capacities during irregular hours, Warkentin also singled out his fellow award recipients for congratulations.
"I want to congratulate my fellow award winners. They definitely help to make Taber a great place to live and work."
Warkentin is active in the life of his church, serving the board and contributing to charitable efforts like the Taber Foodgrains Project, which raised over $190,000 in 2019.
"I'm also on the board at my church. I'm the treasurer at the Taber Evangelical Free Church, for almost seven years. I'm also involved with the Taber Foodgrains Project, Canadian Foodgrains Bank. We're a volunteer organization that grows a crop, and then we donate the money as a Christian response to world hunger. We get matching grants from the federal government, four to one."
Warkentin was careful to suggest that no one person is responsible for the successes of the various organizations he has been involved with.
"In each of those organizations, it's definitely a team that promotes the success of each one of those. I'm just happy to be involved in each, because I get to meet a whole lot of people that inspire, me, you, us to be a better community. That's what I like about Taber. There's philanthropy — if you have an event for a good cause, people are there ready to support. And also, people are here in the community and they want the community to be better. They're not just here for themselves, they're here to see the community become a better place by living here. I really like that about Taber, and that's why raising a family, working, and encouraging others to come here is a great thing because Taber has that aspect about it. I encourage everyone to find a place where they can invest in the community, because that's what makes Taber great. It's going beyond ourselves, looking to those that need a hand up, and to find those holes in the community that we can help build with our time and our effort."
It's the interconnectedness that he witnesses in the community that Warkentin believes contributes greatly to the success of Taber and the region.
"That makes the fabric of our community stronger, because you know we're going to work together with this organization to work together with this one, and more gets done when we work together than if this organization is fighting against this one. I always believe collaboration — our differences are less than our similarities."
Finding people willing to set down firm roots in the community will be its lifeblood moving forward, concludes Warkentin.
"Taber is a great place to live, work and raise a family, and I believe that's why I came back. I don't regret it for a minute coming back to Taber. I think that as organizations, our future is in attracting individuals who believe the same thing, to come back or stay. That is the strength of Taber. And the future for Taber, economically and just generally, is positive. There's a lot of new things happening, a lot of opportunity. I think if we work together, we can make Taber even better."