Universal Basic Income in battle against COVID?
Posted on April 2, 2020 by Vauxhall Advance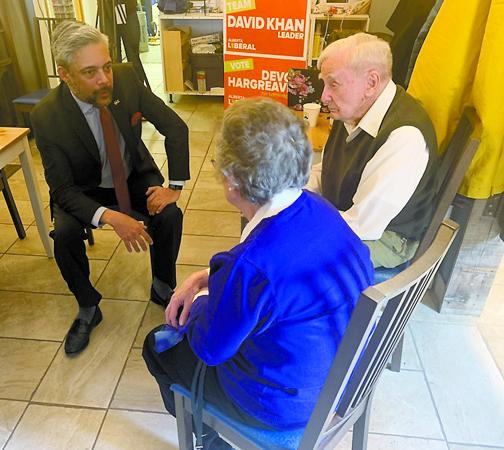 ADVANCE FILE PHOTO
By Greg Price
Vauxhall Advance
gprice@tabertimes.com
Several countries have tinkered with the idea of Universal Basic Income (UBI).
A platform foundation for the Alberta Liberal Party back in the 2019 election, for party leader David Khan, the time for a temporary UBI during the COVID-19 pandemic is now.
"It's been a patchwork of different programs at different levels of government. Things are changing every single day and every week. For example, the federal government announced two COVID-related benefits last week, then merged them into one benefit (the next) week," said Khan, adding a UBI would streamline the process of giving families financial security during the COVID-19 pandemic that has brought the North American economy to a near stand still.
The Alberta Liberals are calling on the federal government to implement a temporary Universal Basic Income of $1,500 per month per Canadian adult and $500 per child. The UBI should not be means tested, given the current COVID-19 situation past earnings may not reliably indicate who needs fiscal support.
Khan, a trained lawyer, runs an immigrant services agency. With employers working from home in self isolation and taking calls, those calls have taken on a familiar theme.
"All the calls we are getting from our clients, regardless of what programs and services they were getting before, was 'how do we apply for these programs? Who qualifies, who doesn't?' It's head spinning even for someone like me who has legal training and has been around politics a long time and has analyzed policy. It's difficult to figure out," said Khan. "The federal government is trying to adapt and tinker with existing EI programs and application processes. There's portals they are tacking on different benefits, and changing them with who is eligible and who isn't. It's almost impossible for the general public to understand what they qualify for, where they should apply and whether the benefit kicks in while they wait for the EI. More critically, the government just does not have the man power and technological resources to handle all these online claims."
He cited the Alberta Emergency Benefits website crashing.
"There's a federal benefit that is supposed to be coming in 10 days or so, I don't think it's going to come that quick. And the EI is going to be incredibly delayed," said Khan. "They had a million people apply (the March 15) week and had to process 140,000 applications. It's going to take a lot longer for this money to get out to people and I think it's going to cause a lot of social dislocation with people falling through the cracks and becoming desperate."
While the Alberta Liberal Party would like to see UBI be a permanent fixture, it's especially needed in the unprecedented time of the COVID-19 pandemic.
"They could do Universal Basic Income in a couple of days. Ninety per cent of people file tax returns and most of those have direct deposits set up with the CRA. Fire out this benefit and get this into their accounts right away. We can figure out next year, the 2021 tax year, who needed it and and who didn't and tax it back from those who ended up getting it who didn't need it," said Khan.
"That's 90 per cent of people not needing to flood government application websites with unnecessary application."
Different countries have dealt with the COVID-19 pandemic with different levels of efficiency, but mounds of red tape in social assistance programs is clogging things up.
In the moment of the COVID-19 crisis for Khan, now is not the time for incrementalism, but rather bold moves in showing leadership in supporting the economy and individuals.
"Had we had a UBI in place, up and running already, it could have been easily tweaked increasing payments for the time being and would have been automatic," said Khan. "In the long run, UBI could replace many social service programs that provide income to those who need it. The associated bureaucracies could be eliminated where there could be huge cost savings in administrative costs in rolling everything into a permanent UBI. Other savings could come from reduced social costs and other social ills that are caused by people not having a basic income or not being able to access the myriad of complicated overlapping and different-level government programs out there."
Khan gave a tip of the hat to premier Jason Kenney, prime minister Justin Trudeau and the medical health officers for their availability and being upfront in transparency in giving daily press conferences in keeping the public informed during the COVID-19 pandemic.