Southern Alberta Newspaper Group introduces $1.9 million marketing fund
Posted on April 30, 2020 by Vauxhall Advance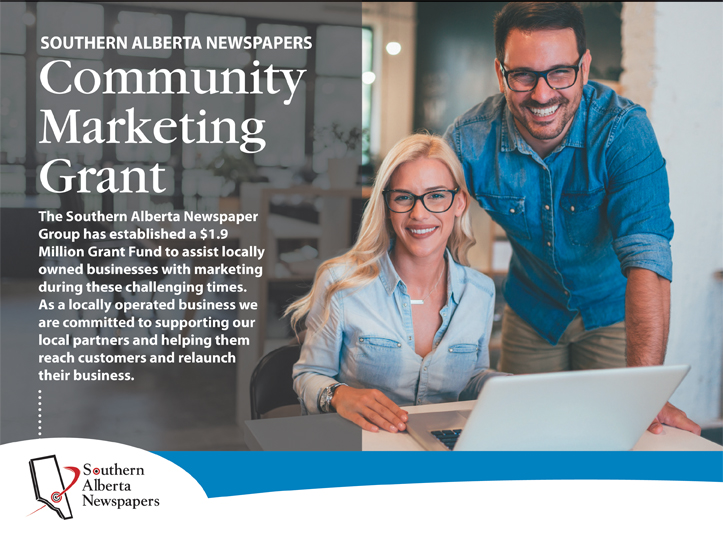 At a time when businesses are in need of support due to the devastating economic effects of the COVID-19 pandemic, Southern Alberta Newspapers have established a $1.9 million marketing fund to help locally owned and operated businesses in southern Alberta with their recovery plan.
Beginning today, businesses can now apply for the Community Marketing Grant, the $1.9 million in matching advertising dollars has been made available to help businesses return to their full strength.
"Our newspapers have a long history in the communities that we proudly serve, and are pleased to be able to offer these Community Marketing Grants during this unprecedented pandemic," said Ryan McAdams, group publisher of Southern Alberta Newspapers.
Grants are available for a minimum of $250 to a maximum of $10,000 of matching funds each month. The matching dollar grants will be available in May, June and July and the grant must be used within the month.
All locally-owned and operated businesses impacted by COVID-19 are encouraged to apply, whether they are an existing advertising client, or not.
"It is fundamentally important for each community that the local business owner/operators have every opportunity to emerge out of this COVID crisis in a position to succeed, and we are confident that these marketing grants will assist these businesses in promoting their products and services," said McAdams.
Applications must be submitted via our online form http://www.vauxhalladvance.com/community-grant. Those who apply will receive a response to their application within three business days. The grant money can be used for print and online advertising between May 1, 2020 and July 31. The deadline to apply is May 25. Southern Alberta Newspapers is a group of daily and weekly newspapers in multiple communities in Alberta and Saskatchewan.
For over 130 years, this collection of newspapers has been and will continue to be dedicated to their readership and advertising clients. We all need support and Southern Alberta Newspapers is proud to provide this fund in all our operating communities.
For more information, visit http://www.vauxhalladvance.com/community-grant.