M.D. still seeing some road issues as summer approaches
Posted on May 28, 2020 by Vauxhall Advance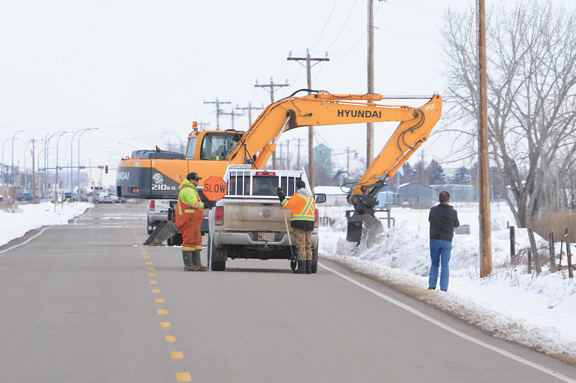 ADVANCE FILE PHOTO
By Cole Parkinson
Vauxhall Advance
cparkinson@tabertimes.com
With warmer weather finally in spades in southern Alberta, some Municipal District of Taber roads have seen some issues after the spring frost came out.
A discussion point around boils and soft spots on certain M.D. roadways was brought to council's regular meeting on May 12.
"These spots are caused by excessive moisture intake into roads, often as a result of inadequate drainage and saturation. The fall of 2019 was extremely wet which led to sitting water in many ditches as well as on road tops. This led to the saturation of many roads before the heavy frost of the winter set in. This spring came slightly later than normal and frost coming out of the ground happened simultaneously with the demands of agricultural seeding time. The heavy loads on saturated roads forced the water to come up through the crust of many roads due to the frost in the lower layers of the road preventing the water from going down, creating the boil," reads administration's report.
The M.D. had road bans in place with 75 per cent on all oiled, paved, chip-sealed and hard-surfaced roads while all other gravel roads under M.D. authority have 90 per cent unless otherwise posted.
Road bans were officially lifted by the M.D. on Wednesday morning.
Administration's report also stated they have already had several Super B grain trucks stuck in roads throughout the M.D. which resulted in the trucks being offloaded to get them unstuck.
"I've been working with Bryce (Surina, director of GIS and IT) and the IT department to get a collector app set up so we can start to collect all of these locations and start to make a database of these boils and soft spots are popping up. It also gives us the ability to fix them later in the summer, at least this way we wiki know where they are," explained Stu Weber, director of public works.
With the public works crew chasing down these soft spots on M.D. roads, they have been placing material on roads to allow traffic to continue, though they realize it is far from a permanent solution.
"Once they start, you typically get that weak point so you will see them more often in those same locations. As the norm, we are just trying to come up with a strategic plan as far as how we will handle these in the future. It's been a bit of a challenge. We have had lots of trucks stuck in roads and lots of blowouts so we are trying to move forward and prepare it the best we can in the short term," continued Weber.
Council carried a motion to accept the report as information.