Taber Pride event goes digital due to ongoing pandemic
Posted on June 4, 2020 by Vauxhall Advance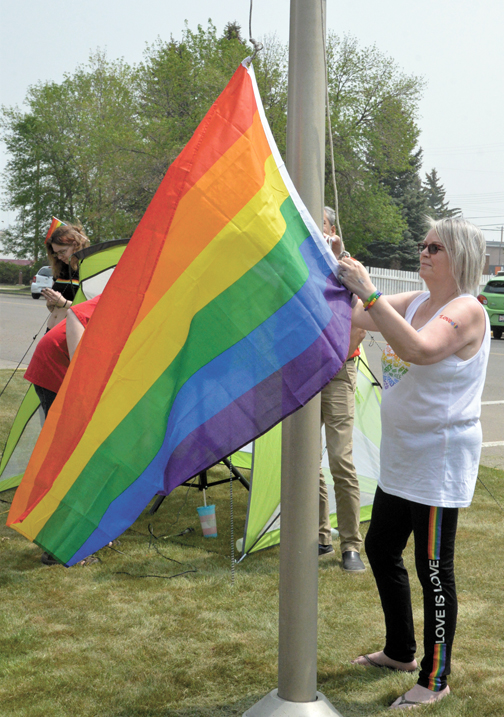 ADVANCE FILE PHOTO
By Cole Parkinson
Vauxhall Advance
cparkinson@tabertimes.com
Taber Pride is continuing in 2020, albeit with a twist.
With COVID-19 still limiting mass gatherings, Taber Equality Alliance's Taber Pride 2020 is transitioning to an all-digital celebration.
Starting on June 6 and running until June 20, Taber Pride will have plenty of different events running through their Facebook page to celebrate Pride month.
"We are going to be all online. So, we are still going to be raising the flag on the Saturday (June 6) and we're doing that as a small group. We're asking people to watch that on our Facebook page, we don't want a big crowd. Right now, we don't have the power or the ability to keep the social distancing," explained Scott Gillespie, treasurer of the Taber Equality Alliance (TEA).
While plenty of different activities are usually hosted in Taber during their Pride celebration, even though there won't be in-person entertainment, that doesn't mean the celebration is cancelled.
"Our performers that were planning on being a part of the live event, they are going to be putting together some things to be put on our Facebook over the course of June. The other component, which is a new one, is we are asking for submissions from community members. Anybody that wants to submit, we are going to feature them on our page. Some will be eligible to win a gift card from a local business so we are encouraging people to put together whatever they have. Whether it's paintings, songs, or whatever they have that expresses and shows their pride," continued Gillespie.
While the group usually asks local business to donate to the event, this year the organization decided to change things up.
As COVID-19 has put businesses into a tighter financial status than usual, the group decided to put money back into the community.
"With these gift cards, we kind of turned the tables this year. Instead of going to businesses and asking for donations, we actually went to businesses and bought the gift cards from them and we'll be promoting the ones who are interested in working with us. As a way to show our pride in the community because we know a lot of small businesses are hurting right now," stated Gillespie. "We have had a lot of good feedback from businesses that we've approached. They were happy that we are not looking for donations but looking to help and promote them. In terms of support, we are hoping to see a bunch of art and other things submitted from the community."
Challenges brought forward by the COVID-19 pandemic has certainly put a damper on upcoming pride celebrations but the organizers of Taber Pride are happy they had an opportunity to shift their traditional event into something people could still participate in.
Due to the smaller scale of their organization and being in a smaller town, the group was tested with quite a few issues that had to be corrected but it would have been a bigger challenge if they were a larger operation.
"We are fortunate in that we are very small so we can adapt and change a little quicker than a large organization. We could see it coming and we had pretty well everything in place from how things had went last year," continued Gillespie. "We were just in the stage of executing some of those plans and we were able to hold off to look at ways where we could go digital. We have two major grants, one from TD Bank and then another from the Canada Heritage Fund. We talked with them about how we could adapt and whether if they were okay with that and they both were very enthusiastic that we should go ahead and adapt to how things were going."
Looking further into 2020, TEA is hopeful they can host more events if restrictions around social distancing are loosened up. For now though, Taber Pride is the number one focus of the organizers.
"For right now, a lot of things are on hold. We still would like to have a dance and a party and fundraiser in the fall if things are permitted then," added Gillespie. "We're basically just going to concentrate on Pride right now and see how the summer goes."
To keep up to date on Taber 2020 Pride, visit http://www.facebook.com/taberpride.