HALO thanks M.D. of Taber for donation
Posted on July 1, 2020 by Vauxhall Advance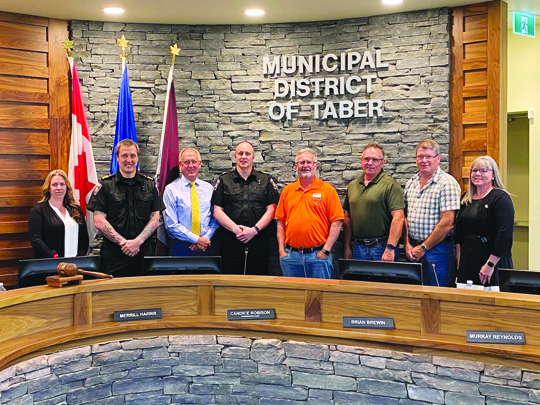 ADVANCE PHOTO FROM THE MUNICIPAL DISTRICT OF TABER FACEBOOK PAGE
By Cole Parkinson
Vauxhall Advance
cparkinson@tabertimes.com
HALO Air Ambulance is receiving a financial boost from the Municipal District of Taber.
After closed session at council's regular meeting on June 9, a motion was carried to provide a donation of $30,000 and to further investigate a regional approach for lobbying for funding with affected neighbouring municipalities.
The $30,000 donation from the M.D. of Taber works out to around $4 per capita.
As a way to say thanks for the money received, a HALO delegation was in council chambers during the M.D.'s regular meeting on June 23.
"This is really significant and we really appreciate it. What southern Alberta communities have done over the last four or five weeks is nothing short of remarkable," said Dale Thacker, HALO chairman. "They (the provincial government) are starting to recognize the fact that HALO has a role to play in this region. A little disappointment that I got, and I don't know if you guys have got as well, but when Minister (Tyler) Shandro said 'there would be no gap in service'. That's not true, there is."
In May, HALO had announced the service was reaching a critical point where they could no longer run a full complement of helicopters and stated they would be restricted to a single-engined helicopter moving forward unless funding came.
They had asked the provincial government for $250,000 in funding, which has not been provided to the group since the request was made.
HALO did receive a big boost in support from the #FreeFryDay campaign organized by Western Tractor, McCain Foods, and J.E.B. Transport along with several other southern Alberta fundraisers.
"Every penny goes towards that helicopter," stated Thacker.
"Just want to thank the M.D. of Taber for supporting HALO, and for the regional fire service, you are a very important link in the chain of survival in our area. So thanks to the reeve and council for the support," added Brian Schafer, M.D. regional fire chief.
While the group can stay airborne for the time being, permanent funding move forward is still needed. Thacker highlighted how important HALO is for southern Alberta and due to the closeness of the service, the removal of HALO would jeopardize many lives.
"I talked to a physician and he said the first hour is the most important one, the second is less important and the third even less than that," he explained.
The $30,000 provided by the M.D. is a great boost for the organization but more work is being done behind the scenes to find a stable source of income to keep HALO helicopters in southern Alberta skies.
As other municipalities in the region are exploring ways to provide funding for HALO, the hope is to have the provincial government contribute as well to fully fund the organization moving forward.
"Cypress County is spearheading a group hoping to get one-third, one-third and one-third funding," said Reeve Merrill Harris. "It would be one-third from the province, one-third from municipalities and the last one-third from fundraising. Their proposal was a $20 per capita contribution to HALO. At this point in time, the M.D. has committed and the cheque works out to roughly $4. If all the municipalities across southern Alberta were to contribute $4, it would give the one-third that was necessary. We are going to continue to work with Cypress County and the HALO board to try and lobby for the government's side of the funding. We'll continue to work with them to determine what that funding model is going to look like but for now, this is what we felt as the M.D. could do in the immediate (future) to keep them flying while we work on the bigger project of getting the province to fund HALO. There will be more to come I'm sure once this funding model has been worked out."