Red tape report highlights $476 million in savings
Posted on December 24, 2020 by Vauxhall Advance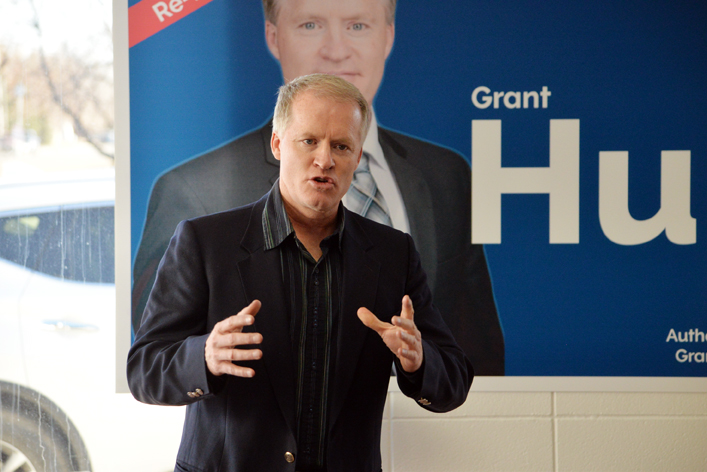 GRANT HUNTER
By Trevor Busch
Vauxhall Advance
After tabling his first report card on red tape reduction last month, Taber-Warner MLA Grant Hunter confirmed his UCP government is well on its way to easing Alberta's regulatory burden by one third by 2023.
"I've heard the NDP say, many times, what's the use? Red tape reduction, that's just ridiculous, we think you're a ridiculous ministry," said Hunter, who heads up the associate ministry of Red Tape Reduction. "I can say by saving Albertans $476 million in the first year, my view is (that is) certainly something that Albertans will appreciate, as that actually saves businesses money and time and allows them to be able to hire more people. When you're just jumping through hoops because of a government policy, or regulation, or statute tells you you have to, but there's no efficacy to it — it doesn't actually add to the value — then at that point you're actually taking away, you're robbing people of jobs."
Between May 1, 2019 and June 30, 2020, Alberta's government cut more than six per cent of red tape, saving job creators both time and money.
"They say that red tape is the silent robber of jobs, and that is so true," continued Hunter. "Every jurisdiction that has gone after this stuff has seen a bump in employment, a bump in GDP, a bump in their economy. Why? Because when you're not filling out forms that you don't have to fill out, or when you're not having to hire a compliance officer to be able to jump through all of those hoops that the government makes you jump through, then you can hire a person to actually produce."
The report includes a definition of the baseline count, a measure of all the regulations, forms, statutes, and policies that exist within all departments, agencies, boards and commissions.
"We measure a couple of things. We measured the actual count, and that was 670,977, that's our baseline count — that's all of our statutes, regulations, forms and policies — but we also measure how much we save, so that's the compliance cost savings, so that's the $476 million. In the first year, we were able to set up the ministry under the Finance and Treasury Board ministry, so this is an associate ministry — tiny but powerful, we say, we get lots done — but we set up this ministry and were able to change culture in government which is a huge part of the work that we did, so that the bureaucrats were looking at regulations, looking at things through the lens of red tape reduction," said Hunter.
According to the province, ongoing red tape reduction efforts are being driven by advice from key leaders in Alberta through panels including small business, oil and gas, and tourism and hospitality.
"So we've got many sectors of the government coming forward with great ideas, best practices that we can apply. When you talk to anybody, if they're high performing people they're also upset about red tape. They're also upset about these inefficiencies. They are looking for an opportunity — just an opportunity — to be able to share their ideas and best practices. And this is what we have found, there's just been a plethora of good ideas coming forward. And we're just getting started — we've gotten rid of a little over 6.2 per cent of that baseline count, that's about 52,000 pinch points that we got rid of. That's substantial, but we're going to actually get rid of one third of that full 671,000 at least in the first four years of our mandate."
Hunter expanded on the difficult task of changing the workplace culture at the Government of Alberta, and encouraging bureaucrats to think about government business in terms of outcomes.
"What happens in government is we hire a person to do a job. They think of it in terms of, within that box, of what they have to do. And so it's very easy for them to write a regulation, or write a piece of legislation, or statutes, or create a form that just says this is what we are asked to do, and this is what we've done, versus focusing on outcome. So a prescriptive approach says just do the job, get it done, and you've checked off all the boxes, whereas an outcomes approach says you've checked off all the boxes — the form that you need says what you need to say — but can you say it in a way that will be less onerous on the people who are filling it out. So that's an outcomes based approach. My mandate is to move us from a prescriptive approach to looking at statutes, regulations, forms and policies, to an outcomes base that says what is end goal? And can we do it in less time? And can we do it at less cost to our job creators and innovators."
Key panels involved in red tape reduction discussion included Small Business, Oil and Gas, Tourism and Hospitality, Industrial Manufacturing, Chemical Manufacturing, Forestry, Agriculture, Agri-food and Bio-industrial, Non-profit and Construction.