Revisiting the year of 2020 in the Vauxhall area
Posted on January 7, 2021 by Vauxhall Advance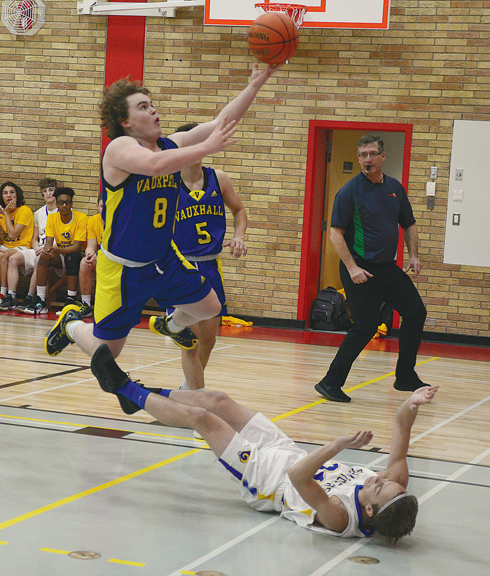 ADVANCE FILE PHOTO
As the calendar has finally flipped to 2021, the Vauxhall Advance is revisiting the top stories of 2020.
While many are no doubt happy for a fresh start, 2020 was certainly a different year than those past, in more ways than one.
January: While Bill 207 may have hit a roadblock, it may not be a total dead stop. The bill centres around conscience rights for health practitioners which would provide immunity from discipline for health providers who refuse to address patient needs that offend their conscience, including opting to decline to provide a referral. Sitting on the Standing Committee on Private Bills and Private Members' Public Bills, Cardston-Siksika MLA Joseph Schow was one of two members voting in favour of the bill, the other was Brooks-Medicine Hat MLA Michaela Glasgo.
Anna Klassen couldn't wait any longer to meet her brothers and sisters. Vauxhall's New Year's Baby was born on New Year's Day, on Jan. 1, at approximately 2:03 p.m. at the Taber Health Centre. The Klassen family was home, getting ready to go to sleep when the first harder contractions started to hit Johan's wife Sara.
At approximately 7:15 a.m. on Friday morning, Station 5 (Vauxhall) of the M.D. of Taber Regional Fire Service was called to a two-vehicle head-on collision on Highway 36 near Highway 875, which would claim the lives of four people.
The charity stripe wasn't so charitable for the Vauxhall Vikings boys basketball team, who eventually would go on to take bronze at its tournament in Stirling. The Vikings were pushed to the third-place game after falling to Kainai Warriors 91-87 in the semifinal.
With the Vauxhall Curling Club and town council extending their previous rent contract to the end of February, talks about their new deal have begun.
February: Come June, Vauxhall will be in celebration mode. With 2020 being the centennial for the town of Vauxhall, council and administration are still in party planning mode with the celebration coming in June.
Preliminary discussions for the 2020 budget have begun for Vauxhall town council. In a special budget meeting held in late January, council went over several items that would be coming forward for the new 2020 operating budget.
With the deadline at the end of the week, putting pen to paper is still a ways off in regard to the rent agreement between the Vauxhall Curling Club and Town of Vauxhall. As the curling club is preparing for the Ladies Bonspiel, the current agreement is due to expire on Feb. 28, the same day the bonspiel begins.
March: Curling Club lease saved in 11th hour with emergency meeting. After months of back and forth between Vauxhall town council and the Vauxhall Curling Club, a new rent agreement has been agreed to by both sides.
The United Conservative government has released their second budget in a matter of six months, and Cardston- Siksika MLA Joseph Schow is excited at the prospects it will bring to the province. Released in late February, the 2020 budget predicts a $200 million decrease to the deficit bringing the overall number to $6.8 billion, though the projected total debt is expected to increase to $88 billion by 2023.
COVID-19 has postponed the National Hockey League, National Basketball Association and Major League Baseball and now, it has forced the cancellation of the Vauxhall Academy of Baseball Jets spring season. With the announcement of all Alberta Kindergarten to Grade 12 schools to be closed indefinitely, it left the team with little option in moving forward.
MLA Schow highlights UCP government programs to help with COVID-19. Cardson-Siksika MLA Joseph Schow wants to ensure constituents the United Conservative government is doing everything they can to help Albertans during the ongoing COVID-19 pandemic.
April: Vauxhallites Cole McClelland, Simon Virostek, Jared Huvenaars and Logan Howg were all able to raise a banner this year after the Taber midget Oil Kings won the Tier IV Central Alberta Hockey League Championship.
The current COVID-19 pandemic gripping the world is an unprecedented time in history since the Spanish Flu in 1918. That's why Karen Ingram of the Taber Irrigation Impact Museum is calling on southern Albertans to help preserve that history so people know how the citizenry reacted to the situation.
On April 8, at approximately 12:30 p.m., Taber/Vauxhall RCMP received a report of an armed robbery at a bank in the area of 2nd Avenue North and 4th Street North in Vauxhall. A suspect in disguise entered the bank carrying what is believed to be a rifle and demanded money from an employee of the bank.
As the COVID-19 pandemic continues to force many to self-isolate, the Town of Vauxhall is hoping to provide some relief to those affected financially. During council's special meeting held on April 7, the idea of providing short-term relief for residents and businesses due to the pandemic was brought forward.
M.D. of Taber departments were busy last week with multiple fires near Hays. On April 22, M.D. station 1 (Hays) were dispatched just after 4 p.m. for a grass fire by an irrigation canal in section 31-13-14-W4.
May: M.D. of Taber contributes $3,000 to centennial clock tower. While the Town of Vauxhall's centennial celebration has been pushed to 2021, there is still a strong belief the town will be able to celebrate their 100 birthday a different way.
M.D. council puts Highway 36 Rest Area project out to tender. Work at the Highway 36 Rest Area is continuing at the Municipal District of Taber but a cost increase for the project is incoming.
HALO Air Ambulance has reached a critical point in terms of funding for the organization. Last week, the group put out a press release explaining their financial shape as the COVID-19 pandemic continues to have negative effects on all walks of life.
While COVID-19 has delayed and altered the usual schedule, the Vauxhall Spurs are still confident they will be hitting the diamond this year.
With original tryout dates scheduled for April and May, those plans had to change with the global pandemic slowing everything down.
June: Things are finally starting to open up after COVID-19 forced things to slow down in early 2020. Come next week, the Municipal District of Taber will see many of their recreation areas open up to the public after delays were set due to the pandemic.
With the Phase 2 relaunch underway in Alberta, several facilities in the town of Vauxhall are opening. As the summer heat starts creeping into southern Alberta, many have been wondering when the Vauxhall Swimming Pool would be able to open their doors, and while no official date has been set, things are looking good.
If things go accordingly, construction on the Vauxhall centennial clock will begin in a matter of weeks.
Southern Alberta is still assessing the damage from the June 13 storm system that shredded crops and damaged homes and property throughout the region.
July: The Southern Alberta Crime Reduction Unit, with assistance from numerous RCMP detachments as well as partner agencies, conducted an investigation over the past several months into a series of robberies that targeted banks in southern Alberta including Granum, Caroline, Vauxhall (on two separate occasions), Trochu, Calgary and Magrath. On Tuesday, Jesse Damond Morton, 44, of Calgary was arrested in Calgary. A search warrant was conducted at a storage locker resulting in the seizure of an SKS rifle and $2,750 in US currency.
While no one wanted to see a cancelled spring season for the Vauxhall Jets, it wasn't all bad news for the academy. Due to the COVID-19 pandemic, the Jets saw their season cancelled before it began but with no players on the field, it allowed the group to get to work on some needed upgrades.
While the Vauxhall Spurs were slow out of blocks in the first few games of the season, the team has been red hot ever since. Despite losing the first three games of their exhibition season, the Spurs rattled off the next three wins to wrap up last weekend and their bats didn't slow down over this past weekend of action.
Local RCMP highlights several high-profile arrests. June proved to be a particularly busy month for the Taber/Vauxhall detachment as things started to open up in the province.
As boaters continue to hit Alberta waters during the summer months, the worry of zebra mussels invading the Municipal District of Taber is still present.
August: Late last week, Vauxhall town mascots Sammy and Samantha finally tied the knot at Jets Stadium.
With the end goal of a "fair deal" or else independence, a group of unhappy Albertans held a meeting in Medicine Hat on July 27.
Alberta's counties say tax bills for non-oilpatch properties may have to triple or even quadruple to make up for changes proposed by the provincial government.
Teachers employed by Horizon School Division No. 67 have voted 87 per cent in favour of authorizing the Alberta Teachers' Association to request a government-supervised strike vote.
September: Last Friday night saw the debut of the new Vauxhall centennial clock tower which had seen a fundraising campaign over the last several months. 
Not unlike many industries impacted by the global pandemic in 2020, weekly newspapers in southern Alberta have been struggling against adversity to maintain the vital role they play in their various communities.
While the spring season saw cancellation due to the COVID-19 pandemic, the Vauxhall Jets have begun their fall season with plenty of additional safety measures for players and coaches.
Another sugar beet harvest will be in full swing by early October, and another great crop is expected to be taken off.
October: The Vauxhall Academy of Baseball Jets finally hit the field at Jets Stadium this past weekend after playing several games in Lethbridge.
The Vauxhall Public Library is hoping to add more members in the near future. With another departure within the board, the need for new members has never been more apparent.
The Vauxhall Academy of Baseball Jets are hopeful to still head south come spring. With the board carrying a motion during their August meeting to suspend international travel for the 2020/2021 school year, VAB was hopeful an exception could be made for the program if the U.S/Canada border opened early next year.
A new website launched by the Alberta Federation of Labour is asking Albertans to boycott businesses who are UCP donors. This month, http://www.boycottUCPdonors.ca went live after a press release from the AFL was released.
Enchant main access road receiving repair work. Winter weather has arrived in southern Alberta and Municipal District of Taber council is hoping to do some repair work before even colder temperatures set in.
November: As fundraising for the Community Hall kitchen upgrades is still underway, the group has reached a financial status high enough to proceed with demolition this winter.
While the pandemic forced the annual Vauxhall Remembrance Day event outside, plenty of members of the community made their way to the cenotaph yesterday to pay their respects.
The Vauxhall and District Chamber of Commerce held their awards night and D and R Napa Auto Parts (Terry and Shelley Mehlhaff) were awarded the 2020 Business of the Year. The VDCC also recognized two volunteers within the community. This year the Vauxhall Ag Society recognized Malcolm Jones and Richard Ferguson.
The Vauxhall Academy of Baseball Jets have moved indoors for winter training as part of their usual schedule of baseball events. Despite a challenging, protocol-filled fall season, the Jets coaching staff and players were able to still hit the field to get some games in under irregular pandemic restrictions.
December: With the fall sitting over the halfway point, Cardston-Siksika MLA Joseph Schow is reporting things are moving in the right direction as they head towards Christmas.
Jason Kenney has announced new restrictions to help combat the increasing number of COVID-19 cases sweeping the province. New expanded mandatory measures came into effect Dec. 8 for social gatherings and mandatory masking.
The issue of 9-1-1 hang-ups are continuing to hamper the Taber/Vauxhall RCMP detachment. Last month, the RCMP saw another 48 9-1-1 hang-ups in the Municipal District of Taber which is the third most this year following only June (60) and July (63).
After tabling his first report card on red tape reduction last month, Taber-Warner MLA Grant Hunter confirmed his UCP government is well on its way to easing Alberta's regulatory burden by 2023.