Former Horizon teacher looking to help kids reach their potential
Posted on April 22, 2021 by Vauxhall Advance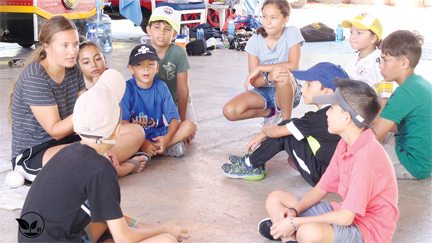 By Cole Parkinson
Vauxhall Advance
cparkinson@tabertimes.com
A former Horizon teacher is venturing out with her own to help youth reach their full potential.
Kelsey Kristensen, a former teacher at Hays School, along with her boyfriend Francisco Brito, have established Destination You. The program is designed to "inspire people of all ages to make positive changes in their lives — changes that will help them grow to be confident and fulfilled."
"There are two parts to this project we call Destination You," explained Kristensen. "There's one that is the in-school side and then there's the online youth mentorship part. This whole idea was really created because after teaching in Horizon, I realized there was a need for social-emotional learning development in kids. I really wanted to make my teaching focus on that, so I took a leave of absence for professional and personal development and decided to create a forest school."
A forest school is an approach to learning by taking students outdoors, regardless of the weather, to explore the natural environment. The idea of a forest school was developed in Denmark in the 1950s and has since expanded to Sweden, the U.K, Canada and the United States.
The basis of Destination You comes from five key pillars — safe community, growth mindset, awareness, physical/mental health and Destination: You.
"The goal is to teach kids these five pillars — one on each day just continuously building on the other one. Hopefully, the kids will come out with this community within their school. What I'd like to do next is to create a teacher part, so teachers can be linked in," added Kristensen. "It's supposed to be really fun and playful because I think that's the best way to teach. It's to have fun and not be sitting behind desks and listening to someone talk. The idea of it is — it comes from the kids. We're there to support and guide their way through — but the kids are the ones who are making the impact for themselves."
The pair is currently residing in Mexico, but they have plans to bring the program to Canada, as soon as possible. The plan was originally to be based in Europe, but due to the COVID-19 pandemic, their plans had to change quickly.
"We've only tried it here (in Mexico) — but it was a huge success. The parents were really happy and the kids were really happy. Then COVID happened and things are a bit different now," stated Kristensen. "When we're able to come to Canada, we would love to. I would love to have some programs set up in schools." 
The COVID-19 pandemic has been a struggle for Destination You.
Considering they were just getting up and running when the pandemic started, they had to shift their focus early into the program's life. Despite this setback, Kristensen says they were able to add an online portion that has had good feedback so far.
"We've really been focused on making content — videos and explaining what our programs are about, so when things open we have all the resources and material ready," she said. "I've been trying to give back also. Using this time to give something back to teachers, so they have more resources available for their kids now."
After three years in Hays, Kristensen says it opened her eyes in terms of how she wanted to proceed in her career.
Looking back, she has nothing but fond memories of her time in the hamlet.
"I really liked the sense of the small school and the freedom. We could do lots of activities and go out to the tree-line and play in the trees. For me, that's what learning has to be — something that is fun and engaging, and really active, so kids are happy and they love themselves. I think there is so much stress and anxiety kids go through at such a young age it's important to give them the skills to deal with that before they can do the learning about Mathematics, Language Arts, spelling and all of those things," she continued. "I needed to do something more than what I was able to do inside the classroom. I wanted to make that my complete focus and that's where that started." 
For now, the program is accepting students from all over for their online mentoring program.
"It has been a strange year and we haven't had any in-person classes this whole year. I have two students who just signed up from Finland from Youth Mentorship," added Kristensen. 
Any parent/student looking for one-on-one youth mentoring — which includes talking about homework, goal setting, visualization, managing stress or relationships, visit http://www.destination-you.com. You can also keep up to date with Destination You by following their Instagram page @dydestinationyou.