Former Taberite looks at life outside of Canadian military
Posted on May 20, 2021 by Vauxhall Advance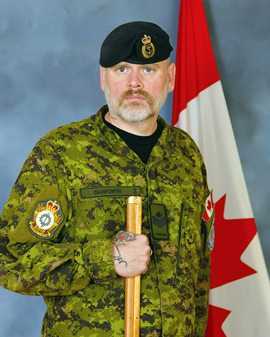 By Cole Parkinson
Vauxhall Advance
cparkinson@tabertimes.com
A former Taberite is adjusting to life outside of the military. 
Warren Danforth, CD, Petty Officer 2nd Class (ret.) served for over 20 years in the Canadian Armed Forces, but has now turned his attention to other ventures and interests.
"I joined the Canadian Armed Forces in January 2001 and I resigned effectively March 31, 2021," he said. "I am now working towards becoming a train conductor for the railroad industry." 
After spending the vast majority of his time as a sailor at sea, he says 17 of the 20 years were spent out on the water.
"So throughout my 17 years, if you were to do it in one stretch, it would take two years to complete," he explained. "Being at sea is a regimented schedule of watches, drills and it's duty. It's a regimented life with a set wake up, a set meal, a set watch and drills. It's improving your skills as a sailor, you practice your seamanship, your navigation and all those things. My trade specifically — I was a steward, but my secondary duty on board I was a naval boarding party member, as a petty officer second class. I was the second in command of the naval boarding party. Now, the naval boarding party is tasked with boarding ships suspected of piracy, smuggling and custom issues." 
Danforth served on ships including HMCS Protecteur, HMCS Huron, HMCS Algonquin, HMCS Winnipeg, HMCS Ottawa, HMCS Victoria, HMCS Corner Brook and HMCS Regina. 
The experiences Danforth has had with the military saw him travel all over the globe.
"I did three foreign tours in the Middle East. I've done all sorts of activities in the pacific fleet. I did a tour in Nunavut — which is the northernmost point of Canada. I have circumnavigated the globe," he added.
Looking back, like anyone else, he has experienced good days and bad. But when thinking back on his entire career, there are several days that stick out. One of those memories includes a short posting up north that Danforth says was his favourite time within the military.
"The best time I had in the forces was at CFS Alert. It's the northernmost permanently inhabited station in the world. I was the training post manager up there and I took care of the morale of the unit and I provided everything from T-shirts, to souvenirs, bubble gum, a bag of chips or whatever to make you feel at home. I was also the postmaster up there and the manager of the bar. I was only up there a month because I was subbing for someone, but the month I was up there was the most memorable point of my career." 
Another day that sticks out happened early on in his career — Sept. 11, 2001.
"Having 9/11 happen in my first few months was an eye-opener. I found myself going from what was a very relaxed military to a fully ramped up, ready to go military with the Afghanistan War. I found myself, with barely a year in, already in the thick of it," he explained. "I was working in Ontario, right before my training started and I was still an ordinary seaman. I was tasked to scrape the back of an oven or something because I was still on general duties. I remember the secretary coming in screaming that the Twin Towers had fell. Nothing else got done that day, we stood in front of the TV and watched. I knew right then and there my career had gone from something I figured would be a two/three-year deal, to something that was a 20-year engagement."
When his career was wrapping up, he got another posting he was looking forward to and he was able to wrap up his career where it began in Saint-Jean-sur-Richelieu, Que. 
His last posting saw him become an instructor at the Canadian Forces Leadership and Recruit School, and Danforth says it couldn't have been a better last stop for him.
"My last posting, I was a drill instructor at the Canadian Forces Leadership and Recruit School in Saint-Jean-sur-Richelieu in Quebec. My duties included teaching new recruits in drill, leadership, ethics, ethos, cyber awareness, field manoeuvres, gas training and all that. It was a rewarding job for my last post. I got to end my career where I started my career," he said. "It was a blessing to be in a position where I learned to be a member of the Canadian Armed Forces and then to teach people to become members was a great honour. I could give back everything I had learned and pass it onto the next generation before I left. To me, that meant everything." 
With his military career behind him, Danforth is looking to experience other things life has to offer. 
While it has been a challenge adapting from a regimented schedule to a more relaxed life, he's looking forward to tackling new challenges.
"It's been difficult. It was a challenge when you meet the boss the first time and you say 'yes, sir' and they say 'no, my name is Joe, not sir.' It's a different world, it's a lot more relaxed and it's not what I'm used to."