Town of Vauxhall preparing for summer pool use
Posted on June 3, 2021 by Vauxhall Advance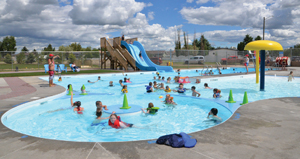 ADVANCE FILE PHOTO
By Cole Parkinson
Vauxhall Advance
cparkinson@tabertimes.com
While the provincial government is preparing for a wide-open summer, the Town of Vauxhall is still planning this year's pool use.
Even though private rentals have not been allowed in traditional years, with COVID-19 restrictions still present, town council was updated on a new bylaw during their May 17 meeting.
"This was an idea we came up with, not knowing if restrictions would go forward or how the pool operation was going to work. We currently don't have a private rental rate, and I don't think it was something we thought we'd go into, but we thought if we did something like this while the restrictions were on, you could rent the pool for say an hour within your family unit, or whatever the restrictions are at that time," said Mindy Dunphy, assistant CAO.
A question was asked to administration around how a lifeguards schedule would be constructed with only private rentals.
"After the (May) long weekend, our guard is going to come in, so we thought we'd start the process of at least looking for guards. We have lots that have applied this year, so I think we're going to work on getting an assistant and then hiring, we'll tell them there's no guarantee of employment until we know what's going to happen," stated Dunphy. "We're struggling with how long do we wait." 
"They'll be put to other work," added CAO Cris Burns. "There's always something for them to do."
Burns added during the summer, there's plenty of things around town for staff to work on.
"They can do some maintenance work at the arena, or the (pool) facility itself, or they can paint signs. There's all kinds of work we can find them. If they don't want that work, they stay home," he added.
It was also explained to councillors some wages for lifeguards are covered by a federal government grant.
"A portion of the students (wages) will be paid through a federal (grant). They will be covered not at a loss to the town," explained Burns.
Administration also explained that when regular operations resume upon restrictions being lifted, private bookings would no longer be available.  
First, second and third readings of the bylaw were carried.
The Town of Vauxhall Facebook page further updated questions on pool use by stating "With the warm weather, we are receiving inquiries on the Vauxhall pool opening date. We are currently getting the pool ready and fulfilling our staffing requirements for the season. We will keep you updated."