Lethbridge College tree planting initiative celebrates partnerships and milestones
Posted on June 10, 2021 by Vauxhall Advance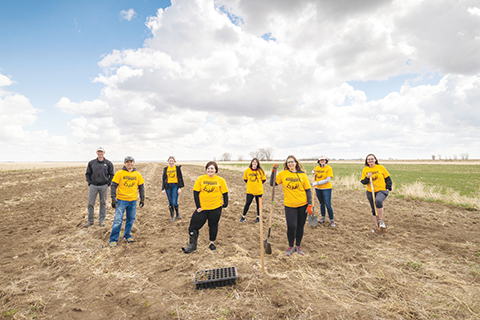 PLANTERS: Members of the Lethbridge College Development, Alumni Relations, Advancement and Executive Leadership teams came together to plant 250 shrubs with the ACA earlier this month as part of a re-wilding project. ADVANCE photos PROVIDED BY LETHBRIDGE COLLEGE
Lethbridge College staff and alumni joined Alberta Conservation Association (ACA) under blue prairie skies earlier this month to plant 250 shrubs, the first of more than 2,500 to be planted just outside Vauxhall as part of an innovative partnership.
The re-wilding project undertaken by the college and MBNACanada celebrates the 50th anniversary of the college's Conservation Enforcement and Renewable Resource Management programs and restores a former farmer's field into a habitat that both wildlife and people can enjoy.
"Lethbridge College has been a leader in environmental education and research for more than 50 years, and this was our opportunity to be involved in that work outside of our own walls," said Dr. Paula Burns, Lethbridge College President and CEO, one of the many volunteers from the college who put on work boots and picked up a shovel to help with the planting. 
"Just like our incredible alumni, the shrubs we planted will take root in this community and support its continued growth."
ACA biologist and Lethbridge College alumni Tyler Johns (Renewable Resource Management 1999) says the chosen site was a former hayfield the ACA purchased from a local farmer who wanted it restored to a natural state.
"The purpose of this project is twofold," explained Johns. 
"First, we want to get structure on the site that will benefit wildlife like birds and deer who can use those shrubs for cover, for food or as a windbreak. The other reason is to get people onto the site for berry picking, wildlife spotting, hunting and fishing. This particular site is connected to some native habitat downstream on the Bow River, so there's also good connectivity between the uplands around the site and the river."
Some of the flora planted included Saskatoon berry bushes, choke cherry, thorny buffaloberry and roses as well as non-native species that are drought- and wind-resistant.
Johns says he was excited for the opportunity to work with his alma mater given the role that the college has played in his career and those of many others involved in environmental sciences in southern Alberta.
"I'd say that almost 90 per cent of us at ACA's Lethbridge office are grads of the college and we still have a great relationship with instructors and the program," said Johns, adding ACA works with the college to give students experiential learning opportunities at some conservation sites.
This initiative was funded by the college's newest affinity partner, MBNA, and its Alumni Engagement office.
Alberta Conservation Association has been working with landowners, donors and corporations since 1997 to set aside land in Alberta for conservation. 
Today the organization manages over 210,000 acres across the province.