Southern Alberta irrigation districts merger approved by boards
Posted on July 8, 2021 by Vauxhall Advance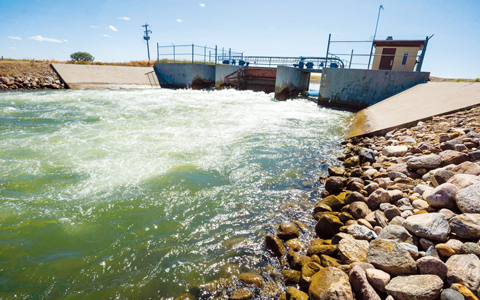 ADVANCE FILE PHOTO
By Tim Kalinowski
Southern Alberta Newspapers
The boards of both the St. Mary River Irrigation District and the Taber Irrigation District have approved a merger, in principle, between the two organizations.
David Westwood, general manager for the SMRID and the designated spokesperson for the TID on the merger issue, said given the long history between the two districts who share the same source waters, and the fact the TID is basically surrounded by the much larger SMRID to both the east and west, that some form of merger has been contemplated for some time. 
However, recent provincial government grants of $815 million to improve and expand irrigation infrastructure and acres in southern Alberta have really shifted those conversations into overdrive, said Westwood.
"I think with the pending expansion we arrived at this was the right time to sit down and start negotiating about where potential expansion acres might be located and how we would service those, and those kinds of things," confirmed Westwood. 
"I think it was really part of the impetus to think this might be the right time to think about joining the districts."
While the board of the SMRID and TID have approved the merger in principle, the proposal will still have to go to their members for a vote after several public information sessions (tentatively scheduled for July and August). 
If successful there, said Westwood, it would have to go to the Alberta Minister of Agriculture for final approval.
"There would be a new single combined entity that is one legal structure (if approved)," said Westwood. "We will continue to operate separately for now. We will start doing some initial planning, but wait to see how we get through the entire process."
Westwood said there are two substantial benefits of the merger for both the stakeholders and the irrigation organizations.
"One is in both of our districts, the corridor from Lethbridge all the way to Bow Island, is a very strong agriculture corridor where we have got some very progressive farming that is happening," he explained. "They are going for high value specialty crops, and irrigation plays a critical role in that. Both of our districts have quite a few customers that are both customers of the St. Mary River Irrigation District and the Taber Irrigation District. If this amalgamation were to happen they would be dealing with one entity for their entire operation. This makes it a lot easier and more efficient for them."
"Number two is we are both very excited about our infrastructure projects, and what that is going to mean for the future of sustainable irrigation in Alberta for a long time to come. When we complete those projects, and will be able to start looking at new expansion irrigation acres, it makes that planning process, and the ability to get irrigation to those customers that want it to be able to expand a whole lot easier if we are one district."
If the merger goes through the new combined single entity irrigation district would provide irrigation to 480,000 acres and have nearly 2,000 members.