Looking back at the year 2021
Posted on January 6, 2022 by Vauxhall Advance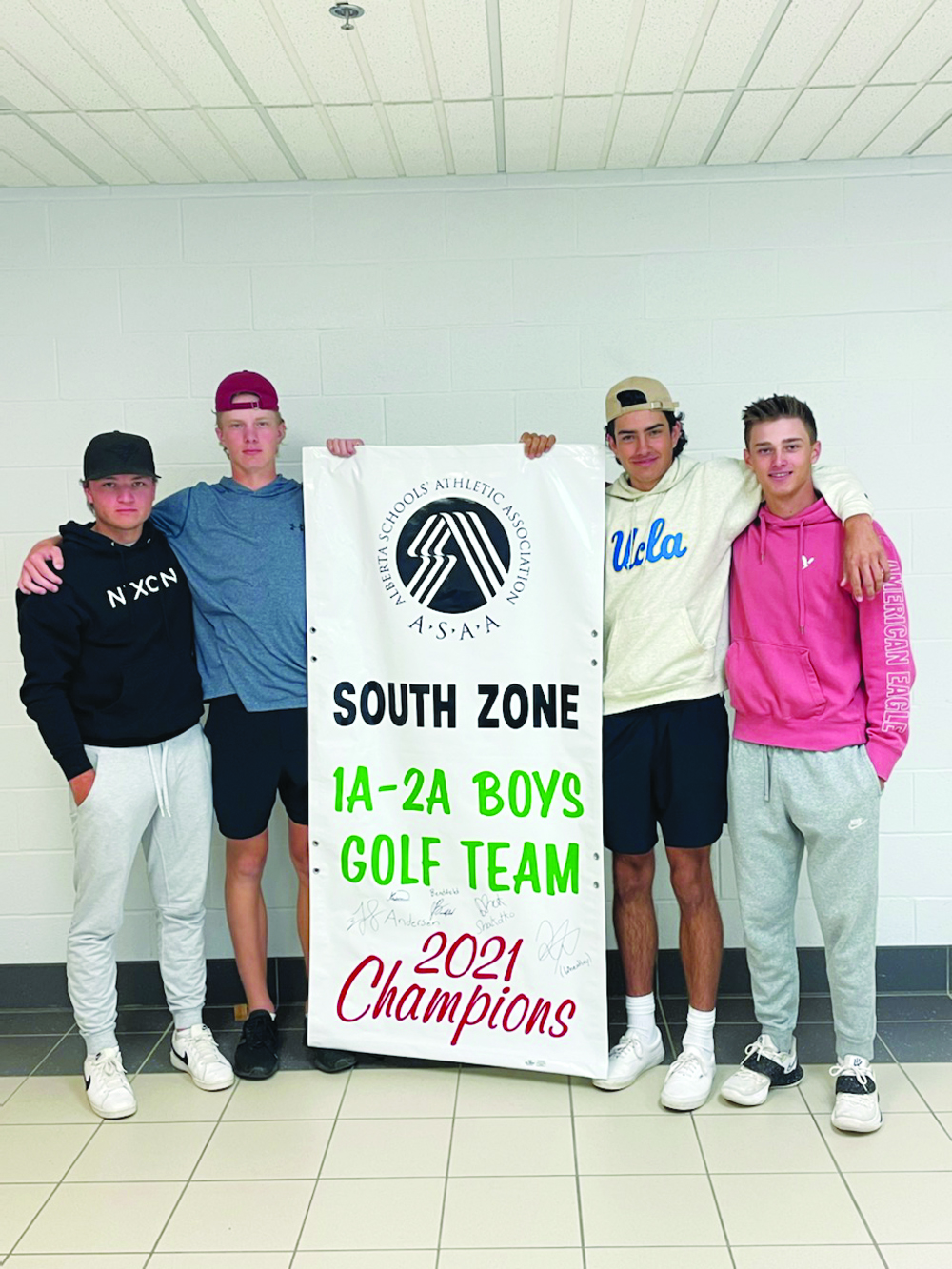 ADVANCE FILE PHOTO
While 2021 was another year of COVID-19 pandemic, there were still plenty of brights spots throughout the entirety of the calendar.
January 7: With a provincial lockdown placed at the end of the year, it saw many students return to an at-home learning format. For students in Grade 7-12, they were told to stay home as COVID-19 numbers grew in the province, and Horizon School Division used what they learned earlier in the spring to transition back into that learning format.
January 14: While agriculture enjoyed somewhat of a bounce-back year in 2020 after a disastrous 2019, there are still many uncertainties facing the industry heading into 2021, says Alberta Federation of Agriculture President Lynn Jacobson. COVID-19 remains a major issue of concern in agriculture, like in almost every other industry, says Jacobson, but he is not sure provincial government public health measures have been adequate to the task, and there has not been a lot of additional government support on any level to help farmers cope.
January 21: Not many will look back fondly on 2020 as the pandemic halted normal life from the spring right until the last day of the year. While it brought plenty of challenges for everyone, the Town of Vauxhall is happy with how they handled the process of bringing case counts down throughout the majority of the year.
January 28: Proud parents John and Trudy Peters welcomed Vauxhall New Year's Baby Rachel Peters on Jan. 21, 2021. Rachel weighed seven pounds, 14 ounces.
February 4: Since the closure of the Vauxhall Arena on Nov. 13, 2020, the facility has yet to get up to full speed. While a regular fall sees the rink open in September, the COVID-19 pandemic has delayed and cancelled several events at both the curling and hockey rink.
February 11: After 19 years with the Seattle Mariners organization as an amateur scout, Les McTavish has joined the Philadelphia Phillies in a similar role. With the COVID-19 pandemic sending many professional teams to look deeper into their financials, McTavish found himself without a new scouting contract late last year.
February 18: After the backlash to the quiet rescinding of the 1976 Alberta Coal Policy last May, the Albertan government has backtracked. With notable Albertans Corb Lund and Paul Brandt, among others, vocal about their distaste around the new coal procedures the UCP were taking, the UCP held a press conference earlier this month announcing their decision to reinstate the 1976 Coal Development Policy.
February 25: With a municipal election coming this fall, council has elected to make minor changes to their remuneration policy. During their regular meeting on Feb. 16, amendments to the policy were brought forward after discussion and recommendations were made by the policy, bylaw and rates committee.
March 4: The Municipal District of Taber is concerned about their growing unpaid taxes from oil and gas companies. Heading into the New Year, their unpaid taxes are nearing the $5 million mark.
March 11: Another spring is on the horizon and that means another United Conservative provincial budget has dropped. In late February, the UCP unveiled their latest budget which projects an $18.2 billion deficit. Despite the setback COVID has brought which has affected many ways of life, Cardston-Siksika MLA Joseph Schow is excited about the newest budget and what it brings for Albertans.
March 18: With spring in the minds of many, Vauxhall town council got a firsthand view of changes coming within their 2021 budgets. Over two meetings held on March 1 and March 15, town administration highlighted their newest budget which sees a total general operating deficit of $353,929.
March 25: The Municipal District of Taber is joining alongside several other Alberta municipalities in raising concerns around the province's discussions of a provincial police force.
April 1: As the number continues to climb, the Municipal District of Taber is hopeful the provincial government introduces legislation to force operating oil/gas companies to pay their taxes. With no clear way to get these companies to pay their outstanding taxes, the M.D. saw a climb in their financials.
April 8: While it was originally announced as a temporary deployment, RCMP Sgt. Gord Yetman has been promoted within the Brooks detachment.
April 15: After a survey was forwarded within the Alberta Teachers' Association (ATA) around the UCP's new Kindergarten to Grade 6 curriculum, results have not been positive. Preliminary results of the ATA survey show 91 per cent of teachers are "unhappy with the draft" with 90 per cent of elementary teachers stating they are uncomfortable teaching the new curriculum, and 95 per cent of principals stating they feel uncomfortable supporting it in their community and school.
April 22: Every year a Horizon School Division teacher gets the nod for the Edwin Parr Teacher Award and this year, Vauxhall High's own Nicole Meier is the proud recipient. While no teacher pursues the passion of teaching for awards, but Meier says it was nice to be recognized for her efforts both in the classroom and within the Vauxhall community.
April 29: As the pandemic has rolled well into 2021, the Town of Vauxhall is hoping to put a positive message out for residents in the region. While there has been messaging sent out in the past by municipalities in the Taber area, the groups are once again hoping to provide some form of communication as COVID numbers continue to grow.
May 6: With spring in the air, that means local area youth were celebrated at this year's APEX Youth Awards. While the awards ceremony was different than in years past — as it was held entirely online due to the pandemic, those in attendance still gathered to celebrate all the great work local kids are doing in the community on April 28.
May 13: While other school divisions have opted out of piloting the new draft curriculum, Horizon School Division is hoping they can provide feedback and improvements. During the board of trustees regular meeting on April 26, Cardston-Siksika MLA Joseph Schow was on hand to address several topics including the new draft curriculum.
May 20: The COVID-19 pandemic has been a struggle for a large majority of Canadians since it first started last spring, and as it's continued, frustrations and hardships have been prolonged. As a way to highlight what several weekly newspapers in southern Alberta have been dealing with since last March, Bow River MP Martin Shields rose in the House of Commons May 13 to speak about funding for the many papers spread across his riding.
May 27: While the Vauxhall Academy of Baseball Jets continue to adapt to Alberta pandemic restrictions, the group was ready to get out in front of the upcoming expiring contract for renting out the Vauxhall Community Hall. In a delegation at Vauxhall town council's regular May 3 meeting, Vauxhall High School principal Todd Ojala, vice-principal Scott Reiling and VAB head coach Les McTavish were virtually in council chambers to update council on the organization's past year.
June 3: While the provincial government is preparing for a wide-open summer, the Town of Vauxhall is still planning this year's pool use. Even though private rentals have not been allowed in traditional years, with COVID-19 restrictions still present, town council was updated on a new bylaw during their May 17 meeting.
June 10: Vauxhall High School teachers Travis Jones and Jason Schellenberg had their heads shaved earlier this week after VHS students raised nearly $3,000 for the Enbridge Tour Alberta For Cancer, with money going towards Team Leah (Meier).
June 17: It took several months longer than anyone wanted, but the Vauxhall Academy of Baseball Jets finally hit the diamond for a game against an opponent. This past weekend, the Jets travelled to Spitz Stadium in Lethbridge to face the Bulls for a pair of afternoon games.
June 24: Vauxhall High School seniors were able to experience their graduation ceremony last week outside of VHS in COVID safe environment.
July 1: In a bid to generate interest in unsold lots, Vauxhall town council began discussions on lowering their prices. At town council's regular meeting on June 21, they were updated on how lot sales have been fairing over the past several months. Vauxhall lots are a width of 18.8, a length of 39.64 for a total lot area of 745.23 on average, with a total price of $40,000.
July 8: With Alberta fully opened on Canada Day, several Vauxhallites participated in the annual Canada Day Parade.
July 15: While student minds are far from the classroom at the moment, staff and administration at Horizon School Division are planning for a busy summer before the new school year. With plenty to do before the first day of classes on Aug. 31, Horizon administration has several things on their agenda, and they were brought forward for the school board of trustees at their June 28 meeting.
July 22: While vaccination rates across the province continue to trend upwards, the number in the Municipal District of Taber has plateaued. With the municipality seeing lower rates than the provincial average, Dr. Jia Hu with 19 to Zero attended council's July 12 meeting to gauge where councillors felt vaccine uptake could use a boost.
July 29: Late last week, Alberta Premier Jason Kenney announced the provincial government would be committing $150 million for the construction of broadband expansion projects. Kenney pointed to the growth in the tech sector as another signal that Alberta needed to further expand broadband connectivity across the province.
August 5: With the Municipal District of Taber dipping their toes in more and more renewable energy projects, SouthGrow Executive Director Peter Casurella encouraged council to continue to pursue those opportunities.
August 12: Damiano Palmegiani's baseball career has taken the next step. Some of the first steps took place in his time with the Vauxhall Academy of Baseball Jets and a quick stint with the Lethbridge Bulls. The 21-year-old third baseman from Surrey B.C. was drafted by his home country Toronto Blue Jays in the 14th round of this year's MLB draft last month.
August 19: The continued heat and dryness across southern Alberta has led to the Municipal District of Taber declaring an agricultural disaster.
August 26: Overall, 10 former Vauxhall Academy of Baseball Jets players were a part of this year's WCBL championship Lethbridge Bulls roster. While four players were already off to post-secondary school before the championship, several former Jets suited up for the championship game in Edmonton last week.
September 2: After the COVID-19 pandemic wreaked havoc on Vauxhall Minor Hockey's last two seasons, the group is hoping 2021-22 sees a return to a more traditional hockey schedule.
September 9: While plenty of Canadian Foodgrains projects across Alberta are just wrapping up their harvest right now, the Vauxhall and District Growing Project got theirs underway at the end of July. After the group noticed the crop wasn't hitting stride in late July, they made the call to silage their product with feed prices high.
September 16: As COVID-19 cases continue to surge across the province, Vauxhall town council has been discussing the issues it has brought for the community and surrounding area.
September 23: The Vauxhall Vikings boys golf team have had a great fall so far. The team was able to win the 1A-2A Zone banner earlier this month at the Taber Golf Club. The team consists of Grade 12 students Jack Wheatley, Demitri Shakotko, Jared Bendfeld and Karter Andersen and on Sept. 14, the team travelled to Taber to compete for the banner.
September 30: While the rest stop in the town of Vauxhall has been in operation for several weeks, the project had its official grand opening last week. With several dignitaries on hand, the Municipal District of Taber held a ceremony to unveil the project.
October 7: While the weather may be cooling down, the Vauxhall Academy of Baseball Jets are just starting to heat up. With four games on the schedule last week, the Jets welcomed in a team from Ottawa — the Capital City Reds.
October 14: With the Municipal Election set for next week on Oct. 18, the Vauxhall Advance forwarded questions to each candidate vying for a town council seat. In total, seven seats are available, with eight candidates in the running.
October 21: Since graduating from Vauxhall High School, Sergeant Timothy Blindback has travelled a long way from his hometown of Enchant. His adventure started in second year of college when he met a military member at a social event. Having never realized there was a Canadian Army unit nearby, and knowing nothing about the military, he thought it sounded 'pretty exotic' and decided to take a chance on something new. In 2001, Tim joined the Canadian Army Reserves, with the South Alberta Light Horse in Medicine Hat.
October 28: With the Fortis Franchise Fee was sitting at six per cent, Vauxhall town council has approved an increase to eight per cent.
November 4: At Vauxhall town council's organizational meeting held on Nov. 1, a new mayor was elected. After Margaret Plumtree and Ray Coad let their names stand for mayor, Coad was elected as the new mayor of the town.
November 11: The hamlet of Enchant may soon see plenty of new residential lots available for sale. This summer, the Municipal District of Taber hired Stantec Consulting Ltd. to complete a detailed review and update to the current design completed by Due South in 2008. From that, two options were sent back to the M.D. — one with all lots within the phase being built to a 65' width and a second design with a mixture of lot sizing.
November 18: With the Municipal District of Taber once again hosting a sealed tender sale to sell off surplus equipment within their ranks, the results were brought forward for council decision. This year, 18 items were offered up for sale, with the vast majority of high bids coming from auction companies — only three high bids were from private buyers, according to M.D. of Taber administration.
November 25: With the tiering round done in the Central Alberta Hockey League, the U11 Sabres found themselves starting the season in Tier 3 Blue. Other teams in the division are Bow Island/Foremost, Coaldale, Irvine, Picture Butte, Raymond, Redcliff, and Taber.
December 2: This past weekend, the Vauxhall Queens went south to Taber to play in the ASAA 2A Zone Provincial tournament. Overall, 10 teams were in Taber playing games at St. Mary's School and W.R. Myers in a search to become provincial champions.
December 9: Alberta's Minister of Health Jason Copping took the stand on Dec. 1 to address the province on the current COVID situation — including touching on the new Omicron variant and pediatric vaccines.