Action Surface Rights AGM touches on renewable energy projects
Posted on April 28, 2022 by Vauxhall Advance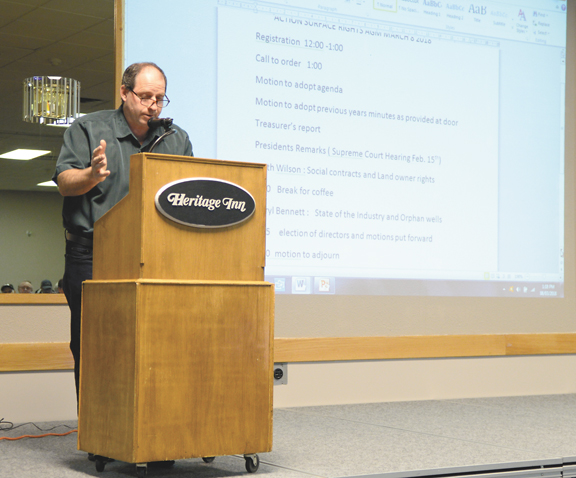 ADVANCE FILE PHOTO
By Cole Parkinson
Vauxhall Advance
cparkinson@tabertimes.com
With renewable energy projects coming to southern Alberta, the Action Surface Rights Annual General Meeting saw plenty of discussion in that regard.
After Greg Sauer from SkyFireEnergy presented to those in attendance, further discussions continued around how renewables would affect landowners in the area.
"We're trying to look at the electrical grid — is there more room to put more on the distribution before we overbill transmission? Are we building the transmission in the right place?" asked Daryl Bennett, a director with ASR. "And we gained a lot of education in that process. As an association, we are trying to protect your interests to lower your electrical costs, and maximize the rate of return when power lines come on your land, pipelines, oil and gas, wind, and solar. We're trying to protect your interest to ensure you are signing good contracts so you aren't getting screwed over by companies where it's in their best interest to screw you over. And we're trying to get you the best compensation rates out there."
As municipalities continue to look for a way to regain funds from less oil and gas revenue, Bennett explained renewable energy projects are one option they are exploring. Bennett though did express some concerns about how setbacks are being tackled for these projects and how they would affect landowners who would be in the nearby area.
"You have municipalities right now that are looking to replace lost property tax revenue from oil and gas, so most of them are going to be in favour of large wind and large solar — and I'm not saying that's wrong. They generally will waive setback distances from windmills in proximity to roads, they'll waive other restrictions because they want that property revenue. You'll also have municipalities investigating where they can make their own small, local utilities. Own the production ourselves, put the electricity into the grid and give our constituents a lower price," he said.
To read the full story, pick up a Vauxhall Advance issue or subscribe to an ePaper digital subscription! You can sign up for digital or traditional subscriptions on vauxhalladvance.com by clicking subscribe under ePaper on the home page.