Shields discusses election redistribution with M.D. council
Posted on September 2, 2022 by Vauxhall Advance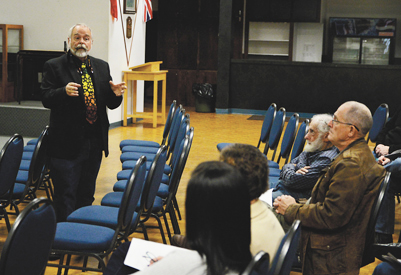 ADVANCE FILE PHOTO.
By Cole Parkinson
Vauxhall Advance
cparkinson@tabertimes.com
While a federal election isn't on the horizon as of yet, Elections Canada has proposed changes across the country regarding division boundaries.
Looking at southern Alberta, the Bow River riding may look vastly different come 2024 as the Town of Taber, as of now, is proposed to be moved out of Bow River and into Medicine Hat-Cardston-Warner. Bow River MP Martin Shields was virtually in Municipal District of Taber council chambers during their regular meeting held on Aug. 16 and he discussed what he's been hearing on the potential changes.
"What's happening in Ottawa? Well, there are some interesting things. Let me start with the redistribution piece that is out there," he stated. "Every 10 years, with StatCans numbers, it's a requirement that provincial commissions are set up in every province and look at redistribution due to population shifting within each province. So, the national Elections Canada sets out a broad agenda, guidelines, and then each panel within each commission determines a number of different things they want to do within their own province. So, these have started — the last province to have out their redistribution process is Ontario, which should be out imminently. But these have started across the country months ago with provinces having this information out and starting the process."
Shields also explained how the process works across the country. With all provinces and territories a part of this, Alberta is still right in the thick of things with the review process.
"It's a staggered process across the country. Alberta is sort of in the middle of the timeline process as some provinces are totally done the first phase in a sense of the information was out — the maps were out, first drafts are out, and consultations," continued Shields. "In some of the provinces, like Nova Scotia and Saskatchewan, (they) have already wound up their first phase of consultations before they come back and look at all that information that's been submitted to them by writing or in-person consultations. So, they'll come back with their next plan of what to do with constituencies in a particular province."
Next up for Alberta is the consultation phase.
To read the full story, pick up a Vauxhall Advance issue or subscribe to an ePaper digital subscription! You can sign up for digital or traditional subscriptions on vauxhalladvance.com by clicking subscribe under ePaper on the home page.