Local Foodgrains Growing Project harvests wrap up successfully
Posted on September 7, 2023 by Vauxhall Advance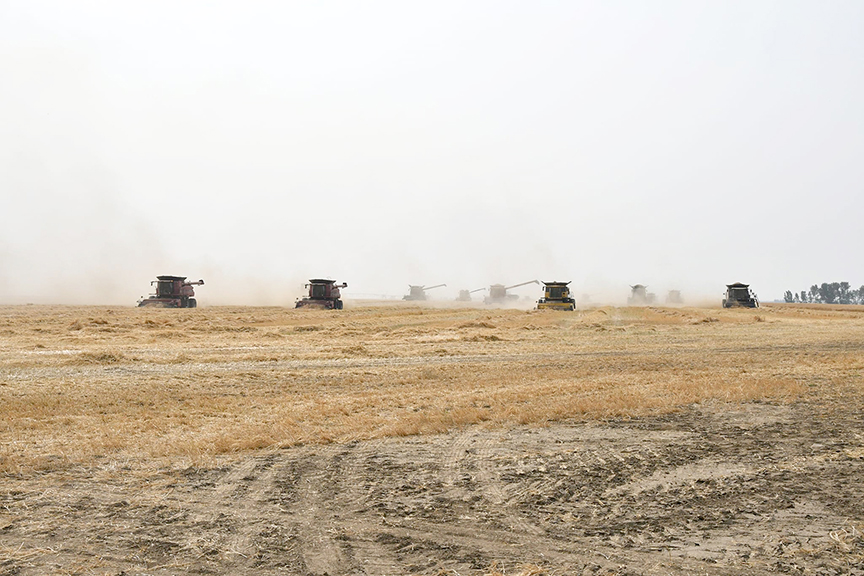 Advance Photo courtesy of Vauxhall and District Growing Project for the Canadian Foodgrains Bank
By Heather Cameron
Vauxhall Advance
Local Journalism Initiative Reporter
This year, the Canadian Foodgrains Bank celebrated another series of local harvests.
"Throughout Canada and in Alberta, there are numerous small groups of community volunteers who access a piece of land, grow a crop, and donate the proceeds of those crops to the Canadian Foodgrains Bank for its work addressing hunger in developing countries," Ary Vreeken, Regional Representative in Alberta for the Canadian Foodgrains Bank, said. "These groups usually meet early spring to plan what to plant, who to ask for donations of inputs (seed, fertilizer, chemicals, fuel, labour, etc.). So these harvests are the culmination of a whole season of participation of numerous community groups, businesses, and individuals."
The Taber and Vauxhall groups, Vreeken says, celebrated this community effort by making their harvests special community events, inviting the community to come out, have barbeque, and watch volunteer farmers take time away from their own work to harvest a communal field. Aside from the local organizing groups, Vreeken says, many volunteers came out along with those who financially support the growing projects and Canadian Foodgrains Bank. Some of the farm input suppliers even visited on these harvest days, Vreeken said.
The Taber Foodgrains Project harvest was held on Aug. 10 at the site roughly eight miles north of Taber on Highway 36, while the Vauxhall and District Growing Project harvest for their barley crop was held on Aug. 17 at their site six miles north of Vauxhall on Highway 36.
In Taber, the CIBC provided a wonderful lunch and, Vreeken said, they often saw nearby Hutterite colonies using their equipment to help with the field work or harvest. Vreeken said that in Vauxhall, lunch was provided by FCC, the Co-op provided snacks and refreshments, AFSC gave out chips, and Nutrien provided specialty coffee. And, of course, many farmers from the area put their own harvest on hold, even with rain in the forecast, to bring their equipment in the field to take the crop off. 
In addition to this, Vreeken said, a number of farms and trucking companies donated the use of their trucks to transport the grain to the various destinations – farms or elevators who were not on the field, but participated that day, nonetheless. The Foodgrains Bank representative for Alberta tries to attend these harvests to provide additional information to anyone who wishes to learn more about their work.
"One of the organizers in Vauxhall sums it up well: 'In order to fight hunger, it takes community – both overseas as well as in Canada'," Vreeken said.
Vreeken says the harvest was quite plentiful on barley, with Taber harvesting 120 bushels per acre on 130 acres and Vauxhall harvesting 150 bushels per acre. The Foodgrains Bank hopes to break $200,000 with crop proceeds, Vreeken says.
"In southern Alberta growing projects often try to grow crops that they can sell to local feedlots," Vreeken said. "This allows feedlot operators to participate in and contribute to the overall cause. While barley may not be a high-value crop, feedlot operators are often willing to pay extra to receive a portion of the Growing Project harvest."
Vreeken says that it's still early in the harvest season, but so far, irrigated crops in southern Alberta, including Taber and Vauxhall, have been doing well. 
"This has generally been a drier year in Alberta," Vreeken said. "Overall, I've been told that this year will not be a bumper crop. All farmers, and the Foodgrains Bank know that we can't have a bumper crop every year. However, in spite of some weather challenges, most crops don't look too bad. We are expecting an average or perhaps slightly less than average crop, this year. On the other hand, while commodity prices are not as high as last year, they seem to be holding pretty well."
Although the yearly harvest does not directly address food security in the M.D. of Taber, Vauxhall and Taber, other than helping to raise the question about how lack of food security manifests itself at home, and who might be involved in addressing that, Vreeken says, but some growing projects may share some of the income of fundraising events with local food banks. 
"It is striking how both Taber and Vauxhall projects strengthen the sense of community in these locations," Vreeken said. "Having neighbours and friends come out to the field to see other neighbours and friends operate their machinery, and have community businesses providing food, snacks and shelter is an amazing community builder."