Mayor Cawley goes on the record
Posted on November 16, 2023 by Vauxhall Advance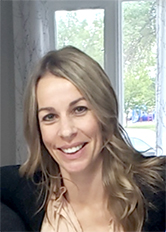 Advance Photo submitted.
By Cal Braid
Vauxhall Advance
Local Journalism Initiative Reporter
In her first interview with the Advance as Vauxhall's new mayor, Kim Cawley shared her perspective on the recent resignation of a long-time council member and her hopes for the upcoming by-election.
Born and raised on a farm just north of Vauxhall, Cawley has lived in the area her whole life. When she got married she moved into town with her husband and they've lived here since 2001. Her husband has worked in the Town's Public Works Department, and by way of proximity Cawley got to learn about the operational side of the Town. Nine years ago she was approached and asked if she would be interested in running for town council, she thought, "Hey, why not?" As a stay-at-home mom who was working part-time, she thought it would be a nice way to add value to her time and simultaneously give something back to her community. She ran for council and was elected.
Every year the town has its October organizational meeting, and after serving as deputy mayor for two years, last month she was nominated for the position of mayor and accepted the role. One of the first items on Cawley's agenda is the upcoming Feb. 12, 2024 by-election to fill a vacancy in council left by Margaret Plumtree, who resigned in late October. Her resignation letter was published in the Advance on Nov. 2.
"We just set the dates for the by-election," Cawley informed the Advance. "It's in February. I don't know if any candidates have actually put in papers yet. We're just starting to advertise now and hopefully we'll receive some nominations." Nominations come in by way of an application form available from the Town rather than a standard resume or proposal letter. The form requires that the applicant gather signatures, endorsing the applicant as a candidate. If more than one person is interested in filling the role, the Town holds a by-election; if there's only one applicant, that individual is in by acclamation.
The Advance asked Cawley to address three of the issues that Plumtree had specified in her resignation letter, and the new mayor welcomed the opportunity to respond.
"First off, I would say that Margaret was very passionate about being on council. She served as mayor, was very invested in it, and we definitely appreciate the time she spent (with us)," Cawley said.
In the letter, Plumtree asserted that there was limited familiarity with the Municipal Government Act among some members of council and that, "a solid understanding of this legislation is essential for effective governance."
Cawley replied, "We have three new councillors to our council since the last election and that was two years ago. One of them was recently elected in the by-election this past year, so there is limited knowledge of course. I found that my first term on council it just felt like you're barely getting your feet wet and you're still learning council governance. That's where our admin staff comes in; they're there to guide us and direct us."  
"We do have a former CAO of some communities in northern Alberta on our council, so we're kind of split down the middle there. There are a few of us that have more knowledge because we've served on council for quite a while and have that background. And there are a few new ones, and we have to be gracious with them because they're still learning and it's a process. It doesn't happen overnight."
Plumtree also expressed concern that the town's curling rink was a recurring point of focus that took some precedence over other essential facilities and infrastructure operated by the Town. Cawley said, "After our strategic plan, recreation was one of the highlights that came as feedback from the community. That is a big focus of ours. The curling rink discussion has come up a fair bit, but there have historically been some issues with council, the curling club, and contract negotiations. The desire of council is to make these as seamless as possible and also to do as best as possible for our residents and taxpayers. Yes, it has come up in discussion, but I do feel that all the recreation facilities in the community are a priority and it's not just limited to the curling rink."
She said a few of the council members love to curl, so it's something they want to support, but added, "I think it's really valuable to have different opinions on council and people from different backgrounds so we get a fair representation of everybody in the community."
A third issue that Plumtree's letter highlighted was that there seemed to be an unnecessarily long decision making process when it came to budgetary matters. Cawley said that council is often just being cautious in allocating money.
"This council is very aware of our budget. We're working with a new CFO now as well, and I think what she's referring to are some of the requests that have come in for funding. Our council feels most comfortable putting those off until we can look at the budget in its entirety and make sure we're dividing our funding up equally. We're making sure we do our due diligence with tax dollars and not just rushing to decisions in one meeting. Other than that, I think we're pretty quick at making decisions when it comes to bylaws and other things that come up. We have pretty good consensus on our council. We have a lot of discussions, but it's not often that we have a really split vote."
The new mayor's experience in council, her understanding of governance, and her open communication style should all add up to serve both her and the community well. The Advance will continue to follow Mayor Cawley and the Vauxhall council meetings.
The Town of Vauxhall by-election is currently scheduled for Feb. 12, 2024.