Vauxhall arena open for the next several weeks
Posted on March 3, 2021 by Vauxhall Advance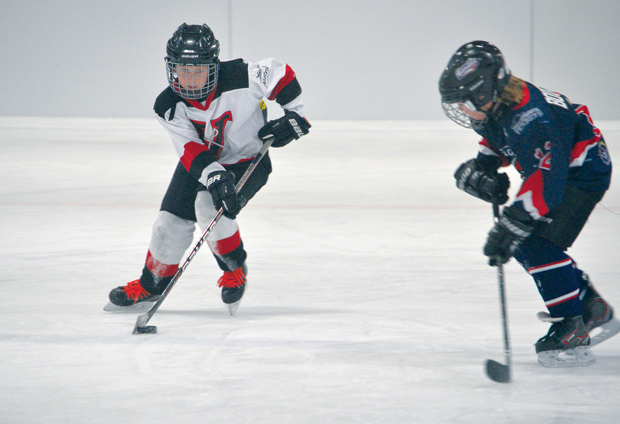 ADVANCE FILE PHOTO
By Cole Parkinson
Vauxhall Advance
cparkinson@tabertimes.com
With some restrictions lifted, the Town of Vauxhall has kept the Vauxhall ice arena doors open for kids wanting to hit the ice before spring.
After the 2020-21 minor hockey was cut short, there was no real answer to if kids would be able to hit indoor rinks again before the fall, but with the province's announcement to allow a maximum of 10 people can participate in practices, including coaches and limited change room access.
"We still don't want thousands of people in the lobby as it's not recommended but as far as the ice surface, they can use the ice," explained CAO Cris Burns during council's regular meeting on Feb. 16.
Councillors expressed their support for kids to get back on the ice before it was removed in the early spring.
"For me personally, I want to see the kids skating. I know we have to follow AHS guidelines but we have this ice sitting here and taxpayers are paying for it. Let's get kids on it," said Coun. Kim Cawley.
Administration added they're accepting bookings as long as all AHS rules are followed.
"We're trying to operate on the guidelines provided by the government. If we break the rules, we're liable," said Burns.
Family bookings are available as long as members reside in the same hold and you can book a spot by calling 403-654-2577 or emailing brandonl@town.vauxhall.ab.ca.
With the booking of ice a challenge all year, the Vauxhall Minor Hockey group has also made it clear they'd prefer to have an ice user booking policy made up to make it easier for both sides.
In correspondence with Coun. Cawley, the group put forward the request, which was then presented to council during the meeting.
"They would like a user policy made up so they know year to year what to expect for booking ice and how much time they need to give the ice manager for ice time. It sounds like they've had a time tough getting in communication and they want something on paper," added Cawley.
Administration agreed it would be beneficial for both the town and the users to have a policy developed.
It was confirmed by the Advance a policy has been drafted by town administration and they are awaiting feedback from Vauxhall Minor Hockey.
As far as the group moving back into the Vauxhall arena for the last few weeks, administration stated they have received a response which stated Vauxhall Minor Hockey prefers to stay in the arena they have been using for the last several weeks.
"The Vauxhall Minor Hockey Association has been working hard trying to figure out a way we can financially put kids on the ice with the current restrictions in place, unfortunately we feel we cannot do so with the Town of Vauxhall. With the player numbers allowed on the ice and time in between practices, parents with more than one child playing on different teams cannot wait that long in between ice sessions, therefore it is unrealistic to continue this season," reads a letter from Brad Deleeuw, Vauxhall Minor Hockey president. "With the rules we received, we would require six hours of ice time to get all the kids on the ice twice in a week, which Vauxhall Minor Hockey can not afford. We are sorry for the lost revenue not only (for) the town, but for the local businesses that are supported during the practices. We do hope that COVID restrictions are behind us this upcoming season and we can continue working with the Town of Vauxhall to get kids on the ice."