The loss of Walter Gretzky felt across Canada
Posted on March 11, 2021 by Vauxhall Advance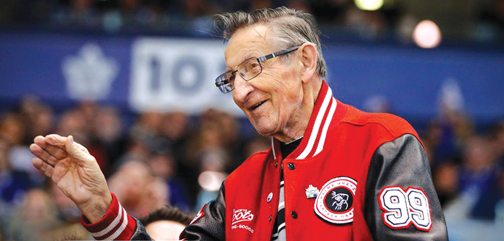 PHOTO COURTESY OF NHL.COM
By Cole Parkinson
Vauxhall Advance
cparkinson@tabertimes.com
Last Thursday during the Maple Leafs/Oilers games, Wayne Gretzky announced on Twitter Canada's "Hockey Dad" — Walter Gretzky — had passed away at 82 after dealing with Parkinson's disease and other health complications.
As one of the most visible hockey parents in the country, Walt leaves a large hole in Canada when talking about hockey. Whether or not you had a chance to meet Wally, it's been common knowledge for years about his love of the game and his generosity when approaching him at the rink.
While Wayne is arguably one of the most famous Canadians, Walter is not far behind and he's just as loved in the Great White North.
Throughout the weekend, stories were shared on Canadian hockey telecasts and not a single person had a bad thing to say about the elder Gretzky. Stories around how he would stay around after games to take pictures, give autographs and talk hockey were shared, and a common statement among the stories shared was — he wouldn't leave the rink until they kicked him out. Not many people are that generous with their time, but by all accounts, Walter was a man of the people through and through.
I unfortunately never had the chance to meet him, but his presence in the world of hockey was massive and even as a young kid I recognized how much he meant to a large portion of fans.
As an avid Leafs fan, I can remember several games on Saturday nights throughout the years where the camera would pan to Wally sitting in the crowd and it would always lead to some of the biggest cheers of the night (especially when the Leafs sucked).
There really isn't much more that can be said, that hasn't already been said in the days following his passing.
Reading about how influential he was on Wayne's hockey career from age three, all the way up to his retirement in 1999 is still absolutely fascinating. Wayne was one of the best players to anticipate where the puck was going instead of chasing it around the rink, and he has attributed learning that skill due to Walter's insistence on being a smart player. His countless hours spent in the backyard rink with Wayne at an early age contributed to "99" becoming the greatest hockey player of all-time. Simply put — there would be no "Great One" without Walter Gretzky.
But beyond that, he was also highly involved in charities and had a particular focus on helping blind children. He worked with the CNIB Foundation (formerly the Canadian National Institute for the Blind) for several years and also established the SCORE program —which helped blind students learn computer skills to help them gain jobs later on in life. He also attended several charity golf tournaments across the U.S. and Canada.
He truly was a remarkable Canadian that exuded what it means to be from this great country.
Wayne explained it best this past weekend during his eulogy, which was broadcast on Sportsnet and TSN.
"He came here, his family as an immigrant. They came here because he wanted a better life. I don't think I've ever met a prouder Canadian than my dad. And all my five children are American, born in the United States, and I always tell them you should be as proud of the United States as your grandfather is of Canada, because that's how much he loves the country."
The passing of a legend like Walter Gretzky stings for Canadian loving hockey fans, but what he did for the game and the passion he showed, won't be forgotten any time soon.