Vauxhall Academy of Baseball Jets return to the diamond
Posted on June 17, 2021 by Vauxhall Advance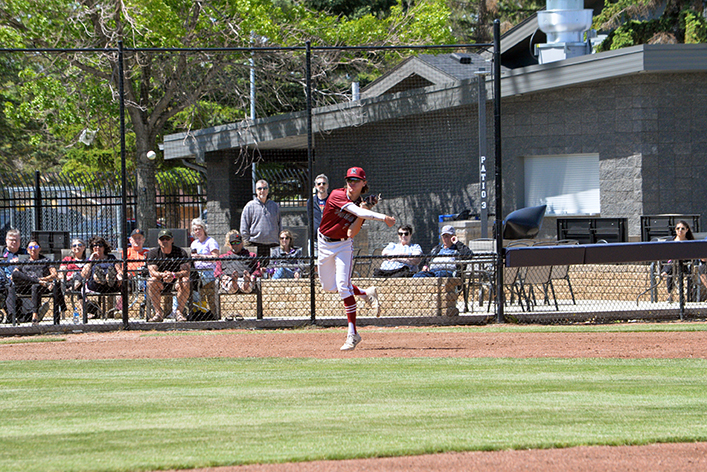 ADVANCE FILE PHOTO
By Cole Parkinson
Vauxhall Advance
cparkinson@tabertimes.com
It took several months longer than anyone wanted, but the Vauxhall Academy of Baseball Jets finally hit the diamond for a game against an opponent.
This past weekend, the Jets travelled to Spitz Stadium in Lethbridge to face the Bulls for a pair of afternoon games.
The first game was a high scoring affair that saw the Jets win 16-14.
Kyle Yip, Jackson Clemett and Kayden Hleucka all went deep, while starting pitcher Tyler Boudreau  went three scoreless innings.
The second was a lower scoring game that saw the Bulls walk off the Jets 5-4. The team saw offensive contributions from Kalem Haney, Jackson Clemett, Mason Nordli, and Kayden Hleucka. Pitching-wise, the team saw great work from Cole Alguire, Nick Backstrom, Shaye McTavish, Anson McGorman and Karter Andersen.
"It was great. I'm just happy for our kids and our parents, they were able to see another opponent. Secondly, it was nice for them to get out, play with one another and have some competitive juices and some butterflies. All the things you normally don't want to feel, but it was great for the kids. They ended up being competitive baseball games. I couldn't be happier," said Jets head coach Les McTavish. "I thought we swung the bats pretty good, really well on Saturday. The wind was blowing out, but I thought we had some great at-bats and we were happy with it as a group." 
From a pitching perspective, the coaching staff was happy with how the group performed. While Saturday saw a ton of runs for both teams, McTavish praised his pitching staff for bouncing back on Sunday.
"We pitched the ball fine, we did have a couple tough innings. On Sunday, I thought we pitched the ball better than we did on Saturday. We had some timely hits and some minor miscues that cost us, but it was good. Whether you win or lose, we were just happy to get back out there. And let's keep in mind, we're playing a team that is considerably older," continued McTavish. "Both starting pitchers both days set the tone, which was nice. Tyler Boudreau on Saturday came out and got us on the right foot. Cole Alguire got us out on the right foot on Sunday, so I thought the pitching was good. Our older, more experienced guys really competed well and the young kids, I was really happy with. They all learned something. Whenever we struggled, I think it was because we were trying to do too much." 
With it being the first two games of the spring, the Jets' coaching staff drew up a plan on how to get everyone into the game.
Working from there, they tried to get the older players as much time as possible while rotating the younger players into the lineup.
"We scripted the lineups pretty much, and the pitching order for the most part. But at the end of the day, if somebody went and struck out five times, we weren't going to pull them out of the game. We were trying to win, we weren't playing for funsies, it was trying to win and we were happy with that." 
"Our guys have each others' backs, they don't care whose playing. They go out and compete. Everyone got in and got their time this weekend," explained McTavish. "We went on age, so we have a couple two-way players who played the first game and pitched the second game — that was (Nick) Backstrom and Shaye McTavish. Our older hitters played all of the games and then we had the younger guys split the game. On the pitching side, the older guys got some more time then the younger guys, but we tried to do one inning minimum each."
With the final weekend of the year approaching, the senior players are preparing for their final appearances as Vauxhall Jets.
Once their Jets' careers end, they'll all be off to post-secondary schools to continue their baseball careers, but the loss of their presence will be felt across the community of Vauxhall.
"I'll tell you what — they'll be sadly missed. We have 14 seniors on this team, which is the largest number we've ever had, and they've been great ambassadors, not just on the baseball field or in the dorms, but throughout the community of Vauxhall. They've done some really great things and they will be missed," stated McTavish. "We have some players that have meant a lot to our program and I mean this sincerely — our program is in a better place now then when they got here. They've left it in great hands and I'm excited about our young guys who will have an opportunity to lead next year. Real proud of our 14 seniors over two challenging years. They've made the most of it and gave us everything they could."
Graduating Jets players are Kalem Haney, Jaxon Filipenko, Jackson Clemett, Tyler Boudreau, Anson McGorman, Dallas Cummins, Jack Mount, Mason Nordli, Nicholas Backstrom, Shaye McTavish, Joshua Clark, Hunter Porter, Cole Alguire, and Aaron Vulcano.