Former Jets player taken by the Blue Jays in the 2021 draft
Posted on August 12, 2021 by Vauxhall Advance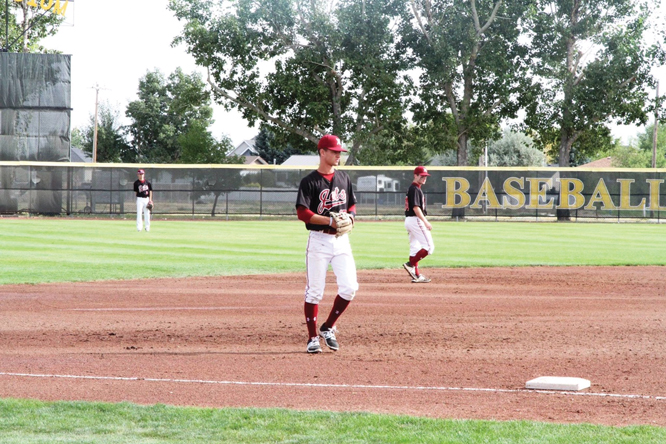 ADVANCE PHOTO COURTESY OF VAB
By Dale Woodard
Vauxhall Advance
Damiano Palmegiani's baseball career has taken the next step.
Some of the first steps took place in his time with the Vauxhall Academy of Baseball Jets and a quick stint with the Lethbridge Bulls.
The 21-year-old third baseman from Surrey B.C. was drafted by his home country Toronto Blue Jays in the 14th round of this year's MLB draft last month.
It's been a long road to that Major League selection, but for Palmegiani — one of those first steps started nearly six years ago, when the then-15-year-old made the decision to head east to Vauxhall to play under head coach Les McTavish.
"For me, it was (a) very easy decision," said Palmegiani. "Baseball was (my) life at that point. It was one of (the) better decisions I've ever made. It was about baseball and coming in and playing at a high level, playing good competition and getting looked at — playing for the national team, college and pro. That was what enticed me first, but when I got there what really made me love it and buy in, — which is what I would tell any kid going to Vauxhall, would be the family aspect of it."
Recently, Palmegiani and the Blue Jays made it official — putting the pen to the paper and signing the former Jet and Bull to the team's roster.
"This year, knowing I was draft eligible, I just worked really hard and did what I needed to do to make (it) happen," said Palmegiani, who enjoyed a stellar season with the College of Southern Nevada Coyotes of the National Junior College Athletic Association.
"As the year closed out, I knew I controlled everything I could control and from that moment on it was just sit back and wait to see which team actually called out my name. As we went on, we kind of had an idea who it was going to be. We were watching with my mom and dad and I got a quick text message saying I was going to get popped in the (14th) round by another team. Then, out of nowhere, before them — the Blue Jays swooped in and it made it that much more special. I definitely would not have been disappointed in any way (being selected by another team), but the Blue Jays came in before them. I had already been talking with them, so it wasn't really a surprise."
Still, that didn't take away from the sheer joy of being drafted, by the league's only Canadian team, no less.
"We were happy, number one, just because getting drafted was the goal and it made it that much more special considering we're a Canadian family and have been life-long Blue Jays fans. It was special. I know my parents were pretty emotional about it and it was hard for me to stay even keel, as well."
Fresh off his great season in Nevada, Palmegiani is now camped out in the Blue Jays' player development complex at Dunedin.
"Now, I'm part of their expanded roster," he said. "I'm working in the player development camp right now and in the next couple of days I'll be assigned to where I need to go for minor league baseball and work up from there, just develop and stay ready and move up and play my way into the Blue Jays line-up some day in the future."
It was prior to the 2015-16 season Palmegiani trekked to southern Alberta.
"At that time, I was playing baseball out in B.C. and I was getting really competitive with it," he said. "I was getting selected to provincial teams and it was looking good. I wanted to play baseball in college and wanted to know the best course of action for that."
Playing for coach Tim Blake in the Cloverdale Minor Baseball in Surrey, Palmegiani was introduced to Blake's son, Joel, one of the assistant coaches in Vauxhall.
Joel scouted Palmegiani, as well as Palmegiani's friend, Liam Vulcano.
"We were both on the same team and he was watching," he said. "He explained the program and explained it to our parents and ultimately made it our decision, because moving away is a big decision to make."
In addition to the family aspect of Vauxhall, Palmegiani honed other parts of his game — essential in making the next step.
"I learned the work ethic I've never learned before in my life and I learned how you don't need any organized practices to get better, you just need people who are willing to put in that extra time. Coach McTavish does an amazing job picking the right people to bring in. I think that's what I took away from it the most."
Palmegiani pointed to a Las Vegas trip to take on nationally-ranked Bishop Gorman High School, as a turning point in his time as a Jet.
Still one of the younger players on the roster at that time, Palmegiani was unsure if he would even be in the starting line-up against his American counterparts.
"I looked at the line-up and I was playing third and I think I was batting fifth or sixth, so I was in the middle," he said. "I remember being a little bit nervous at first. My parents came out to watch me, too. I just had a great game. I made a couple really nice plays at third and I got a couple of hits off this pitcher who was really good. I felt myself evolve a little bit as a player in that one game. It doesn't matter what the situation looks like, if I believe I can do this, then I'm going to do it. I think that game helped my confidence grow and realize I could play in college or play pro."
In 2018, Palmegiani had a short stint with the Bulls, then with the Western Major Baseball League.
It lasted 13 games, as Palmegiani batted .125 with three RBI, but it still left a lasting impression.
"I remember it being probably one of the most fun experiences I've had playing baseball," said Palmegiani. "It's a great league. In my opinion, Lethbridge was, hands down, the best place to play, from the field to the city to the fans. It was incredible. It was quick. I wish I could have experienced a little more of it. I thought Lethbridge was the best place to play in that whole league."
Like many ball players, Palmegiani's career was interrupted in 2020 by the COVID-19 pandemic. One thing the downtime afforded him, however, was the opportunity to prepare for the 2021 season. When he joined the College of Southern Nevada that hard work paid dividends.
Palmegiani batted a team-high batting average of .389 — which earned him a Region 18 Player-of-the-Year award. He also garnered NJCAA All-America First-Team recognition and NJCAA All-Academic recognition for his performance in the classroom with a 4.0 GPA. The Coyotes finished the 2021 season at 46-17, earning the Region 18 tournament crown.
"That whole off-season leading in I really worked my butt of to be ready physically, but almost more importantly, mentally for the ups and downs of what's going to happen," said Palmegiani. "When I got in and started playing in the hard work was paying and the focus was paying off. I felt my character grew a lot more. I limited a lot of my distractions and it was easy. I realized I never fully committed to putting in all the effort I possibly can. I realized what it takes to be successful and what I took away from that year was to push myself in that way."
Florida is his home for now until he gets word where the Blue Jays will send him, but a return trip to southern Alberta sometime in the future is also on Palmegiani's mind.
"I talk with coach Mac all the time," he said. "We text mostly. I know he's really busy, but he's really quick to reply. It's the same with the assistant coaches, Jim Kotkas and Joel Blake. I'm never going to forget them and the players I played with and graduated with, even the guys a bit older or younger than me. I've been in contact with all of them and it's a family. It's a part of me that's never going to fade away.
"I haven't been back to Vauxhall since I graduated and that's one thing that's a priority on my list, to be back there and spend time at Jets Stadium and talk with some of the players and the coaches. It means a lot to me if I could get back there, as soon I can."