Shohei Ohtani — the next American League MVP?
Posted on August 19, 2021 by Vauxhall Advance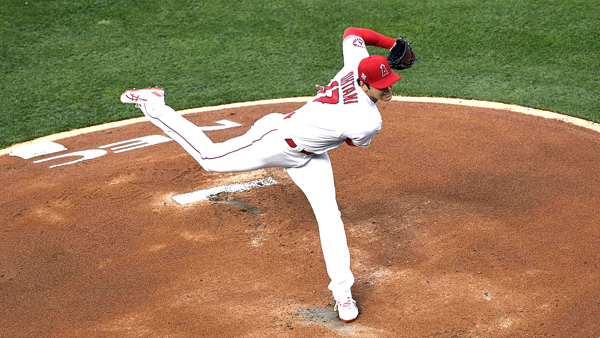 ADVANCE PHOTO COURTESY OF MLB.COM
By Cole Parkinson
Vauxhall Advance
cparkinson@tabertimes.com
As the Major League Baseball season heads towards September and the playoffs, the conversation for who will be MVP in the American League continues.
At this point, it sure seems like a race between Toronto Blue Jays first baseman Vladimir Guerrero Jr. and Los Angeles Angels pitcher/DH/outfielder Shohei Ohtani.
While Vladdy is front and centre in Canada, Ohtani may not have the same recognition for casual baseball fans — but that's begun to change as he continues to be not only a great hitter, but also an exceptional pitcher.
After this past weekend, Ohtani has had 398 at-bats with 108 hits, 39 home runs, a .271 batting average, 86 runs batted in (RBI), 17 stolen bases, an on-base percentage (OBP) of .363, and a slugging percentage of .643, good for an on-base plus slugging (OPS) of 1.016.
Those look like MVP-type numbers to me.
And then you add in the fact he's started 17 games on the mound with 92 innings pitched, an earned run average (ERA) of 2.93, 112 strikeouts and a walks and hits per innings (WHIP) pitched of 1.09.
He's only given up 30 earned runs, seven home runs, and walked 39 along with seven hit batters.
His per nines are also fantastic with a hits per nine of 0.7, a walks per nine of 3.8 and strikeouts per nine of 11.
Considering the fact he's pitching and hitting at such high levels, I don't know if anyone can catch him in the AL MVP race this season.
No one has done this in years, and obviously, the first name that comes to mind is Babe Ruth, but the game of baseball has way better athletes to compete against now than they did back in the times of the Babe.
Ruth also quit pitching full time in 1919, and the majority of his best hitting seasons came after that.
I think it's hard to compare the two, but Shohei is facing way better pitchers when he steps to the plate and he faces way better hitters when he's on the mound, so I think this really is something special.
Unless he completely crashes and burns in the final weeks of the season, which he shows no sign of doing, it looks like it's Ohtani's MVP to lose.
He leads the entire league in Wins Above Replacement at 7.5, with Phillies starter Zack Wheeler next in line at 6.1.
n slugging percentage, third in OPS, ninth in runs scored, second in total bases, first in home runs, and tied for third in RBI.
One negative for Ohtani is the fact he does strike out a lot at the plate — he's struck out 140 times, good for fifth highest.
Any time a player comes over from Japan, it's never really known how well they'll adjust to the Major Leagues, but almost everyone said Ohtani would be able to hit MLB pitching.
While injuries hampered Ohtani for the first few seasons, there's zero doubt now he can hit at this level, especially if we're looking at his home run numbers.
I think it's a safe bet he'll hit over 50 homers this season, and he has a good chance at winning that category by the season's end.
Speaking of injuries, the ones that hampered Ohtani were largely arm issues, which forced him into being a full-time DH and outfielder in 2019 and most of 2020.
But with health on his side this season, his pitching has been just as good as his hitting.
In 2020, Ohtani only pitched 1.2 innings due to injury, which was his first time on the mound since 2018 after having Tommy John surgery.
While the 2019 and 2020 seasons were pretty much right offs from the pitching perspective, the Angels at least saw some promise on the mound in 2018 where he pitched 51.2 innings in 10 games which resulted in a 3.31 ERA, a WHIP of 1.16 and 63 strikeouts.
He's surpassed his 2018 season by quite a bit now, and with starts still left in the regular season, he has a chance to build on that.
Ohtani has also started seven games in the outfield this season, but has yet to get any real action out there as he has zero chances, zero putouts, zero assists, and zero errors.
While in the NHL a player seldom wins the MVP unless his team makes the playoffs, in baseball, the best players usually get the nod.
The Angels have a decent roster constructed, but injuries have totally decimated their season as both Mike Trout and Anthony Rendon have been out for long stretches.
Missing Trout is about as big of a blow as there can be on a season, and even with Shohei performing this good, the Angels don't have enough depth and will likely miss the postseason once again.
It truly is a bizarre team.
Trout is arguably one of the best players of all time and now they have Ohtani playing out of his mind, yet the team continues to flounder in the AL West.
If there's some saving grace for Angels fans, it has to be the fact they get to watch Ohtani play every day and then pitch every fifth or sixth day.
It's not a World Series, but it does have to be exciting to watch him and Trout suit up in Angels gear because they are easily two of the most exciting players in the game today.
And while Trout has won his fair share of MVP titles, I think it's only a matter of weeks until another Angel gets the crown.