Vauxhall Minor Hockey readying for 2020-21 season
Posted on September 2, 2021 by Vauxhall Advance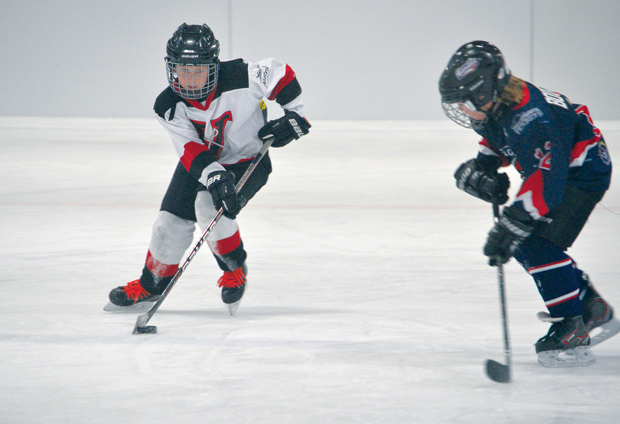 ADVANCE FILE PHOTO
By Cole Parkinson
Vauxhall Advance
cparkinson@tabertimes.com
After the COVID-19 pandemic wreaked havoc on Vauxhall Minor Hockey's last two seasons, the group is hoping 2021-22 sees a return to a more traditional hockey schedule.
With players and parents beginning to turn their eyes to their local rinks, Vauxhall Minor Hockey expects a decent showing regarding their registration numbers.
"I think (registration numbers are) pretty good. I haven't looked in a while to see where we're at, but I think they're good," explained Tim van der Hoek, president for Vauxhall Minor Hockey. "We're hoping to have three teams. Last year, we only had two, and a lot of that was due to COVID. This year we're hoping to go ahead with three teams — a U7, a U9, and a U11 team."
While the previous two seasons have experienced their fair share of restrictions and safety measures put in place, with Alberta fully opened since July 1, nothing out of the ordinary is expected.
That being said, and with things known to change fast, the group is prepared to react to any potential measures needing to be put in place to keep everyone at the rink safe.
"We'll have to follow the local rink, and at the end of the day, the local rinks are going to decide safety protocols or safety practices they want inside the rink. We're going to follow whatever the Town of Vauxhall and surrounding communities require us to do for safety," added van der Hoek. "As for us, we'll look at that and what Hockey Alberta mandates and regulates — they're also following the government rules. As of right now, there are no restrictions, but if Hockey Alberta decides there will be some, we'll be following that."
The Central Alberta Hockey League is expected to begin in September, but Vauxhall Minor Hockey is just excited to see their players back playing the game they love.
Regular season play remains the focus for the group and at this point, no home tournaments are being scheduled for any Vauxhall teams.
"I don't think we're going to have any home tournaments. We haven't actually had one in the last couple of years. They aren't ruled out, but as of now, we're just trying to get on the ice and play some games this year. Hopefully, we can get the season going and it's not a repeat of last year and if things go good, we could maybe look at a tournament. With the fourth wave, and what we went through last year, the biggest thing is getting the kids on the ice and playing some games."
Another aspect of getting things back to normal will finally see kids back developing their hockey skills.
The pandemic saw many kids get on the ice less than normal, and Vauxhall Minor Hockey is prepared to help their players as best as possible to develop their skills.
"Last year was very frustrating for the parents and the kids. Between the starts and the stops and not seeing each other due to regulations and not being able to go to school. We're just hoping to get back out there. And the same thing with their development. It's hard to work on their development when they don't get to play all of the time. It was tough for the kids to play for three weeks then be off for three weeks. We're trying to make up for that this year and help build skills for the future," continued van der Hoek.
On top of players returning to the rink, the group is excited to welcome families back, too.
With spectator restrictions throughout the majority of the pandemic, Vauxhall Minor Hockey is hopeful this fall allows for any and all to come to watch hockey at the arena.
"It'll be exciting and I'm hoping we can have the concession going again. I haven't talked to the town, but I'm hoping we can get that running so we can have food at the rink. It will also be exciting to see families at the rink. That was a big frustration last year for families. Some weren't allowed to come in because it was regulated on numbers and so this year, we're hoping all the parents and grandparents can come. It's always nice to have kids see their families in the stands and last year they weren't able to do that — especially for the young kids," said van der Hoek.
"I'm just hoping we get back in the building and get back to normal."