Sabres rolls in second week of CAHL action
Posted on October 28, 2021 by Vauxhall Advance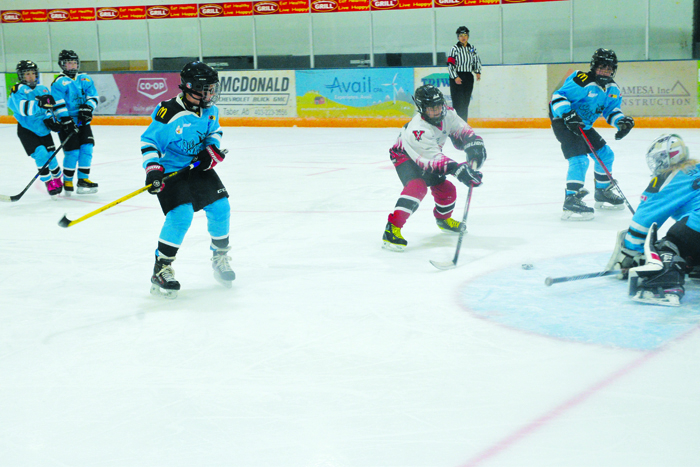 ADVANCE PHOTO BY MEG NOGUCHI
By Cole Parkinson
Vauxhall Advance
cparkinson@tabertimes.com
The Vauxhall U11 Sabres were on fire this past weekend of Central Alberta Hockey League action as the tiering round continues for all teams.
With a total of 42 goals scored in two games, the Sabres were able to easily acquire two wins in Tier 4 CAHL action.
On Saturday the team travelled to Brooks for a morning matchup. It may have been early in the morning, but the team was wide awake as they skated to a 17-8 win. Goals came off the sticks of Lincoln Deleeuw (six), Oakley Wall (five), Jhett Stober (three), Grayson Honess (two), and Cole Bouchard. Nash Stober faced 22 shots in the win.
The offence continued to dominate the opposition in the second game of the weekend when the Sabres welcomed in Redcliff on Sunday morning.
In a complete shellacking, the Sabres would fire 72 shots on net en route to a 25-2 win.
Like the first game, the score sheet was filled by Sabres players who would find the back of the net.
Scoring came from Jhett Stober (seven), Bouchard (seven),  Honess (two), Deleeuw (two), Wall (two), Austin Odland (two), Gavin Bilsky (two), and Chance Crowson. Nash Stober faced 10 shots in the win.