Spurs' season ends with an exit in District semi-finals
Posted on July 27, 2023 by Vauxhall Advance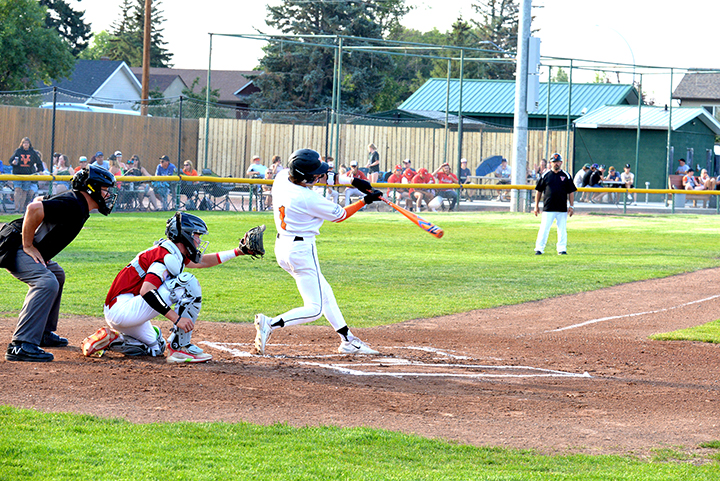 Advance Photo by Trevor Busch Langdyn Cummins connects at the plate during an opening game of the tournament versus the Tri-County Cardinals.
By Cole Parkinson
Vauxhall Advance
Local Journalism Initiative Reporter
Vauxhall played host to the Montana Legion North A District tournament last week as all seven teams came to town to compete. Looking at the standings, the Havre North Stars came into the tournament as the one seed with a 25-3 record, the Lethbridge Miners were in second with a 22-4 record, the Spurs followed with a 16-8 record while Lewistown rounded out the tour four with a 17-11 record. Teams ranked five through eight were Great Falls (10-18), Tri-County (8-20), Medicine Hate (7-21), and Fort Macleod (3-23).
Vauxhall kicked off their tournament with a matchup against the Tri-County Cardinals on July 20. It was a nail-biter for the host team, but the Spurs were able to squeeze out a 4-3 win in their opening game. The following day, the Spurs matched up with the Miners as two of the top three teams faced off. Unfortunately for the Spurs, the Miners were able to get the best of Vauxhall and took the game 7-4. Looking to shake off their first loss of the tournament, the Spurs were hoping to rebound on Saturday as they took on the Great Falls Chargers in their first game of the day. The offence was firing on all cylinders while the pitching and defence took care of business as the Spurs were able to take the game 13-3. The final game of the day saw the Spurs hit the diamond to take on the Lewistown Redbirds. With a date against the Miners waiting for the winner after Lethbridge fell 12-3 against Havre, the Spurs were all business once again as they were able to dominate with a 13-3 win. 
Sunday morning saw the rematch between the Spurs and Miners with the winner heading to the finals to take on the North Stars. It was a battle between the two squads, but the Miners were once again able to get the best of the Spurs 7-3 as Vauxhall saw their season end. 
In the final, the North Stars completed a perfect tournament as they were able to roll to an 8-2 win. The North Stars now head to Laurel for the 2023 Class A State tournament later this week. The Spurs did see several of their players recognized as All-District recipients for their efforts this season. Adam Vulcano (infield), Aidan Maxwell (pitching), Langdyn Cummins (outfield), and Adam Vulcan (All-Stwate Infield) were all acknowledged for their seasons.
With the season now over, the Spurs will see a handful of players depart the team. Overall, six players will graduate which includes Adam Vulcano, Peyton Howell, Jaxxon Pavka, Torbin Jorgensen, Brennan Kambeitz, and Wyatt Coupe.