Hard work of youth highlighted at 4-H Show and Sale
Posted on June 1, 2017 by Vauxhall Advance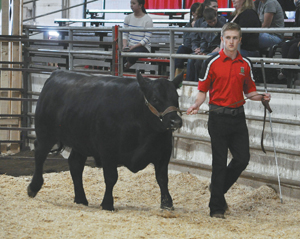 (File Photo) HERD: Youngsters from all over the 4-H district including Vauxhall, Hays and Enchant will be on hand this weekend at the Taber Agri-Plex showing off their animals.
By Trevor Busch
Vauxhall Advance
tbusch@tabertimes.com
Across the district, local 4-H clubs are gearing up for the premier event of their season.
The Taber and District 4-H Show and Sale will be hosted at the Taber Agri-Plex on June 2-3.
The event kicks off with a weigh-in for steers on Friday, June 2 at 8 a.m., with a weigh-in for sheep to follow at 9 a.m.
"All the clubs take a turn to weigh in, and then the kids will get their calves ready," said Billy Wenbourne, president of the Taber and District meat council.
"We'll have the sheep show first, and then the steer show, and then that will be it for Friday, and that's usually over by 6 or 7 p.m. The members that are in the steer, cow-calf, and the heifer projects, they've worked all the way, you start at the beginning of April. It's just to give the members a showcase of the time and effort they've put into the project."
Events heat up on Saturday with the various shows, starting at 8 a.m., to be followed by the sale.
"We have a cow-calf show, we have a heifer show, showmanship for the sheep and steers, and then after that's done, around noon we have a little break, and we'll hand out some awards, and then we'll have the businessmen showmanship around 1:30 p.m., and we'll get five local businesses to take in a  calf from one of the members of each club, and then they'll go into the ring and show their skills — just to give a little bit of what the kids have to go through in a year," said Wenbourne.
"After that's over with, then we'll start with the sale. The steers are first this year, followed by the sheep, and it's usually wrapped up by 5 p.m."
4-H Alberta is celebrating a milestone in 2017, and there will be some special recognition of that fact at the show and sale.
"The is the 100 year anniversary of 4-H in Alberta this 1, so we're going to have a few special events going on," continued Wenbourne.
"We have some people that are still alive from the Taber Beef Club, my mother was one of the first members. We're going to have as many old timers as we can at the grand entry parade."
The original weigh-in for the various clubs participating was on Nov. 15, 2016, according to Wenbourne.
The Taber and District 4-H Show and Sale is an opportunity for club members to strut their proverbial stuff.
"It's a big weekend for the kids," said Wenbourne.
"The members have been working with them from that time until June 2-3, for their achievement day. There's been a lot of work put into the animals from the members, record keeping, public speaking — there's a lot of stuff that goes on."
Wenbourne reported about 45 steers will be sold at the sale, as well as roughly 60 sheep.
The Taber Co-Op is donating refreshments and condiments for the supper to follow the sale.
"There's lots of people that donate year after year," said Wenbourne.
Working effectively with large livestock can be a time-consuming and labourious process for club members.
"The steers and the sheep, they have to break them to lead, but you're dealing with a 1,300-1,400 pound steer, and some of those kids are nine year old. It takes a lot of time to be with that animal, for that animal to trust you. Going out and feeding it every day, working with it, combing it — it shows in the end," said Wenbourne.
The event offers free admission, and is open to all citizens.
"If people are looking for something to do that weekend, come on out and see what the kids have been working on throughout the year," said Wenbourne.