Farm viewpoints warming to Bill 6
Posted on March 28, 2019 by Vauxhall Advance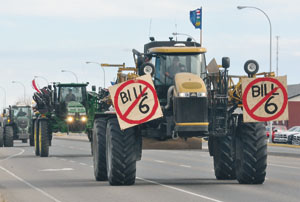 ADVANCE FILE PHOTO
By Tim Kalinowski
Alta Newspaper Group – Lethbridge
Farm leaders in Alberta are asking all political parties to either retain, or improve and enhance the current farm safety regulations in Alberta.
"With Bill 6 the UCP has said they are going to cancel that," said Lynn Jacobson, president of the Alberta Federation of Agriculture. "We had a lot of input into the final result of Bill 6, and farmers have settled down since. It wasn't what it was sort of portrayed like to begin with – like it was going to stop your children from working on the farm, and you weren't going to be able to do this and this. And it was going to cost you thousands and thousands of dollars for insurance. All those things have really settled down."
"All parties need to look at health and safety on farms and ranches," agreed Rich Smith, executive director of the Alberta Beef Producers. "We think there are some weaknesses in the current legislation. We think that legislation could be improved, and that would support health and safety of all farm and ranch workers. We also understand the importance of giving Occupational Health and Safety people the ability to investigate serious incidents of injury and fatalities on farms and ranches, and we certainly support a requirement for employers to have insurance for their employees."
Jacobson says the views of his members have changed since the early days of Bill 6.
"Since that difficult birth where Bill 6 was introduced, the industry-led Ag Safe Alberta and the Ag Safety Coalition have come along, and farmers have had a lot of input as we go forward on what is and is not covered to make Workers' Comp more compatible to agriculture," said Jacobson. "They have gone from hating it because it was something new to a realization that in this day and age you need some protection on your farm. You need to protect your workers, and Bill 6 and Workers' Comp provided an avenue for doing it."
While Bill 6 is a flawed piece of legislation in several of his members' minds, says Smith, the ABP is also not sure it is absolutely necessary to throw out the entire baby with the bathwater.
"We think Bill 6 is a flawed piece of legislation because it only applies to paid, non-family employees," Smith explained. "We think all workers on farms and ranches, including farmers, ranchers and their families, neighbours and friends, we need to be concerned about their safety. We think there are significant improvements which could be made in that respect from a legislative perspective."
Jacobson feels the mandatory WCB public insurance option, first introduced in Bill 6, remains the best for most of his members.
"Our greatest fear is, if you go back to a voluntary system as has been proposed (by the UCP) where you can have Workers' Comp or voluntary insurance, you are not going to get private insurance that is the same as Workers' Comp," stated Jacobson. "You do not get liability protection on your farm if you have an accident with private insurance. That's an adversarial system and people are going to sue, and maybe people are going to lose farms over it."
Alberta Beef Producers does not agree the public insurance option is the best one, says Smith.
"I talked to a lot of large producers who had insurance before Bill 6 which they felt was superior for their employees to what WCB had to offer," he said. "I think the fair way to approach it is to say there is a requirement for employers on the farm to cover their employees, and let the employer make the decision whether WCB is the best choice for his operation or whether a private insurer."
Jacobson says the AFA was not consulted for the agriculture platforms of the UCP, Liberal Party or Alberta Party prior to the election being called, and only had "a bit" of input into the NDP platform. He hopes it is not a pattern which continues after the election is over — little or no consultation with farm groups prior to ag legislation being imposed.
Smith is also concerned the voice of agriculture will be lost among the general clatter of talking points during the election period.
"We're hopeful all parties will be paying close attention to rural Alberta, and especially the agriculture industry," he said. "And we don't get lost on a focus on Calgary and Edmonton in the campaign."