Sergeant Timothy Blindback – From Enchant to Romania
Posted on October 21, 2021 by Vauxhall Advance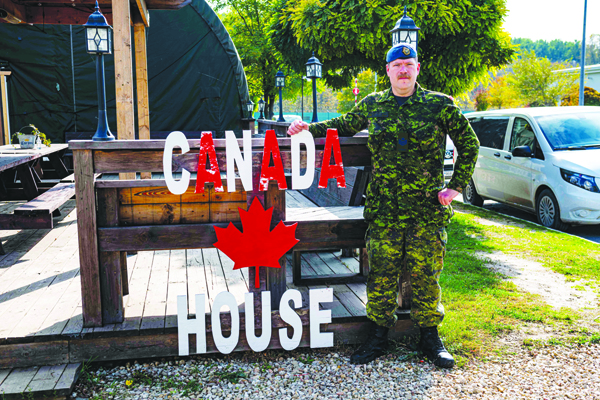 Submitted by Christine MacNeil
Canadian Armed Forces
Since graduating from Vauxhall High School, Sergeant Timothy Blindback has travelled a long way from his hometown of Enchant.
His adventure started in second year of college when he met a military member at a social event. Having never realized there was a Canadian Army unit nearby, and knowing nothing about the military, he thought it sounded 'pretty exotic' and decided to take a chance on something new. In 2001, Tim joined the Canadian Army Reserves, with the South Alberta Light Horse in Medicine Hat. In 2003, then-Corporal Blindback thought it was time to try something in the Canadian Armed Forces (CAF) full time, so he transferred to the Regular Force and joined the Royal Canadian Navy as a Naval Weapons Technician.
After several years at sea, and now with a young family, then-Master Seaman Blindback transferred to the Royal Canadian Air Force in 2011 as an Aerospace Control Operator (AC Op). An AC Op controls the skies, whether through Air Traffic Control, or as part of the North American Aerospace Defense (NORAD) Command.
In Sgt. Blindback's ten years as an AC Op, he has specialized in the Tactical Data Link (TDL) aspect of the trade. TDL combines radio, computer networking and other communications technology to allow Command and Control organizations to rapidly exchange information, thus allowing units to share sensors, such as radar, and work together with increased effectiveness and safety. Data Link Operator specialists are trained to configure, operate, and troubleshoot a wide variety of these Link systems, and are an integral part of successful operations of the CAF.
Throughout his time in the CAF, Sgt. Blindback has had the opportunity to participate in Operation PEREGRINE, helping fight forest fires in Kelowna, B.C. in 2003; he helped with the 2010 Vancouver Olympics as part of Operation PODIUM; and deployed with OP CARRIBE in 2011, Canada's contribution to the elimination of illegal trafficking in the Caribbean Sea and the eastern Pacific Ocean.
Sgt Blindback is currently deployed to Mihail Kogalniceanu Air Base as part of Air Task Force – Romania in support of Operation REASSURANCE, Canada's contribution to NATO assurance and deterrence measures, which demonstrates Canada's ability and willingness to react rapidly to international crises and to work side by side with its NATO Allies to reinforce NATO's collective security.