UCP looking to replace Bill 6
Posted on August 29, 2019 by Vauxhall Advance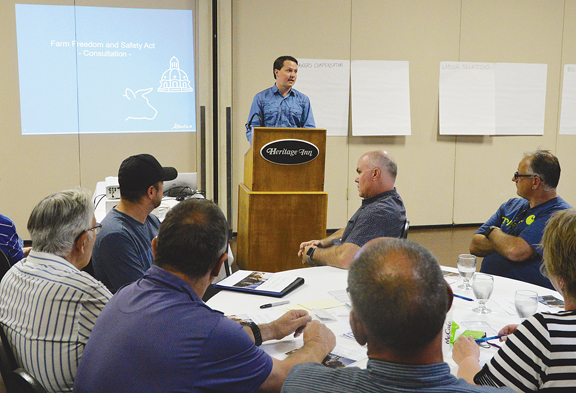 SAFETY CHECK: Agriculture and Forestry Minister Devin Dreeshen greets ag sector representatives during an open house consultation last week in Taber on the UCP's Farm Freedom and Safety Act, meant to replace the NDP's controversial Bill 6. ADVANCE PHOTO BY TREVOR BUSCH
By Trevor Busch
Vauxhall Advance
tbusch@tabertimes.com
With the NDP's previous farm safety legislation, Bill 6, now set for a date with the chopping block, Alberta's UCP government is consulting with stakeholders in the agriculture sector on replacement legislation expected to be introduced this fall.
Known as the Farm Freedom and Safety Act, the new legislation will be designed to give farmers the option of buying workplace insurance from WCB or another supplier as long as basic coverage is provided, exempt small farms from employment legislation similar to New Brunswick, ensure basic safety standards are in place, and reduce the regulatory burden and minimize red tape.
Last Tuesday at the Heritage Inn in Taber, producers and ag industry stakeholders gathered for an open house and roundtable discussion on the new legislation, where Agriculture and Forestry Minister Devin Dreeshen highlighted some of the shortcomings of the previous Bill 6, or the Enhanced Protection for Farm and Ranch Workers Act.
"All of you were aware, back in 2015, when the previous government brought in Bill 6, there was none of this. There was no consultation done, there were no discussions with farmers, it was a government top-down, heavy, here's a new piece of legislation try and make it work on your farm," said Dreeshen to open the afternoon discussion. "And then subsequent protests, and meetings, and consultations eventually that happened over the last two or three years have just been a nightmare of trying to fix Bill 6 and make it somewhat practical."
Dreeshen outlined how the UCP has been conducting extensive consultations with individuals throughout the agriculture industry in the lead-up to the new legislation being tabled.
"What this new United Conservative government committed to do and campaigned on in our last platform was to repeal and replace Bill 6, but to replace it with something where we actually took the time to go out and talk to farmers to see what would actually be farm safety legislation that actually works on a farm. We all know that each farm is different, each farm has a different number of employees, a different make-up, a different industry altogether, so it was something that we wanted to make sure that whatever we come up with is something that works for all the farms, and isn't extremely restrictive down to every type of farm, because it wouldn't be practical and wouldn't work."
Dreeshen expects consultations on the Farm Freedom and Safety Act to be wrapping up by the end of the month, with Bill 6 to be repealed and replaced by 2020.
"One of the recurring themes that we've heard loud and clear is a choice in insurance," said Dreeshen in a follow-up interview with the Advance. "We've had lots of farmers, through Bill 6, that are forced to have WCB insurance, and so they've had to have their private insurance also, but would end up paying two insurance premium policies. They want to be able to have a choice between private insurance and WCB. So that's something we've heard at every single stop is just having a choice in insurance provider."
Taber was Dreeshen's 18th stop on a whirlwind consultation tour of rural Alberta, with the minister scheduled for further stops in Lethbridge, Cardston, Grande Prairie, Fairview and High Prairie.
Dreeshen said it is unclear if anything that was included in the NDP's Bill 6 should be or will be retained in the new legislation once consultations conclude this week.
"It's hard to say, because it was brought in in such a horrible way. In 2015, there was no consultation done, and it was just kind of forced onto farmers. I think in the farming community there was just a lot of people frustrated by that. I think what we're doing here, actually going out and talking with farmers first, is something they just appreciate, that we're actually taking the time to talk and listen and to consult with them. And a lot of the stuff that they come up with is going to be ideally reflected in the bill."
Although the new legislation is still being formulated, Dreeshen did hint at what might be included once the bill hits the floor of the legislature this fall.
"It's seeming like it's going to be a high-level type of legislation, rather than prescriptive codes of each farm having to do certain things. Because there are so many different types of farms, and sizes of farms, to have kind of an over-arching structure that promotes farm safety at the beginning, kind of an educational component before a job gets done, rather than just being prescriptive of how each individual thing should be performed. That's something that we've heard farmers would like to see the legislation look like."
In 2017, primary agriculture contributed almost $5.2 billion to the provincial economy, a 1.8 per cent increase over 2016. Alberta has more than 40,000 agricultural operations, and employs approximately 33,000 people.
Albertans can complete an online survey on the Farm Freedom and Safety Act at alberta.ca/farm-safety-engagement.