Unique event for 4-H
Posted on January 9, 2020 by Vauxhall Advance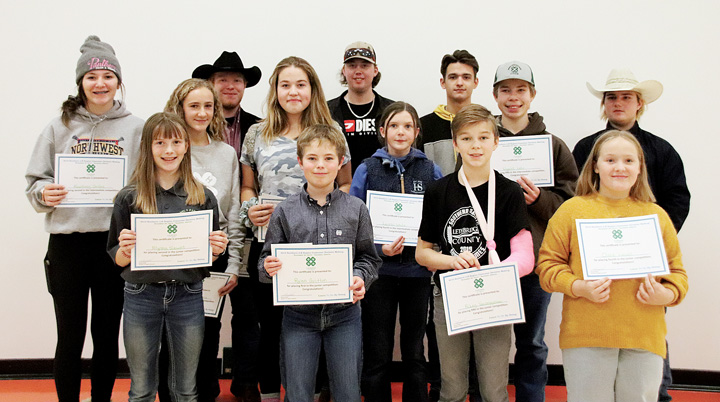 HAPPY CAMPERS: Consumer Decision Making had a lot of winners come away from the event held at Vauxhall Elementary School. ADVANCE PHOTO SUBMITTED
Every day you make decisions, such as what you are going to eat, what you are going to wear, or what to buy. Consumer Decision Making teaches 4-H members how to make decisions based on information they have learned and studied and on the facts they have collected.
The South Regional 4-H Consumer Decision Making sponsored by Farming Smarter was held on Nov. 30 at Vauxhall Elementary School.
This year members were asked to make informed decisions that will give them the best bang for their buck on five different products. Members of Retlaw Prairie 4-H Beef Club attended.
Scenarios and products were put together in these categories: Gaming Chairs by Peter Harris of Lethbridge Staples, Dog Food by Amber Pederson of Taber Pet Valu, Horse Blankets by Brenda Jagersma of The Country Outpost, Electric Fences by Jim Burdett of CCWG Livestock Supplies and Sunglasses by Ledean Skiba of Optical Studio.
The event was well attended with around 100 members attending from the South 4-H Region. The top three members in each category (Junior, Intermediate and Senior) were awarded a cash prize. All members earn diary points by attending that help them once they are Senior members to earn trips through Selections and Scholarships.