BRID levels great heading into winter; Phillips
Posted on September 17, 2020 by Vauxhall Advance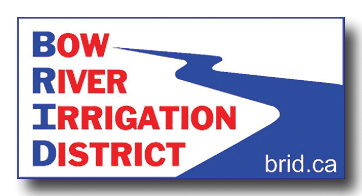 By Cole Parkinson
Vauxhall Advance
cparkinson@tabertimes.com
While the past several years in southern Alberta have seen dry, hot summers, the start of 2020's summer brought a bit of rain which has helped irrigation districts in the area.
Bow River Irrigation District is reporting great levels heading into the last portions of fall and into the winter as they project them to be right where they need to be for the colder months.
"Levels are really good, we're basically right where we want to be going into winter in terms of total storage. McGregor's a little low and Travers is a little high right now so we're bringing McGregor up and Travers down but we'll be right where we want to be at the end of the season," explained Richard Phillips, BRID general manager.
As the rain continued to fall late into spring and early into summer, water usage was lower than normal compared to previous years.
Despite all of the heavy usage during those dry periods, water levels for BRID over the past several years have been ideal for the district, including this year.
"We certainly had a lot more rain this year than in the past five years, they were all really dry. We used a lot of water in the last five years but this year, our total water use would be slightly low on our long-term average. Despite the heavy use last year, we were still right where we wanted to be heading into winter and that's again this year.
We'll be at our fullest winter level. That's a great place to be," continued Phillips.
While water users may be shutting off the taps for the season, winter looks to be a busy time for BRID as they have several projects lined up.
While last year's projects were fairly light as they completed a few medium pipeline projects near Lomond and a replacement of a drop structure near Enchant, this coming winter sees a few bigger projects on the horizon.
"It's a fairly busy winter construction-wise for us," stated Phillips. "We're doing two pretty big pipelines in the Vauxhall area, one is just a half-mile east of Highway 36. The other one, we are replacing the canal that comes out of Reservoir Eight, so that canal has been replaced by a pipeline as well. In addition to that, we are doing a big piece of canal rehabilitation up near Badger Reservoir up in the Lomond area. Those are pretty big jobs, two big pipelines and the crews will be putting pipe in the ground and we have a contractor for the big canal project."
As part of the Irrigation Rehabilitation Program introduced by the Alberta government, BRID received $1,585,642 in funding in 2020.
Overall, $10 million in funding is being provided to the province's irrigation districts for infrastructure improvements.