University of Winnipeg student looking to hear from Albertan farmers
Posted on April 29, 2021 by Vauxhall Advance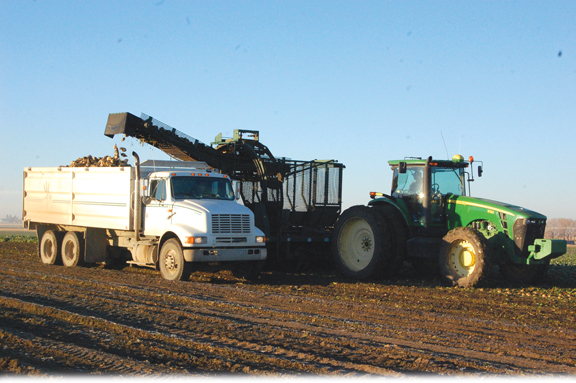 ADVANCE FILE PHOTO
By Cole Parkinson
Vauxhall Advance
cparkinson@tabertimes.com
Callum Morrison, a second-year PhD student at the University of Manitoba's Department of Plant Science, is looking to hear from farmers across the prairies.
Morrison has developed a survey to study and determine the current extent of cover cropping in the provinces of Manitoba, Saskatchewan and Alberta, why cover crops are being grown, and to determine how farmers are fitting cover crops into their rotations. 
He is hoping to identify any benefits farmers are experiencing with cover crops, as well as any problems that have arisen to help any other farmers who may be looking at planting cover crops.
"A cover crop is grown to provide cover to the soil at a time when a cash crop would typically not be grown. So in southern Alberta, you might grow them after cash crop harvest to provide cover in the fall and the spring before you plant the next cash crop," explained Morrison. "Or you can grow them as a full-season cover crop over the entire growing season and that replaces what used to be summer fallow. Organic farmers do like those full-season cover crops because they can increase the soil nitrogen — which they can't use artificial fertilizers, so they'll use that. They are also great for tackling salinity." 
He has heard from several southern Albertan farmers so far, but he's hoping more can be a part of the research to give a better understanding.
"So far, what we seem to be seeing in the southern area of Alberta is, it seems to me that quite a number of, say the potato growers — as well as the farmers using irrigated lands, their land is very heavily tilled. Of course with the Chinooks and the wind, there is a lot of potential for wind erosion, so it appears a lot of these farmers are growing cover crops. We have had a number of people from Cypress Hills, they initially stand out to me as a county where we have had a number of respondents. Certainly, the southeast is one of the areas in Alberta we have a lot of responses," he added.
The entire goal of the project has been to expand the knowledge of what cover crops bring to agriculture in different parts of the prairies.
With this survey, Morrison is hopeful prior experiences of cover crops can help make other farmers make decisions if they would be beneficial for them.
"What I'm trying to do is — we really don't know how many farmers are using cover crops, where they are using them or how they are being used in the prairies. It's really important we know this information because with it, we can show other farmers what others are doing. It gives them some other ideas to let them know how farmers in other situations are using cover crops. It will also allow farmers to see what benefits other farmers have seen," he added. "They'll also be able to learn about the problems other farmers have faced — which allows them to weigh out the potential costs of growing cover crops. It also allows them to predict these challenges and mitigate problems. This information can also go straight into the research. How can we lower the risk for farmers?" 
The response to the survey from farmers has been positive and he has seen a number of farmers lend their experiences.
While he's been working on the project since 2019, the goal is to add more farmer voices over 2021 to continue to get more data on cover crop success.
"I've heard from over 400 farmers across the three Prairie provinces. I can't remember the exact number, but over 100 of them are from Alberta," continued Morrison. "The fact so many farmers are taking part, it shows they want to know the answer to these questions. It's quite exciting."
If you're a farmer and are interested in participating in the Prairie cover crop survey, visit http://www.surveymonkey.com/r/prairiecovercrops2020.