Chandler's Big Sleep defines hardboiled genre
Posted on December 24, 2020 by Vauxhall Advance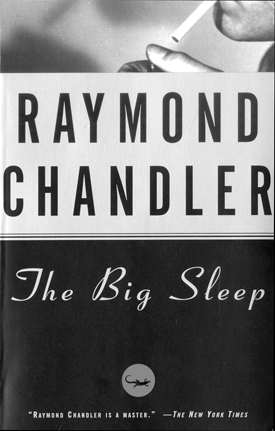 By Trevor Busch
tbusch@tabertimes.com
Detective fiction is a pretty pedestrian phenomenon in the 21st century, populated by myriad authors and countless examples that fill the shelves of dusty used book stores and prim new retailers alike, and can still be found, creased and dog-eared and resplendent in crumbling paperback decay on the shrinking shelf space of your local library still dedicated to the printed word.
There was a time, however, when the genre was still considered relatively new, and its early American flavours were regarded as far outside the bounds of respectable literature. While Arthur Conan Doyle's Sherlock Holmes had been inspiring generations of readers with a firmly British tradition of crime-solving and private investigations, American originators were consistently resigned to the pages of early pulp fiction magazines like Black Mask, which were published in the 1930s and 1940s.
But it was out of these cheaply-printed and mass produced magazines that the preliminary masters of this genre emerged, authors who were considered not just popular but brilliant, even passing beyond the pale of contemporary criticism into the realm of respectability. Pioneers like Carroll John Daly, James M. Cain, and Dashiell Hammett all made contributions to diversifying the often formulaic plots and noir fiction atmospheres prevalent in these kinds of works, but it would reach a prosaic culmination under the keystrokes of Raymond Chandler.
In Chandler's first novel, The Big Sleep (1939), he has yet to reach the full height of his writing prowess, but the scattered seeds of his prose mastery are all planted and would later grow into more mighty works now considered masterpieces: Farewell, My Lovely (1940), The Little Sister (1949), and The Long Goodbye (1953). These are among the classic examples of what is now referred to as hardboiled detective fiction; the genre's typical protagonist is a detective who battles the violence of organized crime that flourished during Prohibition (1920–1933) and its aftermath, while grappling with a legal system which is often portrayed as more corrupt than organized crime itself. Rendered cynical by this cycle of violence, the detectives of hardboiled fiction are often antiheroes, and Chandler's iconic Philip Marlowe fits this bill precisely. Deeply flawed and yet adherent to his own personal moral and ethical code, Marlowe is a fascinating mass of contradictions, the fearless loner who sometimes triumphs because of his imperfections, not despite them.
Populated by all manner of dark and unseemly characters, smoldering femme fatales, and an intricate and overlapping plot of double crossing and secrets revealed, the story is often hailed for its significant complexity. Set against the backdrop of a dreary, rainy and dirty Los Angeles sometime before 1940, this familiar scene-setting for this style of novel has passed so completely into generic pop culture as to now seem almost silly or trite. However, at the time, American-style hardboiled detective fiction was still in its infancy, and we have to set aside many of the cultural cliches that inhabit Chandler's novels and focus more on plot, prose and narrative. In this arena Chandler more than delivers, and remains one of the reasons his novels enjoy a huge — and still rising — popularity in the 21st century more than 60 years after his death.
The Big Sleep serves as an introduction to Marlowe, and without giving away too much of the plot (spoilers are the cardinal sin in detective fiction) follows Chandler's intrepid private eye as he hunts the blackmailer of a troubled daughter for her rich and ailing father, and finds himself caught up in kidnapping, pornography, seduction and murder before reaching the final pages. Marlowe is the quintessential private detective, in fact the very model that many later adaptations and interpretations are based upon, and in this it can be hard to divorce the imagination from the caricatured image that is conjured up after witnessing innumerable portrayals of the 'private dick' on the big and small screen over the decades.
But while Marlowe's image might be too familiar, aspects of his character are probably surprising for a first-time reader, such as glimpses of sentimental humanity and an often empathetic sympathy for both victims and perpetrators, locked as it is within his seemingly hard-as-nails exterior. Nevertheless, Chandler's first-person prose maintains a sense of detached observation on the part of Marlowe, a moral ambiguity near the core of his troubled soul that allows him to not judge too deeply the transgressions he sees or witnesses, or even has visited upon himself; there is a cold-logic calculating lack of passion in Marlowe that is both disturbing and immensely mysterious. And his dialogue can be blunt, shocking, or both: Marlowe never seems to care who he offends, and he gives offense pretty thickly on numerous occasions in The Big Sleep. When his employer asks if there is any chance of getting the blackmailer off his back early on in Chapter 2, Marlowe's response is pure Chandler: "I'll take him out. He'll think a bridge fell on him."
Always a colourful character in his own life, Chandler had been a prosperous executive for an oil company before the Depression claimed his livelihood, and he wrote short stories to make ends meet throughout the rest of the decade before publishing his first novel, The Big Sleep, in 1939. All of his novels, with the exception of Playback (1958), have since been adapted into film. Struggling with depression and alcoholism throughout most of his life, Chandler was as troubled as his flawed private eye, and he attempted suicide in 1955. Dying in 1959, his gravestone includes one of the famous quotes from The Big Sleep: "Dead men are heavier than broken hearts."
While now considered one of the best American authors of the 20th century — in cultural memory, almost as American as apple pie or Chevrolet — Chandler also has an interesting footnote of Canadiana in his early life. During WWI in 1917, he traveled to Vancouver where he enlisted in the Canadian Expeditionary Force, seeing combat in the trenches in France with the Gordon Highlanders, was twice hospitalized with Spanish flu during the pandemic, and was undergoing flight training in the fledgling Royal Air Force (RAF) when the war ended.
Hugely influential on the now-established genre of detective fiction, The Big Sleep gives us an introduction to one of American fiction's most iconic characters, detective Phillip Marlowe. Chandler's writing redefined the private eye fiction genre, and even lead to the coining of the adjective "Chandleresque." Swift-moving in classic hardboiled style but peppered with sharp and lyrical similes and held together through masterful prose, The Big Sleep is worth the investment for any reader.