Disneyland provides tons of fun, just get used to the crowds
Posted on December 2, 2021 by Vauxhall Advance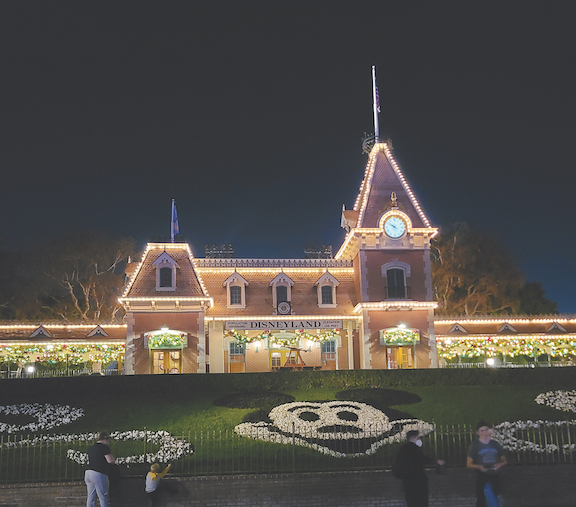 ADVANCE PHOTO BY COLE PARKINSON
By Cole Parkinson
Vauxhall Advance
cparkinson@tabertimes.com
I think Disneyland and Disney World are my favourite vacation spots. I know that may sound crazy to some, but I've loved those parks since I was 12 years old and I try to get to at least one every couple of years.
With COVID-19, I wasn't able to get down south for several months, but come November, I finally went down to San Diego to see my uncle and get a few days in at Disneyland. And boy, was it worth it, as per usual.
I usually like three days at Disneyland, but we opted for two due to costs and other things we wanted to do, and while it was a hectic two days, I can honestly say it's still one of my favourite places in the world.
Since I had been down there, the new Marvel Avengers campus in California Adventure and Star Wars: Galaxy's Edge in Disneyland opened — both of which are awesome. I'd give the edge to Star Wars just because there was more to do and the rides were better, but I can't wait to see what they add to the Marvel area over the next few years.
Other than that, it was pretty busy as usual down at Disney, but that's totally fine with me. I know both of those parks like the back of my hand, so navigating is nice and easy. What was highlighted from the new areas is how desperately Tomorrowland in Disneyland needs an upgrade. Space Mountain is a classic and doesn't need much of a change (the waiting line could be updated, but the ride is still fantastic), but other than that, it is pretty barren.
Buzz Lightyear Astro Blasters is a decent enough ride, but it's nothing to write home about. Autopia, Astro Orbitor, Finding Nemo Submarine Voyage, and Star Tours are all very bad, in my opinion. Autopia is old and only exciting if you've never driven before, Astro Orbitor is a standard fair ride, Finding Nemo is pretty boring, and Star Tours makes me feel sick. I can't wait for that area to get an upgrade and I'm sure it's coming soon since I know I'm not the only one who feels it's one of the weaker areas in Disneyland.
The rest of the Disneyland side of the park, minus Mickey's Toontown and Fantasyland which are great for kids, were all great to revisit once again. Overall, we were able to hit every ride we wanted. A couple were shut down often throughout the two days, but we did get lucky getting on some of them fairly quickly.
On the other side, California Adventure was wide open in terms of rides with nothing shut down for very long. The pier was a little off considering the water was completely drained, but that really wasn't a huge factor. Wait times were reasonable, minus the new Spider-Man Web-Slingers ride (which isn't worth a 70-minute wait) and Radiator Springs Racers (which is always busy), so all in all, it was worth every penny.
So now, let's look at some of my favourite rides in each park
California Adventure:
5. Grizzly River Run
This one is tons of fun, but prepare to get wet. And if you do, it may not make your day very fun if you're drenched head to toe. I love this one, but it can be a one and done ride considering the wetness factor. The rapids though provide tons of laughs and plenty of fun!
4. Toy Story Midway Mania!
While I have gripes with Astro Blasters, Midway Mania! is a much better ride that provides plenty of competition with whoever you ride with. The games are fun within the ride and reuniting with my favourite Toy Story characters is a blast.
3. Incredicoaster
If you love fast coasters, this one would be for you. The Incredicoaster rips and there's always a short wait time for it, which makes it that much better.
2. Radiator Springs Racers
I'm not a huge Cars fan, but the ride is incredible. It's fast, funny, and provides plenty of action. The wait times are always high though, so be prepared for a wait in line. I would also advise you to do this one at night because seeing Radiator Springs at night is fantastic.
1. Guardians of the Galaxy — Mission: Breakout
While the former Tower of Terror was great, the update to Guardians of the Galaxy made the ride even better. The music, the characters, and the jokes make this ride the best in DCA. The drops provide plenty of entertainment and this could easily challenge for the best ride in Disney.
Disneyland:
5. Space Mountain
We've already talked about how much I love Space Mountain, so of course, it would make the list. Nothing wrong with a fast roller coaster in the dark!
4. Pirates of the Caribbean
One of the original rides at the park and it's still great. The addition of Captain Jack Sparrow and Capitan Barbossa are great for fans of the movies as well. It's not exactly a thrill ride, but it's still a must hit.
3. Big Thunder Mountain
Another coaster that provides tons of thrills. It's also another ride that is much better at night, though it's very good during the day as well.
2. Indiana Jones Adventure
This had been my favourite ride for the past 14 years, and while it has been overtaken, it's still a top-three ride between the two parks. It's also what turned me into a massive Indy fan. It's fast, bumpy, and it's like being on an adventure with Indy.
1. Star Wars: Rise of the Resistance
Talk about a great new attraction that is worth the wait. And trust me, you will wait for this one. But the ride itself is the best across the two parks by a significant margin. It may not hit the same if you aren't a Star Wars fan, but I doubt anyone would dislike this ride. It has everything and the Disney Imagineers knocked it out of the park with this one.