Vauxhall Public Library holding fundraiser
Posted on February 7, 2019 by Vauxhall Advance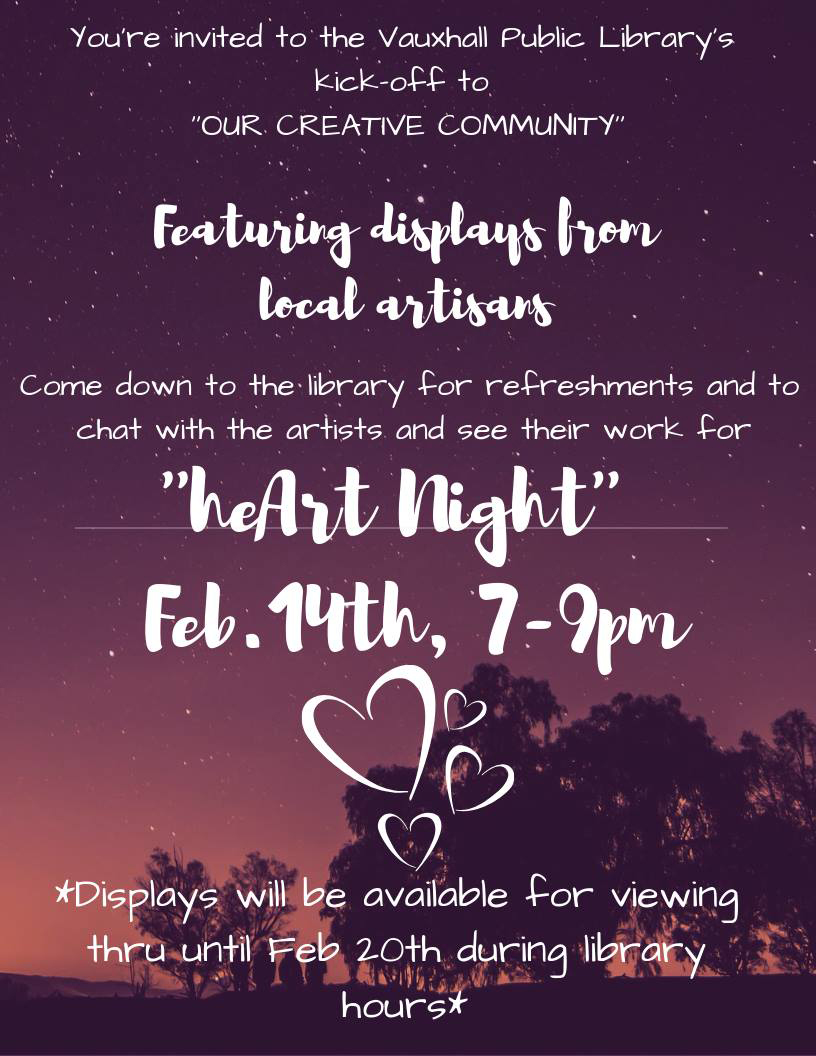 By Cole Parkinson
Vauxhall Advance
cparkinson@tabertimes.com
A new event is coming to the Vauxhall Public Library next week that hopes to see the community get involved.
On Feb. 14 from 7 to 9 p.m. at the Vauxhall Public Library, they are hosting heArt Night displaying art from local artisans.
"We wanted to start celebrating community creativity and we wanted to celebrate our local artists or craftspeople in the area. We have so many talented people so we wanted to showcase it in the library," said Lucy Norris, a Vauxhall Public Library board member. "On February 14, which is Valentine's Day, we are going to have as many as our local people as we can. Some can't make it but we are going to set up displays of their work. We have some people who paint, some people who do knitting, crocheting and some doing jewellery." 
The event will also provide refreshments for all in attendance with some Valentine-themed goods too.
While the event is only held for one evening, the hope is to have the art displayed at the event stay for viewing for the next several days as well.
"We are also going to serve coffee and juice and Valentine cookies and chocolates in keeping with the Valentine's theme. We are going to allow as many as the artists who would like to, to keep their art displayed in the library for the week," explained Norris.
Artists who will be featured at the event include Jennifer Stuckey, Petra Klempnauer, Angie Klemen, Kathleen Klemen, Lyn Unser, Pat Coad and possibly two more unconfirmed guests. 
Norris added they could only fit so many pieces of art due to space though they hope to include more artisans later on.
On top of some local art to view, it was also a good chance to show off the new and improved Vauxhall Public Library.
"We are inviting the public to come in and meet our guests and to view all of the art that is being made locally. It is also an opportunity for people to come in and see the library if they haven't seen it before," added Norris.
With heArt Night being the first feature event for the library, they have plans for future events of the same nature.
Before heading further down that path though, they are waiting to see how the community reacts to the first event.
"We are hoping, if it goes well, we'd like to do some other ones. We have talked about possibly in the fall, maybe we would do photography. Possibly at another time, we would do something musical but we're just playing that by ear. We are hoping this will be a twice a year event or annual. This is the first time we've done this so we are not quite sure how it is going to go yet," said Norris. "We're just hoping to have a good evening."