Delanoy among APEX youth award winners
Posted on March 14, 2019 by Vauxhall Advance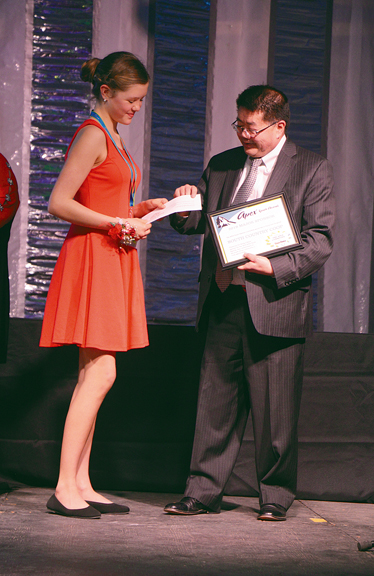 REACHING APEX: Samantha Delanoy accepts her bursary from Rod Yokoyama at last Thursday evening's APEX Youth Awards at the RiverRunner Recreation Showroom in Taber's industrial area. Each winner took home $1,500 bursaries from sponsors. ADVANCE PHOTO BY TREVOR BUSCH
By Trevor Busch
Vauxhall Advance
tbusch@tabertimes.com
The cream of the region's youth rose to the top this year at the APEX Youth Awards with four deserving finalists accepting the premier honour.
Hosted at the RiverRunner Recreation Showroom in Taber's industrial area for 2019 due to ongoing renovations at the Taber Community Centre Auditorium, Thursday evening's gala event would see Tina Dyck, Peter Wiebe, Madison Waugh and Samantha Delanoy take home $1,500 bursaries from APEX's major sponsors Avail CPA, Legacy Dodge, Taber Citizens on Patrol, and South Country Co-op. The eight other nominees were all recognized and celebrated at the banquet.
The APEX Youth Awards were developed to recognize individuals who represent the best qualities in Taber and area youth, who selflessly give of themselves in the service of others.
Vauxhall's Samantha Delanoy will be using her bursary to pursue a career as a nurse.
"I'm in shock at the moment. My hands are still shaking. It's a real honour," said a breathless Delanoy minutes after her win. "I didn't think that I'd ever be nominated for this kind of thing. It's mind blowing, incredible. I plan to put it toward my post-secondary fund. As it was mentioned, I'd like to go into nursing."
Grassy Lake's Tina Dyck said she didn't expect her win, and hadn't thought seriously about what she plans to do with the bursary she was awarded.
"Jittery, really excited and really happy," said Dyck. "Honestly, I did not expect to win, so I have not thought of it yet. But I'm sure I'll figure something out."
Also hailing from the Grassy Lake area, volunteer firefighter Peter Wiebe tentatively plans to save the money for his future post-secondary endeavours.
"Overwhelmed, amazing, so much joy," said Wiebe. "My heart was pounding the whole time walking up there — so nerve wracking. I don't know, so far I'm thinking of just saving it up for college."
Taber's Madison Waugh plans to use the funds she was awarded for a summer holiday in Southeast Asia.
"Pretty amazing," said Waugh. "I'm putting it toward a Thailand trip in the summertime."
Over the past 18 years the APEX Youth Awards have recognized and celebrated the contributions of approximately 362 young people who have made a difference in their community. With the continued support of local business, as of 2015 there has been $90,000 in bursaries given to 60 APEX winners.
The evening's keynote speaker was Annae Jones of Lethbridge, who was born a double arm amputee. Jones talked about her life and struggles in overcoming her disability through a series of personal anecdotes, while also drawing inspiration from the stories of 2019 APEX nominees.
"Thank you for inviting me to be here tonight. It's certainly a pleasure and an honour to be among these exemplary young adults who demonstrate so much courage, leadership and community spirit in everything they do," said Jones.
In 2002 the APEX Youth program started as a partnership with the Taber Rotary Club and The Taber Times, but when the original Rotary Club of Taber disbanded in 2008, concerned community leaders felt the APEX program was important enough to continue. Together, they formed the APEX Committee and with The Taber Times continue to organize the event.