MP Shields highlights weekly newspapers
Posted on April 18, 2019 by Vauxhall Advance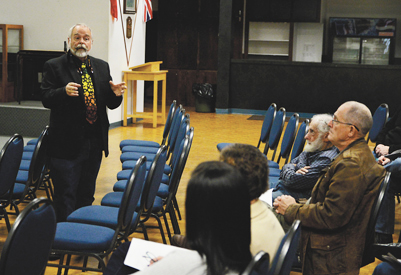 ADVANCE FILE PHOTO.
By Greg Price
Vauxhall Advance
gprice@tabertimes.com
Bow River MP Martin Shields, with several weekly newspaper in hand from his riding, including The Taber Times and Vauxhall Advance, questioned the minister of Canadian Heritage earlier this month on why the Supporting Canadian Journalism initiative from the 2019 federal budget is freezing out weekly newspapers with its funding formula.
During the April 9 meeting of the Standing Committee on Canadian Heritage, Shields questioned Pablo Rodriguez, Minister of Canadian Heritage, on the $600 million in funding for the Supporting Canadian Journalism initiative, noting many papers in his riding would be unable to meet the government criteria for funding, in essence, favouring daily over weekly publications.
"In my riding, we don't have any dailies, we have weeklies," said Shields in the House, as he displayed copies of The Taber Times, Vauxhall Advance, Rocky View Weekly, Chestermere Anchor, Bassano Times, Strathmore Times and Brooks Bulletin. "And when you look at all those papers, and that's not all of them, the owner is usually the editor, they have a camera and one reporter. These are the lifeblood of my communities. They cover the local mayor, the councils, the hockey team and advancing developments in that community. Every one of the weeklies in my riding won't get anything out of this because the criteria eliminates them."
MP Shields admitted he used to subscribe to the Calgary Herald, but found there was little to no coverage of smaller communities in his riding.
Shields had talked with some in the industry about the $600 million bailout, where insiders were scratching their heads of why it would be needed if the federal government had just kept the status quo from before if it wanted to help save print media.
"The federal government used to advertise in print media. Now, they don't, it's all social media. He said 'give us back our print media advertising from the federal government.' They cut all that out of the weekly newspapers," said Shields. "That as a source of income would make a difference. On one hand, you support print media with the big newspaper chains, but on the other hand, you pulled the support of the weeklies which are the lifeblood of their communities. Give us back the print advertising. You are going to support the large papers in print form, but you've pulled the support of the advertising from the weeklies. That is a challenge."
Minister Rodriguez noted the shift of government advertising from print to social media started under the previous Conservative government and that weeklies do have access to the Canadian Periodical Fund at $75 million.
"But that's not $600 million and by simple criteria, you've eliminated them," noted Shields.
In a follow-up interview with The Advance after his standing committee session with Rodriguez, Shields added weeklies often have skeleton staffs where owners are also editors who put on multiple hats in their newsroom, automatically excluding them from funding under the federal Liberal's Supporting Canadian Journalism initiative. While media overall is struggling across North America, if smaller communities have hopes of being covered adequately, it is weeklies that are the lifeblood for depth of various events.
"You got hockey game pictures, you got school kids, you got community events. He (Rodriguez) said that's what newspapers are about and I said yes, that is exactly what the weeklies are about in my riding and you are going to give money to large chains?" said Shields. "If you believe yourself in spending taxpayers dollars that social media is a good thing, why are you giving money to big dailies that you think aren't good enough to put your advertising dollars in?"
"Why not give it to print advertising with the weeklies. They are the ones that are keeping the smaller communities informed. Are the Calgary Heralds and Lethbridge Heralds, are they going to put in stories of how the Taber high school basketball team did or cover what happened in town council? No. Are they going to put in stuff about local (smaller town) community events? No."
Different media organizations are perceived to have slants or biases across media where Shields acknowledged while no organization can be completely down the line 100 per cent of the time, it is the smaller, weekly media that has the ability to come closest to that ideal, furthering another reason why weeklies should qualify for funding, and not necessarily through a Supporting Canadian Journalism bailout program.
"I don't think the government should be paying for newspapers. But, if they are going to be giving their advertising into social media, you can get around that by putting your money into print publications," said Shields. "If they believe that newspapers should stay independent, then advertise in all the papers. Weekly newspapers really reflect their community because there is such a close, hands-on connection. Not only do they support their community, they want to reflect their community. What I find is weekly papers are much less what you would call 'biased.' You can look at one chain in Canada sort of this way and one chain is sort of that way. One seems to support one party versus the other. Weeklies don't do that as much, they reflect their community. That's why we need them."
Shields asked the minister of Canadian Heritage if the Supporting Canadian Journalism initiative were to continue, to change its parametres so that weeklies could qualify.