Cemetery committee continuing its helping hand
Posted on May 2, 2019 by Vauxhall Advance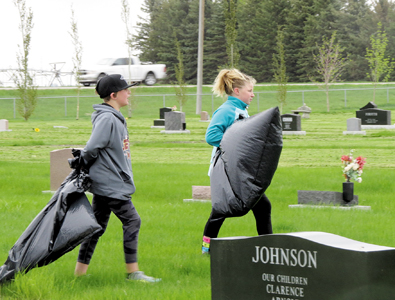 HELPING HAND: The upcoming Vauxhall Cemetery Community Cleanup is scheduled for Thursday, May 16. ADVANCE FILE PHOTO
The Vauxhall Cemetery Committee is seeing some turnover after years upon years of dedicated service and guidance.
Outgoing executive includes Anne Johnson (treasurer), Alice VanderPloeg (vice-chairman), and Murry Peters and Shirley Bryant (directors).
The committee welcomes its new members which include Donna Van Hal, Lien Van Hal, John Van Hal, Betty Jensma, Michelle Ostafichuk, as well as all the returning members as the committee continues with the work towards the beautification of the Cemetery.
Membership is available for the small fee of $5. If interested, please contact Kathie Friesen or a committee executive member.
Vauxhall Cemetery Community Cleanup is scheduled for Thursday, May 16, going from 3:30-7 p.m. to accommodate those that need to come and go due to other activities.
For those participating in the clean up, bring labeled gloves, rake, or shovel. Hot dog lunch will be served at 5 p.m.
If you are unable to help with cleanup, but want to see the work that the committee has done at the cemetery, you can join the committee and local 4-H clubs for a lunch.
In case of inclement weather for the clean up, the alternate date is May 23.
The next general meeting of the Vauxhall Cemetery Committee will be held on June 6 at 7 p.m. at the Vauxhall Town Library meeting room. The committee will be working a casino on July 26-27 where volunteers will be needed to work either afternoon or evening shifts. Contact Friesen or an executive member if you are able to help.
2019-2020 Vauxhall Cemetery Committee Executive:
Chairman: Kathie Friesen
Vice Chairman: Lien Van Hal
Secretary: Leona Wright
Treasurer: Donna Van Hal
Directors: Michelle Ostafichuk and John Van Hal