Tiny Home nearing completion
Posted on May 30, 2019 by Vauxhall Advance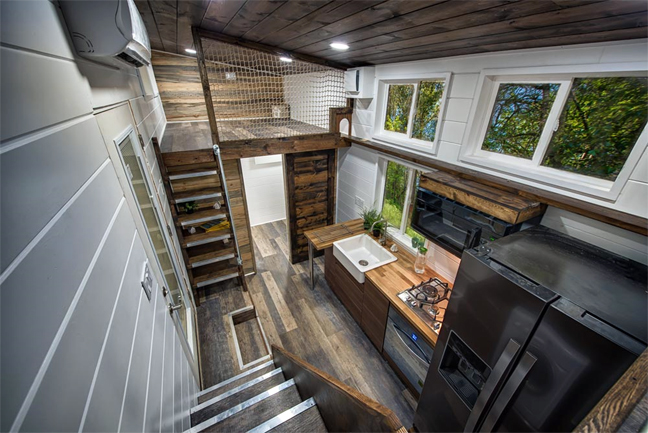 ADVANCE FILE PHOTO
By Greg Price
Vauxhall Advance
gprice@tabertimes.com
Hays students continue to work hard on their tiny home project, with the final result to be auctioned off at Hays School on June 21.
Students from Grade 4 to 9, with guidance from experts in the field, have been building a tiny home (about 320 square feet) from the ground level that will fit on an 8×30 foot trailer which will make it moveable.
Here are some comments from Grade 4 to 6 students at Hays School about the experience so far on the Tiny Home Build project:
"I am a grade six student at Hays school and I am working on the Tiny Home Project. What I have learned from this experience is how to measure correctly. It also helped me with being punctual. It has helped in school by teaching me how to work well with people and with cooperation. I think it will help me in my future by having experience with tools which could be useful for a job. Overall I think this was a great experience and will be helpful in my life."  
"I am a grade five student of Hays School and I am working on the Tiny House Project. What I have learned from the Tiny House Project is that you have to listen, pay attention and co-operate or else trying to build a house won't work. Building on site has helped me in school by teaching me how to work in groups, listen, pay attention and school work like math. I think this will help me in my future by giving me a better chance at my choice of job. Overall my thoughts about this project are that this project is an opportunity to do something I have never done before."
"I am a Grade 4 student that works on the Hays Tiny House. I have learned to do my fractions better. In the future it will help me get a job because this project has taught me to be helpful, be positive, and a team player. My overall thought about the project is I think it's really cool that we get to build it."
The project is headed up by Melissa Duckett, a Grade 4-6 homeroom teacher at Hays School, who was looking for something bold for her Career and Technology Foundations class. The project is still looking for sponsors from companies or individuals for the solar panel system, compostable toilet, windows, and appliances.
If you wish to make a donation to the build, please call the Hays School at 403-725-3755 for more information. 
The auction for the Tiny Home goes at 1 p.m. on June 21 at Hays School.
The proceeds from the sale of the Tiny Home will go back into the school to upgrade technology, sports equipment and field trips.