Dog Day Afternoon with Victim Services
Posted on August 1, 2019 by Vauxhall Advance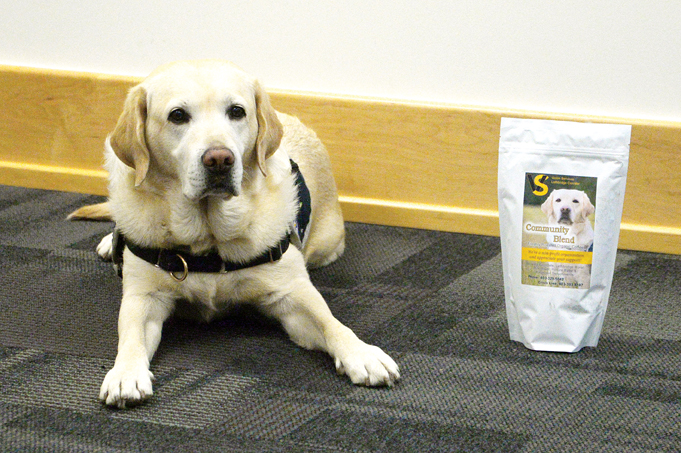 FOUR-LEGGED FRIEND: Adonus Arlett of the Lethbridge Corridor Victim Services Unit, introduced Madison (pictured) to the crowd at the Taber Public Library, to raise awareness of Victims of Crime and Survivors Week. A Labrador retriever, Madison has been specifically trained to help ease the effect of trauma that victims of crime and tragedy experience. Outside the Horizons Victim Services grant funding, Madison's program is funded through fundraising such as organic coffee that is for sale for $20 per bag. ADVANCE PHOTO BY GREG PRICE
By Greg Price
Vauxhall Advance
gprice@tabertimes.com
The following is Part Five of a multi-part series of a presentation done at the Taber Public Library in bringing awareness to Victims of Crime and Survivors Week.
Sometimes…having just two legs is not enough on properly delivering the vast services Horizons Victim services can deliver to people in need.
Adonus Arlett of the Lethbridge Corridor Victim Services Unit was on hand at the Taber Public Library to introduce Madison, a yellow Labrador Retriever.
Madison has been specifically trained to help ease the effect of trauma that victims of crime and tragedy experience. She has been trained by Dogs With Wings, the only accredited training centre in Alberta. She is often present during police interviews, at the court house, or out with the victim services team.
"Madison slides into any situation and makes people feel at ease. She has a natural gift, we call her the mama dog because she is just that. She gives a lot of comfort and hugs. You can watch full grown men lift her and talk to her," said Arlett. "It is the most beautiful thing. She just has that soothing ability. She's the silent advocate where we can't go."
That includes, at times, Madison up on the witness stand, giving support to victims of crime in their testimony. Judges are very in tune with Madison and what she can bring to the demeanour of a courtroom's effectiveness.
"It's very empowering, especially for little kids. When they have to walk into that courtroom, they get to hold on and they feel so much pride because they are the caregivers of this magnificent dog," said Arlett. "They forget that she is there to look after them. All of that goes to the side, because they are giving all of their love to her. They get to talk to her and they forget about the judge, the lawyer. Sometimes they will crawl under the stand and just answer questions to Madison."
Madison can be present during forensic interviews with the police.
"We have cut interviews in half time-wise because it is soothing. If Madison starts to whine, just let it kind of happen and remind everyone in the room to give her a little pat," said Arlett. "Things are starting to escalate because Madison's job is to recognize anxiety. It's blood pressure and sugar change, that's all anxiety is. That's all she is detecting. When she is whining, she is saying 'Hey, remember that I'm here to ground you.' Tactile is a very grounding experience when you start to pet a dog. If things continue to escalate, she'll whine a little louder and start to paw."
Madison's original job was going to be a seeing-eye dog, but at 5 1/2 months, she was genetically tested and was put into the Dogs With Wings breeding program where she had 23 pups in three different litters. All the pups stayed with her for six months, before moving onto adult training of about 18 months.
"It's not different than say scent training for dogs with drugs," said Arlett, adding it is typically up to 10 years a dog can be in service.
Unfortunately, dogs can feel the affects of trauma just like humans can. Madison's kind nature and personality, Madison has been diagnosed with Post Traumatic Stress Disorder.
"She has spots on her brain just like a human would," said Arlett, adding Madison is in the transitioning retirement faze of her career, where the vet has championed that Madison stay with Arlett in her remaining years at home. "In her four years (as a support dog), we've done some really big files. Five weeks, six weeks, 10 weeks types of trials."
Madison has her own Facebook Page (Madison VSU), where the animal program is outside the funding structure in which Horizons Victim Services is funded through grants. Program's like Madison's are funded through donation where Madison has her own organic coffee for sale at $20 per bag.
"The programs that have dogs have to go out there and hustle and do their thing with fundraisers," said Alf Rudd, program manager for Horizons Victim Services.
Horizons Victim Services currently has 11 volunteer advocates. It serves Taber Police Service and Taber/Vauxhall RCMP. There are currently 76 victim units in the Province of Alberta in which the Taber/Vauxhall area is one of them. The board applies for the grant money that is in fund that comes from victim surcharges on tickets/sentences, to be able to pay for services that the victim services unit provides. Currently, the fund sits at $71 million.
If you would like to learn more about Horizons Victim Services, you can call 403-223-8991.