VHS staff prepared for another busy year in Vauxhall
Posted on September 12, 2019 by Vauxhall Advance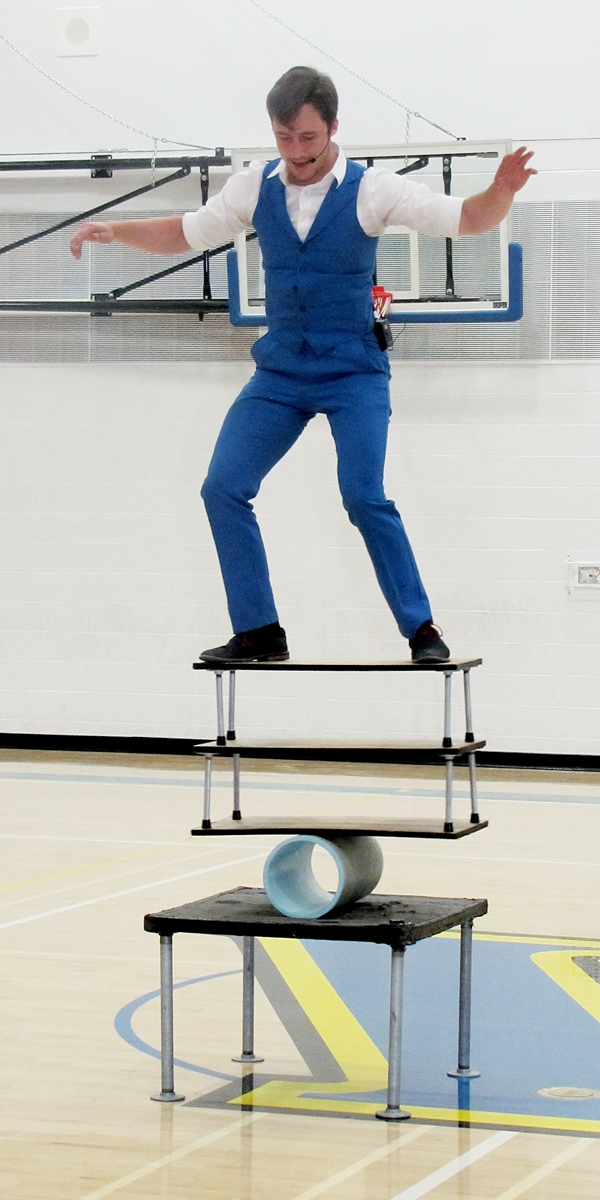 By Greg Price
Vauxhall Advance
gprice@tabertimes.com
As always, Vauxhall High School starts off its school year with Spirit Week to help with a solid foundation for a positive learning experience.
The Vauxhall Jets played a baseball game and the Blue Cup flag football team saw the Grade 12 class battle the teachers and community members to a 6-6 draw, among many activities.
"We had a juggler come in and do some entertaining for the kids. It was a lighter moment where a circus entertainer showed some kids some juggling feats," said Todd Ojala, principal for Vauxhall High School. "We also have someone coming in on Oct. 24 and his name is Sean Akin as a guest speaker and he does the One-Week Job Project. He got his admin degree and the year after he graduated, he took on 52 different jobs in 52 weeks. It's good for kids in getting a look at what they might want to do in their future and learning from his experience."
Vauxhall High School is doing its Terry Fox Run on Sept. 25, where students will be encouraged to bring at least a Toonie for fundraising into cancer research.
"The school matches their contribution to the Canadian Cancer Society for the Terry Fox Run," said Ojala.
The 2019/2020 school year will mark the second year the school has done Experiential Learning Week, which occurs in early May.
"What's exciting about that, is it's an opportunity for kids. We had a batch of kids go to Lethbridge College for a week with various programs. We had a rock-climbing program, we had medical sciences, we had agriculture. It's lots of different programs giving kids opportunities (for Grade 10 and 11). It gives them an experience of what college would be like and experiences in different occupations," said Ojala. "For the junior high, we had an international food fair where kids did research on various countries and come up with a menu item and create it. There was a professional chef that came in and judged the presentations and some prizes were awarded."
The student population has remained relatively stable, with two less students than last year for the 2019/2020 school year, although final numbers stabilize at the end of September.
There is a new science teacher roaming the halls of Vauxhall High School this year in Greg Skelton who is teaching junior high science and Chemistry 20.
"The Fraser Report shows we are pretty focused on academics and our school has done very well over the years," said Ojala.
"We have great support from the community and from the parents with the kids' learning experiences. I'm grateful for our teachers and their connection with the students in the extra time they put in, throughout the day, evenings, weekends —whatever to help students achieve academic success."