Local high school student headed to New York after placing in speaking contest
Posted on January 16, 2020 by Vauxhall Advance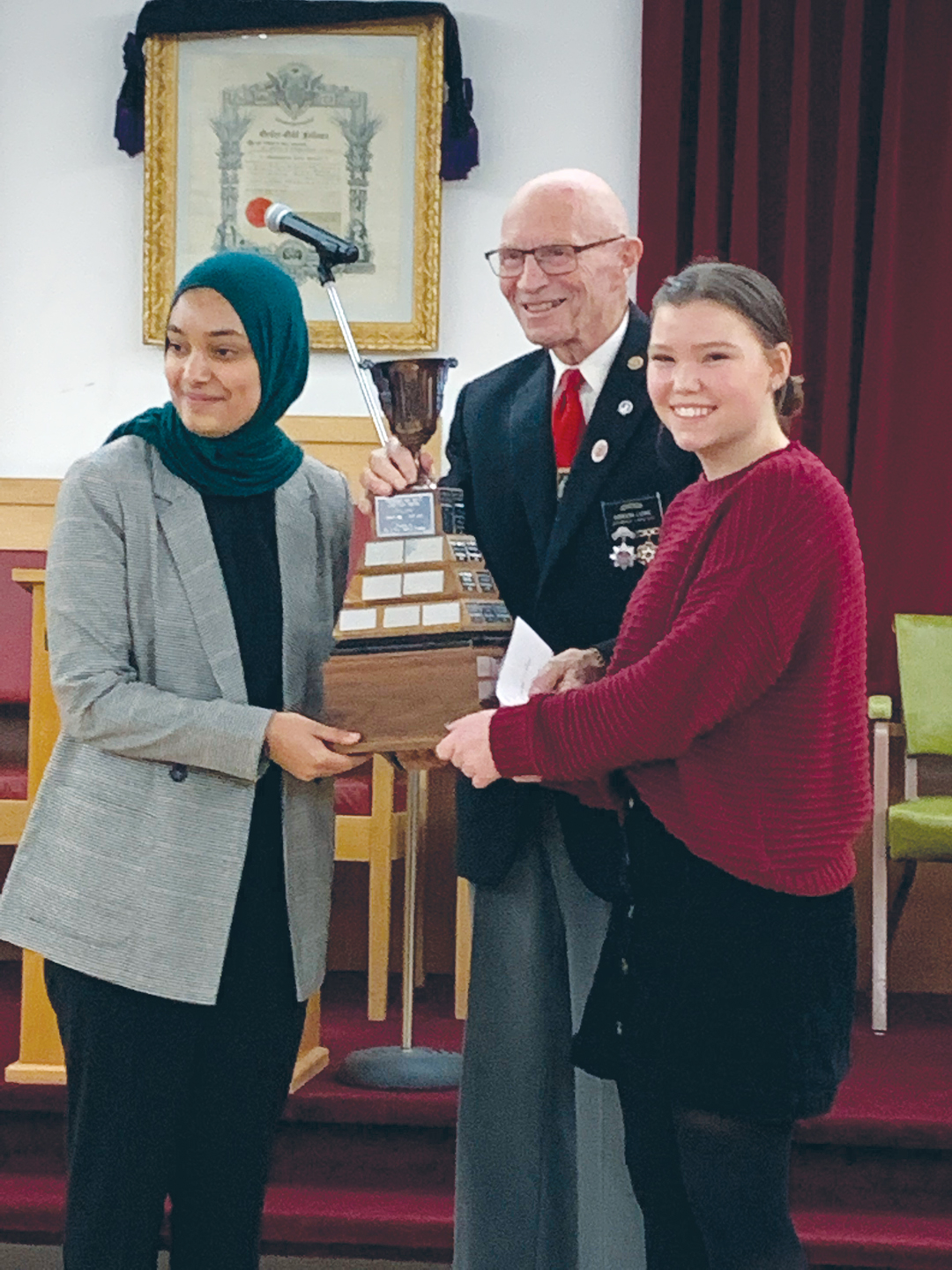 BIG APPLE: Chelsey Mills (right) is headed to New York this summer after placing in the Independent Order of Oddfellows and Rebekahs United Nations Youth Pilgrimage Public Speaking Competition late in 2019. ADVANCE PHOTO SUBMITTED BY DORTHEA MILLS
By Cole Parkinson
Vauxhall Advance
cparkinson@tabertimes.com
A Vauxhallite will be taking on the Big Apple this coming summer.
After placing in the top two in the Lethbridge Independent Order of Oddfellows and Rebekahs United Nations Youth Pilgrimage Public Speaking Competition late last year, Chelsey Mills, a Grade 11 student at Vauxhall High School, will be heading down to New York City from June 30 to July 13.
"My mom did it back when she was around my age and she didn't realize they were still doing these speaking competitions. She signed me up for it and that's how I knew about it. I've been doing public speaking since I was nine because I'm in the 4-H Club so I have been doing it for a while now," said Mills.
Even starting from a young age and getting plenty of practice, she says she still gets a few butterflies when she speaks publicly.
"I am pretty nervous when I get up there especially when I start speaking fast. When I get up, I take a couple of deep breaths and then I feel pretty good."
Through the nerves, Mills was successful in getting an all-expense paid trip and now is preparing for a summer getaway.
During the trip to New York, Mills will be taking in a Broadway show, the Empire State Building, the Statue of Liberty, and the 9/11 Memorial. A stop in Philadelphia will also allow Mills to take in some sights in the City of Brotherly Love.
"I'm going to New York for two weeks and we're going to Philadelphia and I'm pretty excited about that. When we get to New York, we have sessions throughout the week and then we get to go to the United Nations. While we're there we have to write a speech on the United Nations, they give us a topic there and so, at the end of the week we have our speeches prepared. We have to talk in front of the United Nations and the top 15 people get to speak in front of a bigger United Nations group. The top three then get scholarships," she explained. "It's pretty cool."
From this experience, she hopes others hear about the opportunity provided by the Independent Order of Oddfellows and Rebekahs.
"I'm hoping to get more people engaged in (public speaking). I don't think people know about this competition so I'd like to get people engaged and learn more about that. I think this is a great opportunity."
The public speaking skill runs in the family as Chelsey will be the second Mills to head down to New York thanks to the speaking competition.
Her mother, Dorthea, won the competition back in the 1990s and now her daughter is following in her footsteps.
"I think it's cool. She won it in 1993 so it's pretty interesting how the Oddfellows are still doing this speaking competition now. I don't know if they've changed the trip or anything but when my mom went, she took a bus down to New York. She was on the bus for three weeks and that has changed a bit because now we fly down. I think it's pretty cool that I get this opportunity."
The Independent Order of Oddfellows is a non-political and non-sectarian international fraternal order of Odd Fellowship and was first instituted in the United States in 1819 by Thomas Wildey. In Canada, 24 years later saw the start of the Prince of Wales Lodge No. 1 in Montreal. Canada now has seven Grand Lodges — Grand Lodge of Alberta, Grand Lodge of Atlantic Provinces, Grand Lodge of British Columbia, Grand Lodge of Manitoba, Grand Lodge of Ontario, Grand Lodge of Quebec and Grand Lodge of Saskatchewan.